Posted on
The Weekly Word: The Gospel
By Pastor Paul and Dixie Phillips, Gospel Lighthouse Church, Floyd
Here is a trustworthy saying that deserves full acceptance: Christ Jesus came into the world to save sinners – of whom I am the worst. – 1 Timothy 1:15 NIV
But God demonstrates his own love for us in this: While we were still sinners, Christ died for us. – Romans 5:8 NIV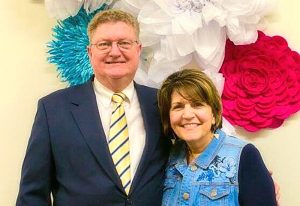 If you declare with your mouth, "Jesus is Lord," and believe in your heart that God raised him from the dead, you will be saved. – Romans 10:9 NIV
Everyone who calls on the name of the Lord will be saved. – Romans 10:13 NIV
The Bible is God's Word. It is filled with timeless truths and the good news of Jesus Christ. God's only Son brought the message of salvation from heaven to man on earth, because God knew we needed to be saved.
The gospel message is a simple message.
First, the Bible teaches that everyone has sinned. I know I have sinned countless times.
God loved us too much to leave us in our sinful state. He sent Jesus to die on the cross for our sins. Jesus offered His life as a sacrificial payment for the guilt of our sins.
He took our place on that cross. He paid our ransom with His own blood. He literally gave His life for ours. He alone holds the victory over sin and death.
The holy Scriptures teach us that Jesus was buried and rose again on the third day. Anyone who calls on His name and believes that God raised Him from the grave will have their sins forgiven and be saved.
What a beautiful gift Jesus has provided for each one of us! It's something we can't buy at Walmart. His gift of eternal life provides forgiveness of sins and a peace that passes all understanding. It is a gift from God, but we must receive this gift.
Jesus is a perfect gentleman. He loves to be invited into our hearts and lives. He is a personal Savior and desires a personal relationship with each one of us.
Have you ever invited Jesus into your heart? The best day of my life was when I gave my life to Jesus.
This is the gospel message. Do you believe it? Invite Jesus into your heart today and receive the gift of eternal life.
…
Pastor Paul and Dixie Phillips have been honored to serve the Gospel Lighthouse Church, 205 Madison Street, in Floyd, since 1981. Sunday worship services are at 10:30 a.m. To find out more about the church and ministry go to www.floydslighthouse.com.