Posted on
The Weekly Word: Listen
By Pastor Coulter Page,Bethany Alliance Church
Know this, my beloved brothers: let every person be quick to hear, slow to speak, slow to anger; for the anger of man does not produce the righteousness of God.
— ESV James 1:19-20
Did you read those verses out of James? What was your first reaction?
Maybe you could picture someone you know who really needs to read this right now. Maybe you can pinpoint that person who is just not living it out.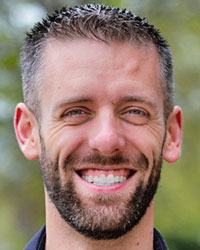 Better yet, maybe you heard James writing to you. As a collective whole, we are living in a society that needs to hear these words and apply them.
Our world is hurting right now. Fighting and anger are running rampant. James gives us an answer to why it is happening. We are too quick to talk and too slow to listen, which leads to anger boiling up and pouring out of us.
It is easy to point the finger and say, "It is their fault." The truth, is it may be our fault. How well do you do to listen? I mean truly listen.
Many of us listen like my 2-year-old son. He will come out and ask us for something like a cracker. We reply, "No you cannot have a cracker right now."
At that point he cuts us off with screaming and yelling and crying. He does not take the time to hear why he cannot have a cracker. He just melts down in anger. He is not listening, and neither are many of us.
We do not take the time to hear other people and respond out of love. Instead we just lash out in anger. So, can I invite you to hear James' words and start acting differently?
If you are like me, you might be acknowledging how hard it is to be quick to hear and slow to speak. The truth is, it is hard. Left to ourselves, it may be practically impossible.
That is why James says just a few verses earlier, "If any of you lacks wisdom, let him ask God, who gives generously to all without reproach, and it will be given him." (ESV James 1:5)
On our own, these counter-cultural ways of living are extremely difficult, but God has made a way. It is through submission to Jesus that we can begin to act and behave differently. It is through the work of His Spirit within our lives that we can live differently.
If you want to be someone who changes, then surrender your life to Jesus and let him begin to live through you.
Prayer
Heavenly Father, I know I tend to speak too fast and have an even greater tendency to not actually listen. Left to myself, this will continue. Right here that changes. It changes because I give my life to you. Through your Spirit I will be different. Thank you for working in and through me. My life is yours. Amen!
---
None of us are perfect, but if you want a family of Christ followers to grow with, check out Bethany Alliance Church. We have services on Sundays at 10:02 a.m. at 1100 Clinton Street and Streaming on our Facebook page. For more information contact us at 641-228-1318 or office@bethanyalliance.com.