Posted on
Charles City Parks and Rec Board OKs mountain bike trail in park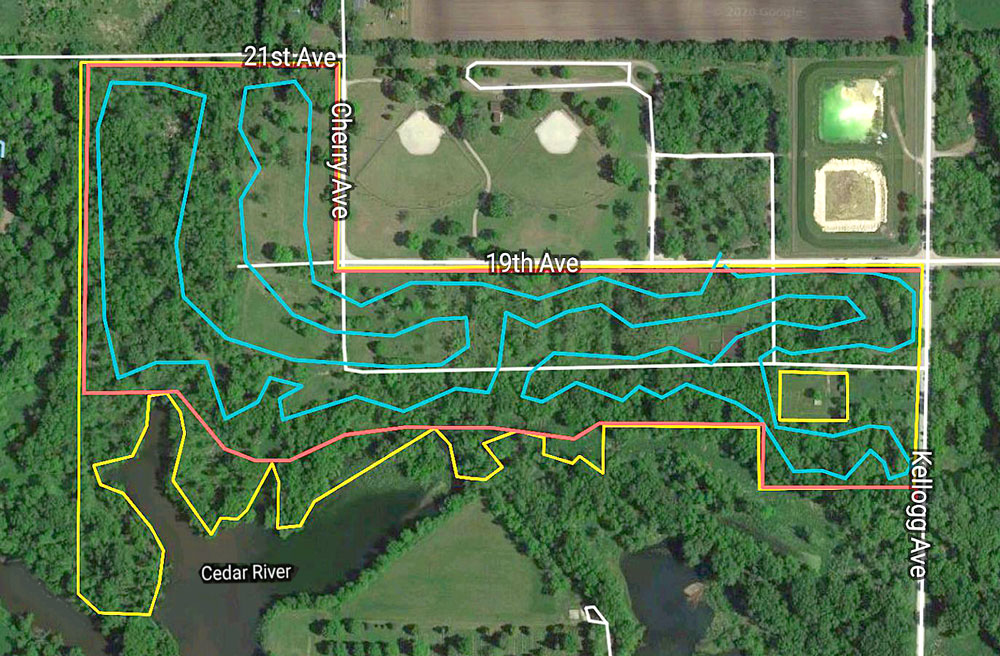 By Bob Steenson, bsteenson@charlescitypress.com
A group of mountain bike enthusiasts wants to build a trail in a Charles City park, and the city Parks and Recreation Board has given the idea an enthusiastic thumbs up.
Brad Sido and Dakotah Jones presented their plan to the Park and Rec Board at its regular meeting Thursday, outlining their vision for a trail at Westwood Park, located off 19th Avenue in the far north part of the city.
"There is about a hundred acres out at that Westwood Park that's not being used right now," Sido said. "What we'd like to do is clean up that shelter area and then use that woods south of the ball diamonds there and put in some mountain bike trails, just as something other than all the paved trails that are around town."
Sido said he frequently visits mountain bike trails in Mason City and new trails in Osage.
"It would be nice to have something here local," he said. "I think that there's a lot of kids with bikes around town who would maybe like something a little different, a little challenging, to go out and ride."
Jones said a trail could be an economic asset to the community, bringing in people specifically to ride the trail, or adding an extra attraction to those coming to the community for the whitewater course.
The proposal describes the trail as "mellow terrain for young and novice riders, as well as experienced and technical riders," and says it could be expanded in the future and also eventually be linked with the existing Charley Western Recreation Trail.
The project would be done completely with volunteer workers.
"There would be very little from the city," Jones said. "Maybe down the road a sign saying, 'Hey, there's a mountain bike course,' but that would be pretty much it."
Parks and Rec Board member Dennis Peterson, saying his son is a mountain biker who lives in St. Paul, called it a great idea.
"It'll bring a lot of people here. There are a lot of people who do this," he said. "I think it's also a really nice addition to the trail system we already have in town. The more things we can offer people, the more people are going to come."
The proposal asks permission to rough out a route this fall, then begin construction by the volunteers next spring after the area is dry, including thinning out small trees and trimming branches where necessary. Construction would be done with weed-eaters, chain saws and other hand tools, and no large machinery would be needed, the proposal says.
It also asks for permission to create an ATV-accessible trail around the perimeter of the park to be used to haul in materials such as rock and logs to create obstacles and technical features for the trail. That access trail could be used for hiking as well as emergency access if needed on the mountain bike trail.
Sido said the trail will likely be 2½ to 3 miles long, but they won't know for sure until they start planning it.
The board voted unanimously to let the mountain bike group pursue the idea, and Charles City Parks and Recreation Director Tyler Mitchell said he would work with Sido and Jones to begin planning out a course.
Also at the meeting Thursday afternoon, the Parks and Rec Board:
• Heard a report from Tad Barry about a proposal to start a Charles City baseball club.
"It's outside of Little League," Barry said. "It's more of a traveling type of situation. We're starting off with 8-year-olds and 9-year-olds and progress as our kids get older, all the way up to 15- to 16-year-olds."
He said the goal is to host annual tournaments, and that's why he was at the Parks and Rec Board meeting, to start talking about using city ball diamonds for the tournaments, potentially at Lions Field, Sportsmen's Park and Westwood.
Barry said there was an enthusiastic group of parents behind the idea, that would be available to work with the city to help make facilities available.
"There's a lot of different stuff that we have in our heads. We're just in the beginning stages of this," he said.
Mitchell said currently any group that wants to reserve ball diamonds calls him.
"Right now we don't have any fees or anything — it's just something we offer to the community to use. We just take care of them. Something we may want to consider for the future is if someone wants us to come in and rake diamonds on weekends or like that, instead of me doing that all the time, either they do a fee or they have to do it themselves."
• Heard from Mitchell that temporary repairs are being made at the Lions Field swimming pool on cracks and broken steps that would probably last three or four years — long enough for the board to decide what it wants to do regarding a replacement pool.
"It's a Band-Aid," he said, adding that he wants the board's pool committee to begin meeting more frequently to come up with a plan for deciding on a pool replacement.
• Heard from Mitchell that the process of selecting hunters to cull the deer at Wildwood Golf Course will begin soon. The city has 10 depredation tags for antlerless deer to be taken this fall by deer bow hunters.
• Discussed the clubhouse at Wildwood Golf Course. Mitchell said the building is in too poor of condition to simply reside, with major foundation issues and other structural issues. Mayor Dean Andrews said it may be at the point where constructing a new clubhouse is more cost effective than repairing the existing one.
• Learned that Nate Knecht has been hired as the new city park superintendent.