Posted on
Charles City man pleads guilty in attack on woman
By Bob Steenson, bsteenson@charlescitypress.com
A Charles City man who was charged with hitting a woman with a gun and causing injuries has pleaded guilty to a reduced charge.
Tristan M. Walker, age 40, entered a written plea of guilty to burglary in the second degree, a Class C felony, on Wednesday. He had originally been charged with burglary in the first degree, a Class B felony.
He also pleaded guilty to the original charges of going armed with intent, a Class D felony, and willful injury causing bodily injury, also a Class D felony.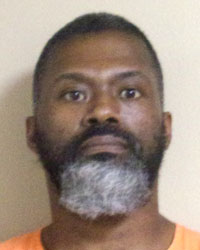 As part of the plea agreement, the Floyd County Attorney's Office will recommend that Walker receive suspended prison sentences, but that he remain in custody until space is available at Beje Clark Residential Center in Mason City, and that he be on probation for five years on each count.
The recommendation is for a sentence of up to 10 years in prison on the burglary charge and up to five years each on the other charges, each fully suspended, but with the sentences to run consecutively in the event Walker violates his probation and is incarcerated.
Also on Wednesday, District Court Judge DeDra Schroeder accepted Walker's guilty plea and set a sentencing date for Nov. 9.
Walker was taken into custody Aug. 11 by a Floyd County sheriff's deputy in Cook County, Illinois.
According to the criminal complaints filed in 2018 in Floyd County District Court, on Aug. 11, 2018, Walker struck a woman several times in her head with a gun while she was sitting in a car in a parking lot in the 2100 block of Clark Avenue, causing a golfball-size lump on her head.
The court documents say Walker and another woman, Tasiana Stephens, now age 32 and serving a prison sentence for the incident, were involved in the attack.
The complaints say Walker also physically restrained and confined the woman in a car that was traveling around town "and did not slow down nor let her out ot the car." The woman "was not able to leave and her freedom to move about was taken away."
The other person in the case, Stephens, was charged with first-degree burglary, going armed with intent and willful injury resulting in bodily harm. She pleaded guilty to the charge of willful injury causing bodily harm and the other two charges were dismissed.
On March 18, 2019, Stephens was sentenced to up to five years in prison. She is currently serving her sentence in the Iowa Correctional Institution for Women in Mitchellville.