Posted on
Charles City man pleading guilty to killing Sioux City boy while driving drunk
By Bob Steenson, bsteenson@charlescitypress.com
A Charles City man is pleading guilty to killing a Sioux City boy in a traffic collision while the man was driving drunk, in a plea agreement that could see him serving up to 25 years in prison.
Jesse Duane Blade, age 30, was charged with homicide by vehicle-OWI, a Class B felony, plus other felony charges, for the Oct. 26, 2019, crash that killed Royce G. Fisher, then age 9, and injured three others.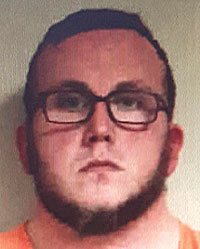 Blade's attorney filed papers in Floyd County District Court on Wednesday outlining a plea agreement signed by Blade.
In the documents, Blade pleads guilty to the charge of homicide by vehicle while intoxicated, a forcible felony with a sentence of up to 25 years in prison that cannot be suspended, and agrees to pay $150,000 in restitution for the boy's death.
He also pleads guilty to three counts of serious injury by vehicle, Class D felonies, for the injuries caused to three Mason City residents who were passengers in the vehicle he struck, and pleads guilty to operating while intoxicated, second offense, an aggravated misdemeanor.
A charge of homicide by vehicle due to reckless driving, a Class C felony, will be dismissed as part of the plea agreement.
In addition to the sentence of an indeterminate term in prison up to 25 years and the restitution, the plea agreement will recommend that Blade also pay restitution to the persons he injured; be sentenced to up to five years in prison on each of the three injury charges; and pay fines and surcharges totaling more than $5,500, plus other costs and provisions.
The recommendation is that all the prison sentences be served concurrently.
Blade is not officially convicted of the charges until a judge accepts the guilty pleas. A plea hearing has been set by District Court Judge DeDra Schroeder for Sept. 28 in Floyd County District Court.
According to the accident report by the Iowa State Patrol, Blade, then age 29, was driving northbound on Glass Avenue north of Rudd toward the intersection with Rudd Park Road/Business 18, at about 6:30 a.m. on a Saturday.
Blade failed to stop at a stop sign at the intersection and struck broadside a minivan that was headed east on Rudd Park Road.
According to criminal complaints filed in Floyd County District Court, a toxicology test showed Blade's blood alcohol level was 0.137% and also tested positive for cocaine.
The report said Blade was driving 53 mph in a 25 mph speed zone when he went through the stop sign.
Injured in the crash were Sarah June Fisher, then age 50; Ronald Paul Fisher, then age 57, the driver of the other vehicle; and Aidyn D. Kline, then age 11; all of Mason City.
Sarah and Ronald Fisher are Royce Fisher's paternal grandparents, and Kline was Royce's friend, according to Fisher's obituary. All three sustained broken bones and other injuries in the crash, according to court documents.