Posted on
Floyd County, architect in fight over law enforcement center fee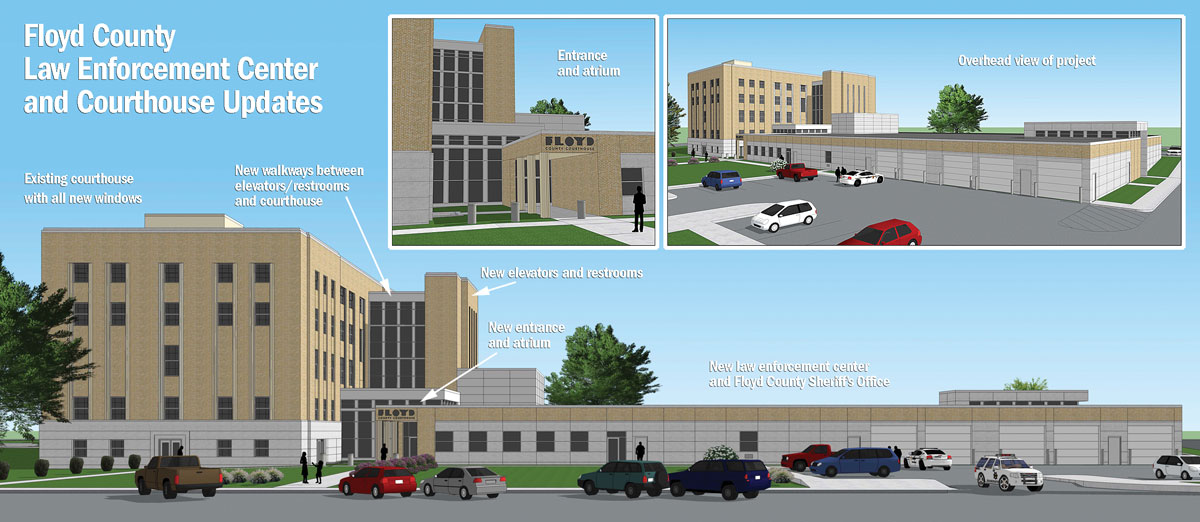 By Bob Steenson, bsteenson@charlescitypress.com
Floyd County is fighting the architect's bill for design and engineering work on the new law enforcement center project and courthouse updates, saying the county shouldn't have to pay additional just because the architect originally underestimated the costs.
Prochaska & Associates, an architectural firm based in Omaha, had originally estimated the construction costs on the project at almost $11 million.
The firm's fee for design and engineering work, as outlined in a contract the Board of Supervisors signed in June 2018, called for Prochaska to be paid 10% of the construction cost, or based on the estimate, $1,089,870.
But the actual bids on the project came in at a total construction cost of more than $16 million, resulting in Prochaska asking the county for more than half a million dollars more than its original estimated fee.
In a July 31 email to County Auditor Gloria Carr and Supervisor Linda Tjaden, two members of the "core group" that is helping shepherd the project along, Prochaska architect and project manager Curtis Field wrote that the accepted "cost of work" figure is now $16.074 million, based on figures from the county's construction manager.
"By our reasoning of the contract between us, the actual cost of work figure has been formally adjusted upwardly by $5,175,769, and we would assert that our fees should be adjusted accordingly. At an agreed '10% of the cost of the work' fee, this difference would amount to $517,578 above and beyond that anticipated by our original agreement," Field wrote.
Field also noted that Prochaska had worked with construction manager The Samuels Group and with the county to make significant redesigns of the project in efforts to shave costs, "and did not seek additional compensation" for more than 200 hours of extra work.
He also noted that neither an independent third-party estimator, which Prochaska hired with its own funds, nor The Samuels Group's own pre-bid estimate had been close to the final bid.
The Board of Supervisors have held two closed meetings to discuss possible litigation over the matter with Assistant County Attorney Randall Tilton.
After the first closed meeting, held in August, the board authorized Tilton to write a letter to Prochaska, stating that from the county's perspective it had entered into a contract for the amount of $1,089,870.
"This fee was based upon 10% of the cost of the work as originally estimated by your firm. Bids came in at $16,417,563.00, an overage of over 50%. This, of course, caused great concern to the county since the bond referendum for the project was approved in the amount of $13,500,000," Tilton wrote in an email to Field dated Aug. 20.
"The county believes that your firm has been deficient in performing its duties under … the agreement between owner and architect," Tilton wrote.
He proposed that the county continue to pay "the remainder of your $1,089,870 fee as invoiced," and also consider claims for additional services by Prochaska that were required by changes in the project to lower costs or other requested changes.
In an email reply to Tilton and the Board of Supervisors, dated Sept. 10, Field wrote that he "was a little surprised at the position you appear to be taking," and noted that the determination of the final cost of work is the responsibility of the construction manager and it is the construction manager's responsibility to make changes to stay within the budget.
"Because of the complexity of the 'market conditions' in existence in a particular time and bid date, no professional estimator can guarantee an accurate prediction. This disparity between predicted cost and actual cost is extreme, I'll grant, but I would still conclude the cause to be one or more of the seven points listed above," Field wrote, referring to a list of possible reasons why the bid was off.
Those reasons included "inattentive, inaccurate or imprecise direction" given by The Samuels Group to Prochaska to bring the project into cost restraints, not enough publicity generated by The Samuels Group prior to bidding, not enough competition among various construction trades in the area, subcontractors being too busy on other projects, not enough time allotted for bidding, and unforeseen and recent consolidation in some subcontractor sectors "leading to abnormally high pricing."
Field also said a reason may have been "potential ill-will created, for a variety of possible reasons," between The Samuels Group and local subcontractors.
Field concluded, "Prochaska & Associates is neither unconcerned nor unsympathetic about Floyd County's financial position, and I hope I indicated this clearly in my previous correspondence. …
"However, as we see this issue, the county's unwillingness to look more deeply into a solution is, in our view, a simple breach of our contract. You have not asked for consideration of alternate positions, nor offered any. Pressing this further as you have done by your last response does little to advance either of our causes."
The Board of Supervisors held a closed meeting with Tilton during a special meeting Monday morning, and after the board came back into open session it unanimously passed a motion to make an offer.
Supervisor Tjaden moved to authorize Tilton to respond to Prochaska with a settlement offer based on the estimate that Building Cost Consultants had provided in February 2019.
Building Cost Consultants, of Plattsmouth, Nebraska, the independent third-party estimator that Prochaska had hired to, in effect, check its work, had estimated the project construction costs at $12.292 million.
At 10% of that company's estimate, the offer to Prochaska would be for $1.23 million, or almost $140,000 more than the fee based on the original Prochaska estimate, but far below the total $1.607 million fee Prochaska now says it is owed.