Posted on
Floyd County's Dight family receives Environmental Leader Award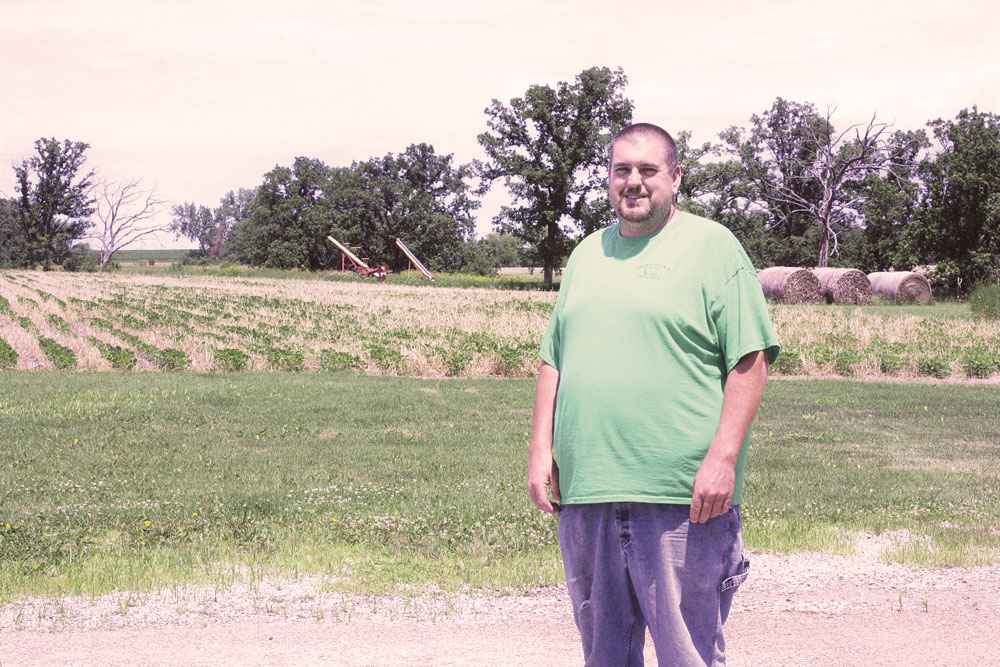 By James Grob, jgrob@charlescitypress.com
Charles City watershed farmer Trent Dight was recently selected as a 2020 recipient of an Iowa Farm Environmental Leader Award.
The award, from the Iowa Department of Agriculture and Land Stewardship, is presented to producers with exemplary natural resource conserving operations who are spokespersons for conservation and encourage other farmers to follow their example.
"We have to take care of the soil and groundwater. I don't know if I'm right or if I'm wrong, but I feel we need to do things differently," Dight said.
Dight and his family, Jerri, Dillon, Braxton and Tyson, are being recognized for their commitment to improving water quality and soil quality by utilizing environmental best management practices on the land they farm, while also serving as local leaders encouraging other farmers to follow in their footsteps.
The Dights use no-till, strip-till, cover crops, and a conservative/precision nutrient management system on the acres they farm in the Rudd-Rockford area.
"The biggest reason I do what I do is I want to leave the dirt there for my kids and their kids," Dight said.
A total of 42 Iowa farmers or farm families received the award this year. Along with Dight, award recipients in Floyd County included Dennis and Patty Staudt and Ben and Amy, Andy and Abbie Johnson.
"Conservation and agriculture go hand-in-hand, and Iowa farmers play a vital role in protecting our environment and preserving our state's natural resources," said Iowa Gov. Kim Reynolds.
"The 2020 Environmental Leader Award recognizes these family farmers for their outstanding stewardship and dedication to improving the land for future generations of Iowans," Reynolds said. "Congratulations and thank you for leading by example for your community and our entire state."
The award winners are chosen by a committee representing both agricultural and conservation groups. Since this program was launched in 2012, more than 650 Iowa farm families have been recognized with an Iowa Farm Environmental Leader Award.
"I want to thank these farmers for their commitment to improving soil health and water quality," said Iowa Agricultural Secretary Mike Naig. "The state of Iowa continues to be a conservation leader and it's because of farmers, like these award recipients, who are implementing practices on their land and encouraging their friends and neighbors to do the same."
Dight said that the conservation practices also save him money on machinery costs and fuel costs — as well as the most valuable commodity — time.
"I have three boys, and I'd rather spend time with them than sitting in a field working the ground all winter," Dight said.
Dight said that other farmers looking to adopt similar conservation techniques shouldn't be afraid to ask a lot of questions.
"There's a lot of trial and error — what might work for your neighbor might not work for you," Dight said. "Just try new things, and see if they work."
Dight said he spoke to his neighbors, as well as other producers using no-till and strip-till practices in their fields before going to no-till farming. He said he had noticed they were getting just as good of yields while doing less work with less machinery.
He said he went "full bore" about five years ago. He uses strip-till for corn and no-till for soybeans, and said the soil is healthier, is "nicer to work with," and microcosms and earthworms are free to do their job in the soil without disruption.
Dight is also working with cover crops. He seeded some of his soybean fields with rye in the fall of 2019. This slowed down the water so he had less soil washout, even after a torrential rainfall in early June.
Dight said he's getting a better return on investment because he doesn't need as much machinery use or fuel.
"Every year we look forward to recognizing these leaders in agriculture that have implemented innovative conservation measures," said Iowa Department of Natural Resources Director Kayla Lyon. "Their steadfast leadership is pushing the envelope and showcasing their care for our natural resources through conservation practices, and paves the way for other farmers."
Reynolds, Naig and Lyon will present the awards to the farm families during the 2021 Iowa State Fair.