Posted on
COVID vaccine given to medical professionals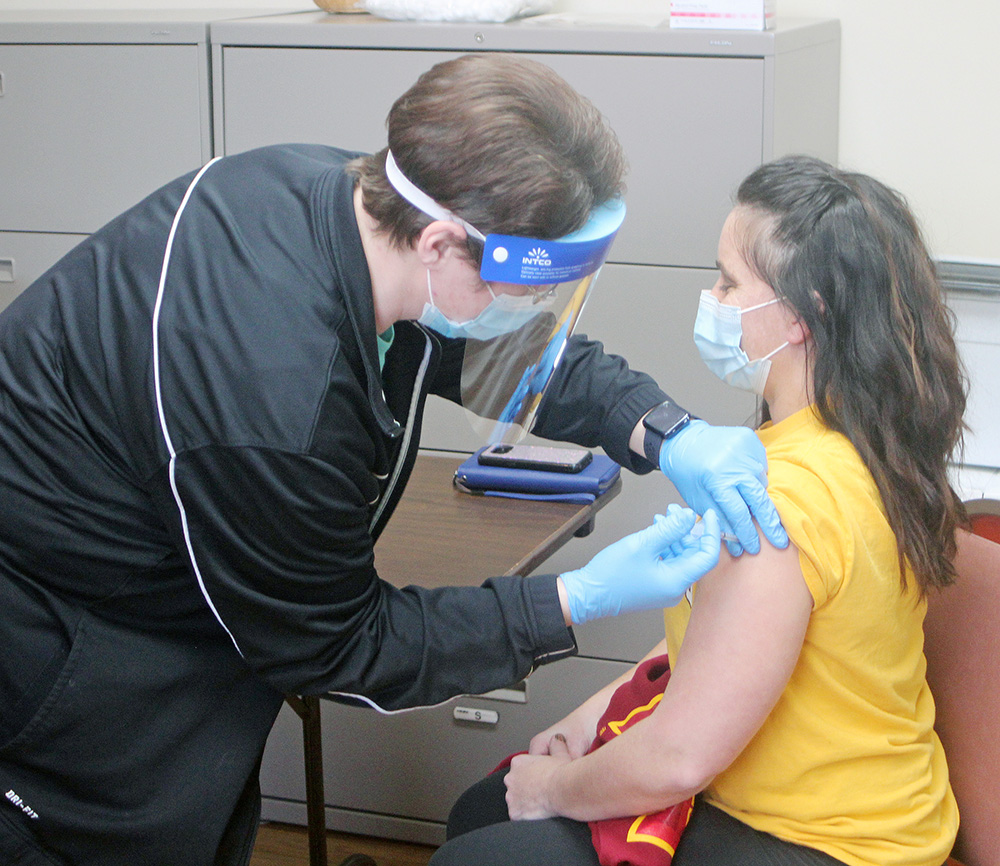 By James Grob, jgrob@charlescitypress.com
Several health care workers in the Floyd County area started the year 2021 taking the first steps to COVID-19 immunity.
On Thursday — New Year's Eve, 2020 — a vaccination clinic was offered at the Floyd County Public Health building in Charles City for area medical professionals, including dentists, orthodontists, hospice workers, chiropractors and their staffs.
Gail Arjes, Floyd County Public Health administrator, said that several EMS providers were also vaccinated. The clinic started at 7:30 a.m., and Arjes said that by 1 p.m., about 60 individuals had dropped by for a shot.
"I hope that everyone is seeing that medical professionals are getting vaccinated and that there is good science behind the vaccine," said Arjes, who noted that there were no complications on Thursday and everything went smoothly.
Arjes said that people shouldn't be scared of the vaccine.
"What we've seen isn't making anyone real sick," she said. "Maybe a sore arm or a slight headache, but nothing that is causing you to not be able to function."
The vaccination of health care providers is considered Phase 1A of the vaccination process. So far, the county has received 500 doses of the Moderna brand of the vaccine. Two-hundred of the doses were allocated to the Floyd County Medical Center and the other 300 are being used for the other county health care providers.
The vaccine rollout is being guided by the Iowa Department of Public Health (IDPH) and the Advisory Committee on Immunization Practices (ACIP), which is part of the CDC.
Physician provider clinics in Nora Springs and Rockford have also received doses for staff members, and doses were given to Riverside assisted living, residents and staff on Thursday.
Residents and staff in long-term care facilities such as nursing homes are getting vaccinations through a federal program that contracted with CVS and Walgreens pharmacies and other regional pharmacies like Hy-Vee to deliver the doses.
The 9th Street Chautauqua residents and staff were vaccinated early last week, and 11th Street Chautauqua were vaccinated on Saturday by teams from CVS.
The next step in vaccination will be Phase 1B, which Arjes has said will hopefully begin in mid-January. Arjes said she anticipates Phase 1B will include groups such as fire and police departments, although the state and federal decisions on the next phase have not yet been released.
The CDC and Iowa Department of Public Health have not yet announced a timeline as to when the vaccines will be available to the general public.