Posted on
Cedar Soleil Med Spa provides skin care and dermatology procedures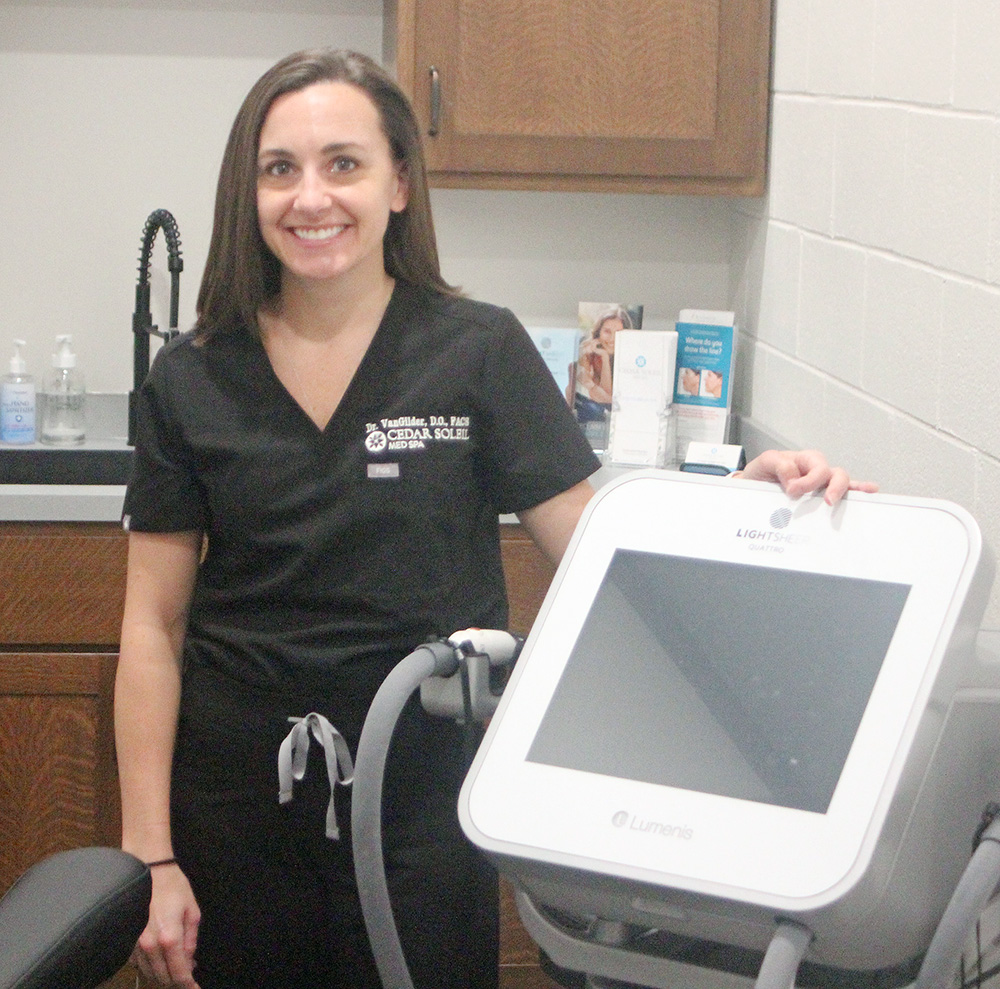 By James Grob, jgrob@charlescitypress.com
Unsightly wrinkles beware — your days in Charles City may be numbered, if Cedar Soleil Med Spa has anything to say about it.
Dr. Angela VanGilder opened the med spa — which provides aesthetic and laser services — in November, and she said business has been good.
"I've been really busy. It's been fun," she said. "I'm really excited to be part of the new businesses opening on Main Street."
Cedar Soleil Med Spa is located within Main Street Drug in Charles City. VanGilder is renting the space from Main Street Drug, which opened in Charles City about a year ago.
The other downtown businesses VanGilder is referring to include Mara, which is opening a second store at 101 N. Main St. in February, and McCoy Smoothies, which recently opened alongside of SNAP Fitness. In addition, work is being done to finish the Union House, formerly known as McQuillen Place, as a residential and commercial center.
VanGilder provides skin care and dermatology procedures, including Botox — botulinum toxin treatment to improve the look of frown lines, forehead lines, and crow's feet — which takes about a half an hour, at a price of just $12.
Other services at Cedar Soleil include — but are not limited to — laser hair removal, Juvederm treatments to fill and soften lines and wrinkles in the face, sclerotherapy for spider veins, microneedling and microdermabrasion, dermaplaning and skin tag removal.
VanGilder said that her shop takes customers by appointment only, and that the services are safe and discreet.
"I'm a surgeon, so procedures are my thing," she said. "It's what I do."
A resident of Charles City since 2017, VanGilder is a general surgeon at Floyd County Medical Center. She and her husband, Chuck, have two children who attend Immaculate Conception Elementary in Charles City.
VanGilder grew up in Des Moines and completed her undergraduate degree at the University of Iowa. She then went to Midwestern University for medical school and completed her general surgery training in Phoenix. She said she will continue to practice general surgery at FCMC.
"I love it there. It's been great," she said. "I opened this up as sort of a side hobby."