Posted on
Schriever hard at work as Floyd County VA director
By James Grob, jgrob@charlescitypress.com
Todd Schriever started his job as executive director for Veterans Affairs in Floyd County last June, and he said he's been thankful for the support he's gotten during difficult times.
"My support here in Floyd County is unbelievable," Schriever said. "My commissioners are amazing, and everyone in the court house just bends over backwards to help me."
In his first six months in the office, much of Schriever's job has entailed keeping in touch with veterans among all the problems and protocols presented by the COVID-19 pandemic.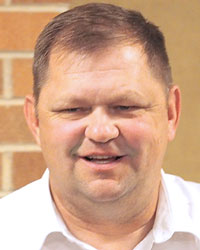 "Our first goal was to get everything uploaded so we could do everything electronically," Schriever said. "With the COVID thing, you never know when you're going to have to work remotely."
Much of the technology upgrade — which was going to have to happen, COVID or not — will be completed by the end of this month.
The Floyd County Veterans Affair Offices provides services and assistance programs to eligible veterans and their dependents. The office assists eligible veterans applying for compensation and pension programs designed to assist veterans.
Schriever replaced Maria Deike who left at the end of May after five years in Floyd County to accept a similar position in Cerro Gordo County.
Schriever, age 55, was born and raised in Marble Rock and is a 1984 graduate of RRMR High School. He served in the U.S. Marine Reserve for seven years and was on active duty during Operation Desert Storm. He has worked with several veterans groups in the years since. He also has substantial retail experience.
"I'm really used to working with people and serving people," he said.
He and his wife have one adult daughter, who teaches in the Charles City school district.
Because of the COVID pandemic, Schriever has had to switch to talking to veterans by appointment only, as he works to make the office more accessible.
"That actually has turned out to be a good thing, I'm able to take more time to get to know the veterans better, and I don't have others waiting," he said.
He said that the local veterans he has talked to have been very understanding of all the pandemic protocols, and have been very welcoming to him in the new position.
The office works closely with Floyd County Social Services, the Floyd County Veterans Memorial committee, the Family Alliance for Veterans of America (FAVA), local mechanics and construction companies for the Iowa Trust Fund grants, the USDA, The American Legion Auxiliaries, Toys for Tots, local churches, and the Charles City Chamber of Commerce, among many others.
The local VA office also operates a transportation service to VA medical facilities and the county's Veterans Assistance program, which helps with emergency basic needs. The pandemic caused the bus service to be temporarily discontinued, but Schriever said it's going to resume soon.
"We're starting that up. I'm actually trying to get it going this week," he said. "I've been contacting volunteers and getting them updated on the COVID protocols."
He said pandemic rules only allow one person per row in the van, which means each trip can only have two veterans and one driver.
"We will try to haul as many veterans as we can until we get the volunteers all back and up to speed and going," Schriever said. "It will be a slow process, but we are working on it right now."
He said his office is always looking for volunteer drivers, and anyone interested should contact him.
"It's something the vets really need," Schriever said.