Posted on
Almost 500 Floyd County residents have received first COVID-19 vaccine dose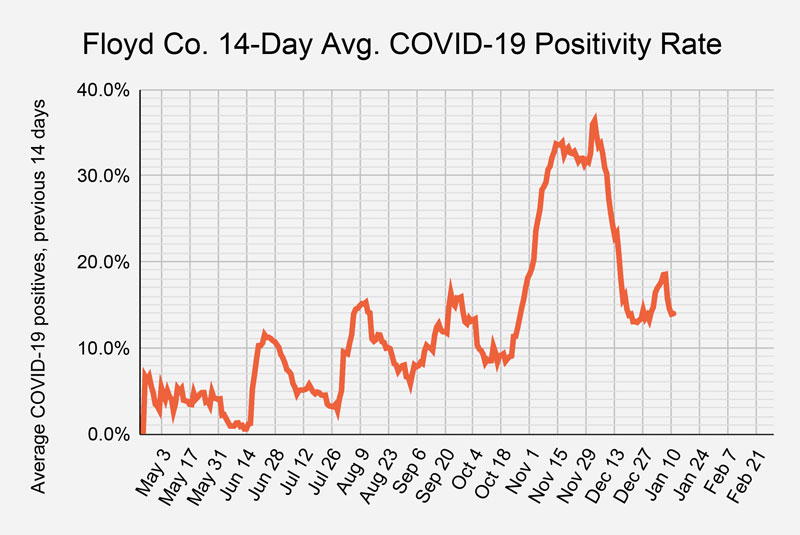 By Bob Steenson, bsteenson@charlescitypress.com
As of Monday, 475 residents of Floyd County have received their first dose of a COVID-19 vaccine, the state says.
The state's COVID-19 data site, coronavirus.iowa.gov, on Monday began listing how many vaccines have been administered by each county, and how many county residents have received the vaccine.
Those numbers are not the same. For example, although 475 Floyd County residents received a dose of the vaccine, only 243 doses were administered in Floyd County. And not all of the doses administered in Floyd County necessarily went to Floyd County residents.
For example, in neighboring Cerro Gordo county, 1,361 county residents received a shot, but the county administered 2,276 doses, meaning it was helping vaccinate people from area counties.
Statewide, 96,686 doses had been administered as of Monday, including 5,652 people who had received both of the required doses.
The COVID-19 test positivity rate in Floyd County spiked a bit in recent days as the 14-day average continued to stay above 10%.
The positivity rate — the percentage of those people who are tested in the county who get a positive result, averaged over the previous 14 days — was 14.0% on Monday. It has varied so far this new year from a low of 13.9% on Sunday to a high of 18.5% on Jan. 6 and 7.
Earlier state reports had shown a drop in the Floyd County 14-day positivity rate into single digits in December, falling to 9.8% on Dec. 19 and remaining there through the following week.
However, readjusted figures provided on the state's COVID-19 website now shows the 14-day positivity rate has remained above 10% since Oct. 24, when it increased to 11.3% from the previous day's 9.0%.
The state regularly adjusts the numbers in its database as preliminary figures are more closely matched with daily results.
"COVID-19 data are reported as timely, accurately and completely as we have available," the website says. "Data are updated as we receive information that is more complete, and is subject to change."
There were 47 confirmed new cases of COVID-19 in Floyd County in the past week, bringing the total number of cases confirmed in the county since testing started last March to 1,344 as of Monday.
There have been 36 deaths reported in the county linked to COVID-19, with 28 of those listing the coronavirus infection as the underlying cause of the death and eight of them listing COVID-19 as a contributing factor. The latest county deaths linked to the disease were two deaths reported on the state website last week, on Monday, Jan. 4.
Across the state, 4,139 deaths have been linked to COVID 19, with 3,792 listing COVID-19 as the disease that initiated the events resulting in death and 347 listing COVID-19 as a disease or condition that contributed to the deaths.
In one bright spot, the state no longer lists any outbreaks of the disease in long-term care facilities in Floyd County.
An outbreak was listed in the Nora Springs Care Facility in September, with 41 cases among residents and staff listed at the high point. In late November, an outbreak was listed at the 11th Street Chautauqua Guest Home in Charles City, with 49 residents and staff listed as infected at the highest point.
Neither of those two facilities is now listed on the state website as the site of an active outbreak.
There are 86 long-term care facilities currently listed in the state as the site of an outbreak as of Monday, with 2,000 current positive cases among residents and staff. There have been a total of 1,680 long-term care residents who have died because of COVID-19 in Iowa since the pandemic began.
In area counties, there is one long-term care facility outbreak listed in Mitchell County, at Accura Healthcare of Cresco, and one in Butler County, at Valley View Community in Green. There are two outbreaks listed in Cerro Gordo County, at Good Shepherd Health Center in Mason City and at Oakwood Care Center in Clear Lake.