Posted on
Nolte completes first week as new Charles City housing director
By James Grob, jgrob@charlescitypress.com
After just one week on the job, Katie Nolte already feels like Charles City is home.
"I am excited about it," said Nolte, who is the new executive director of housing and redevelopment in Charles City. "I feel like Charles City will be my second adopted home."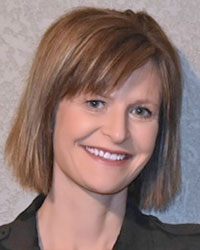 Nolte has been hired to replace Heidi Nielsen, who left to work at the North Iowa Area Council of Governments. Nolte said Nielsen has stayed on part time and has been working a few hours each day.
"She's been a huge help with the transition," Nolte said of Nielsen. "She's shown me where everything is and gotten me up to speed on the numbers."
City Administrator Steve Diers said that Nielsen would continue to help through the end of the month.
Nolte said her first week on the job has consisted of touring the community and getting to know the office and the staff.
"It's a lot to take in, but it's exciting," she said. "There's a lot of potential here."
Nolte said that as housing director, her job will be to manage the housing programs funded through the federal Department of Housing and Urban Development (HUD), as well as help to find different programs to fund safe and affordable housing for people in Charles City.
"It's hard to move into a community when there aren't a lot of places to rent," Nolte said. "A lot of people don't want to buy a house right away when they move to a new community."
She said she wants to help develop more affordable rental homes in Charles City, as well as bolster first-time home-buyer programs. Nolte said she is looking forward to hearing input from the community.
Nolte has a strong background in grant writing and is currently finishing up work with the city of Waukon on a housing development there.
Before that, she worked as director of housing for Upper Exploreland Regional Planning Commission serving Allamakee, Clayton, Howard's, Fayette, and Winneshiek counties.
As housing director, Nolte served more than 50 communities in five counties. She helped with first-time home-buyers programs, housing developments and senior housing.
"If it had the word 'housing' in it, I was probably doing it," she said.
Nolte has also worked with several housing developments in Oelwein.
A 1996 graduate of Sumner High School, Nolte currently lives with her husband on their family farm near Sumner. She completed her undergraduate work at Northern Iowa and graduate work at the University of Iowa, and worked in medical research at Iowa for 15 years.
She and her husband, Jim, have a son and daughter, ages 15 and 14.