Posted on
TLC seeks funding as it eyes move to North Grand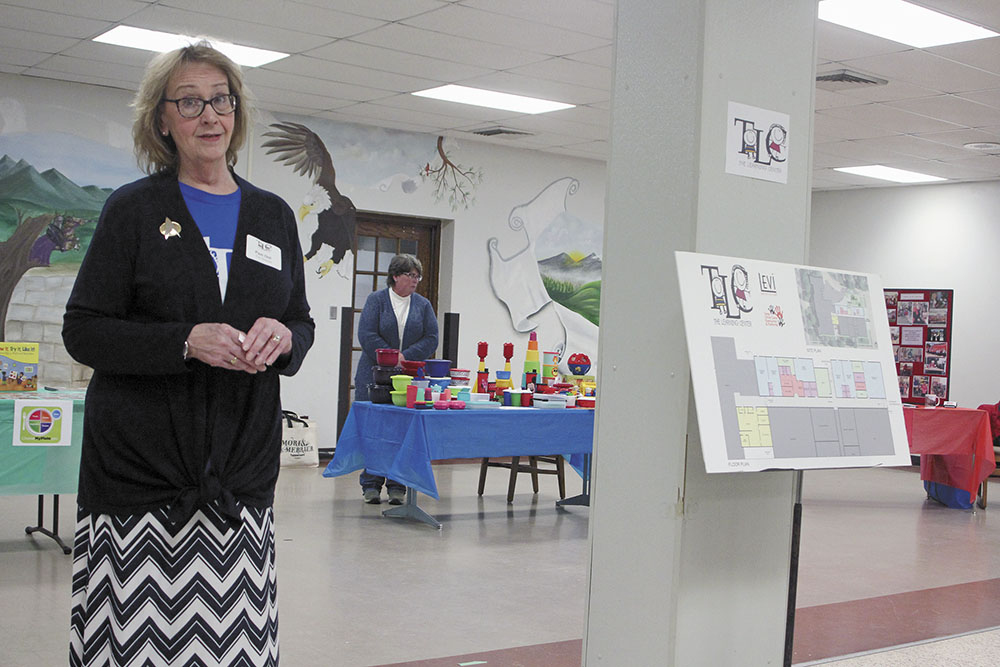 By James Grob, jgrob@charlescitypress.com
The Learning Center (TLC) in Charles City is aggressively seeking funding and support as it looks toward moving into the North Grand Building by next fall, then expanding its capacity and operations in the years beyond.
"We continue to develop strong partnerships within and outside the community," said Pam Ost, director of the local non-profit child care organization. "TLC is always looking to meet the needs of working families."
Over the last two weeks, Ost has spoken to both the Charles City Council and the Floyd County Board of Supervisors to explain TLC's plans, while requesting $150,000 from each government board to help cover the costs of relocating to the building at 500 North Grand Ave.
The west end of the building has been purchased by developer Shawn Foutch, who is turning that side of the old middle school into apartments. The east end of the building will remain with the school district. Ost said the relocation will allow TLC to expand the availability of child care in the community and enhance its economic development aspects.
"Our future TLC will grow the economic and job impact capability of our community as whole," Ost said. "TLC helps to strengthen the economy of Charles City on many different levels."
She said the "Grand Plan Project," which is a lease for five years with an option to purchase, is currently being formalized between TLC and the school district.
The Charles City School District has committed to spending $750,000 over the next five years for improvements and maintenance, including dividing the space the child care facility would use from the older part of the building that will be renovated for apartments, splitting the utilities and making sure the heating, ventilation and air-conditioning system is adequate in the TLC part of the building, and replacing the roof on the north side of the building.
"It's not money directly to TLC. It's a commitment to continue to invest in the infrastructure of the North Grand Building," said Charles City Superintendent of Schools Mike Fisher. "To be quite honest, that's something that we need to do anyway."
This past fall, the Charles City school board approved a five-year strategic plan, budgeting the money.
"We have committed to $150,000 a year over five years," Fisher said. "That's money that we were already willing to invest into the North Grand facility at some point."
Fisher said the North Grand building is still one of the district's busiest facilities, and the school district has held classes there during COVID precautions, continues to use the gym and wrestling room regularly, still uses the auditorium, and has been using the building for band, orchestra and choir rehearsals.
"We are happy to do anything to the essential structure of the building, and it will be up to them (TLC) to do all the internal upgrades, such as renovations of classrooms and bathrooms and sprinklers and firewalls," Fisher said.
Fisher said he has been working with Ost and TLC for more than two years, discussing what is possible in a community sustainability partnership.
"We think it can be a wonderful partnership, between the school district and our community's largest non-profit child-care provider in town," Fisher said. "We're hoping that other community entities are willing to invest into what we think is a really righteous project moving forward."
The TLC board plans to procure a USDA loan of approximately $550,000, and has also already received over $20,000 in grants, including a discretionary grant of $10,000 from the Community Foundation of Northeast Iowa/Floyd County, an $8,000 donation from Phyllis Meyer, and a $3,200 donation from Garden Enterprises.
"We are reaching out to local philanthropists, and writing grants to offset the costs of renovating the rooms for the children," Ost said. "I've always seen this an opportunity as a community to be the model for so many other areas that have facilities like the old middle school to utilize in a similar fashion. It's such a wonderful building and such a safe building."
Ost said that the plan is in place for TLC to be self-sufficient, once it relocates to North Grand in September.
She said the move would double the TLC's capacity, as the North Grand Building can safely and legally hold 180 children. Ost said that over the last five years, TLC has cut operational costs down to a bare minimum. She noted that in the North Grand Building, TLC would have daily access to the gymnasium and would increase its before- and after-school programs.
TLC has always relied on donations to remain operational. Ost said TLC is looking into forming agreements with local companies that would have them donate annually and be allowed to procure child care spots for employees who need them.
"We are looking at our sustainability," she said. "For us, we feel this plan is the best option for that."
She said that the monthly building rental costs will go down to nearly nothing, and that the size and layout of the North Grand Building would enable more grants and other funding options than what is currently available to TLC in its current leased space.
"This project is honestly really exciting to me," said City Council member Phoebe Pittman. "It just seems to make sense. It's a good location."
Pittman said the availability of child care was important to her family when they decided to move to Charles City.
"I think this will be great for the community," she said. "I don't think that access to quality child care can be overestimated as a factor when it comes to attracting new residents to town."
Ost said residential development is ongoing in Charles City, and many of the new occupants will need child care. She also talked about recent growth of Cambrex, which has announced an expansion that will include adding 32 new employees.
"Not all of these people will come from inside Charles City," Ost said. "With a community child care center available, new employees from across the country can become our new neighbors."
This is TLC's 20th year of existence in Charles City. Ost said that the COVID-19 pandemic identified and magnified the need for local child care. Throughout the pandemic, TLC has remained open and has not laid off any of its 30 employees. TLC also helped provide care for school-age children of essential workforce adults at Washington Elementary.
Before the pandemic hit, TLC served about 80 children, then the population dropped to 35 children in March. It is now back up to 91 children, two short of its maximum capacity of 93.
"We get phone calls weekly for families that are continuing to look for child care," Ost said.
Ost said that she believes TLC helps to decrease social program spending, helps to reduce crime rates for both juveniles and adults and helps build and develop a stronger future workforce in Charles City.
She also told the City Council human capital development is the "foundation of individual economic success and the engine of regional economic growth."