Posted on
CCAC featuring Salsbury Collection, African-American music exhibit this month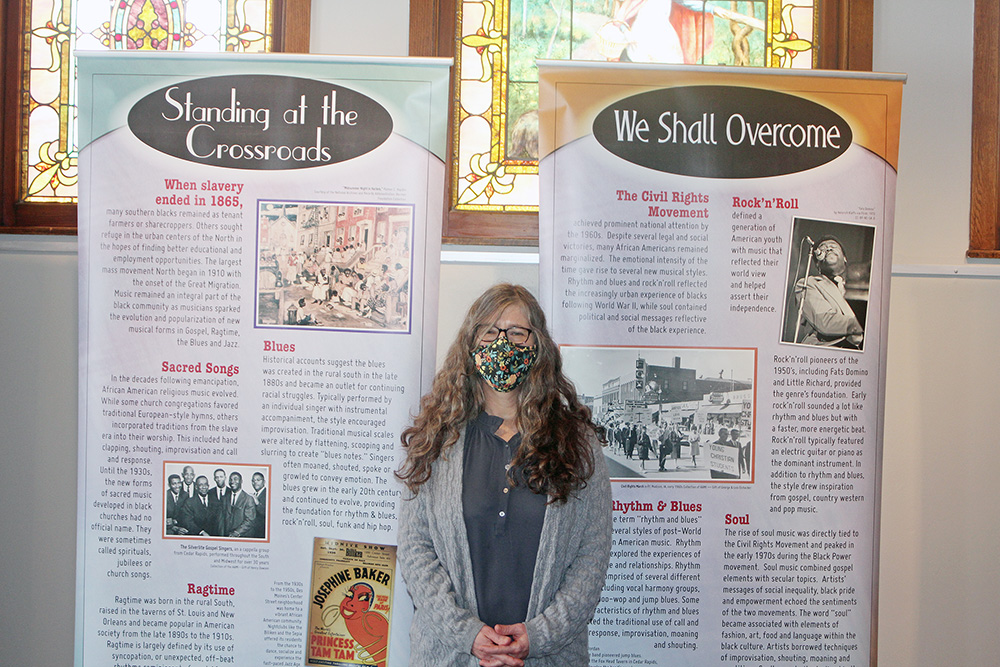 By James Grob, jgrob@charlescitypress.com
After taking a month off in January to do some maintenance and put a fresh coat of paint on the walls, the Charles City Arts Center is back in business this month, with two exhibits for the price of one.
The first exhibit is a selection of paintings and prints from the Dr. Salsbury collection, which is owned by Zoetis. The second exhibit is a traveling exhibit from the African American Museum of Iowa entitled "Behind the Beats."
The CCAC held a reception at 5 p.m. via livestream on Facebook. Directors Emily Kiewel and Erik Gordon ran through the history of some of the artists. In addition, anyone interested can make an appointment to visit the CCAC and receive a personal tour of the work on display.
Also this month, the CCAC will resume art classes on Saturdays for children in kindergarten through sixth grade. The classes, taught by Meredith Hamm, cost $50 for members and $55 for non-members. This Saturday's class was clay penguins, next Saturday, Feb. 13, will be glazing penguins, and Saturday, Feb. 20 will be winter sky painting.
The classes run from 9-10 a.m. and are limited to nine students per class. To sign up for a class, or arrange a visit to the CCAC, call 641-228-6284 or email charlescityarts@gmail.com.
The traveling exhibit from the African American Museum of Iowa, entitled "Behind the Beats," explores "the development of African American music from its roots in Africa to modern-day hip-hop." The exhibit is based on the AAMI's 2014-2015 temporary exhibit, and the CCAC is displaying it in honor of Black History Month, which is February.
The museum is based in Cedar Rapids, and the music exhibit outlines the history of African-American music, how African music was brought to the American continent by slaves, and how it evolved throughout the United States.
The other featured exhibit includes several works from Dr. Joseph Salsbury's collection of artwork.
Salsbury, a local veterinarian, founded Salsbury Laboratories to develop animal medications in 1929. The operation has had a succession of ownership and name changes over the years. Zoetis was spun off of Pfizer Animal Health and became a stand-alone company in 2013. Some of the pieces Zoetis is lending to the CCAC hang in the Zoetis administrative building, others are in storage.
"It's a really eclectic collection, he's got traditional pieces, abstract, prints, experimental art — some of them were gifts, but I think Dr. Salsbury personally worked to develop this collection," Kiewel said.
The majority of the pieces are from the 1970s, the majority of the artists are from the Midwest, and some of the works are appraised at $5,000 or more.
"There's all different mediums — there's oil, there's fiber, there's a lot more," Kiewel said. "It's a large collection, and we just took as many as we could that would fit."