Posted on
COVID-19 vaccination options expand for age 65 and older; first public clinic held
By Bob Steenson, bsteenson@charlescitypress.com
Floyd County residents age 65 and older are starting to receive COVID-19 vaccinations, and the options available to them are expanding.
Two-hundred doses were put into arms at the Floyd County Fairgrounds Tuesday morning in the first public vaccination clinic offered by Floyd County Public Health.
"It's going real smooth so far," said Public Health Administrator Gail Arjes at about 10:30 a.m., an hour and and half into the clinic that had appointments scheduled from 9 a.m. to noon.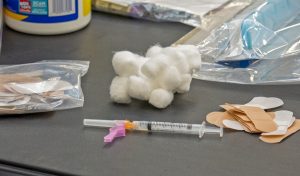 Arjes said Public Health expected to receive 300 doses of vaccine per week through February. Two hundred of those doses would be given at weekly public clinics like the one held Tuesday.
The next call-in for appointments will be held Saturday morning for the age-65 and over clinic scheduled for next Tuesday, Feb. 16.
Arjes said she was also allocating 100 doses a week to Main Street Drug in Charles City, for distribution by owner and pharmacist Cindy Uetz.
Uetz told the Press there is a sign-up form on her website for the doses she has available.
"It's a waiting list. It pops up immediately when you go on mainstreetdrugcc.com," Uetz said. Anyone can sign up, and the list is sorted according to who is eligible to receive the vaccine at the time.
"You fill out the information and it asks you the pertinent questions like your age, your comorbidities for when we get to that point. Right now we're just doing 65 and up, so it doesn't matter as far as comorbidities. But it throws you into the appropriate bucket of people, and then we work our way down the list and call.
"I haven't finished making all my appointments for this week, just because I haven't had time to get all the phone calls made yet," Uetz said Wednesday afternoon. "But we still have more appointments to make this week, and my understanding is we will be getting 100 doses directly to us each week. Just because you didn't make it this week doesn't mean you won't make it next week."
Uetz said people need to use the online form, because she simply doesn't have time to be taking the information and filling out paperwork over the phone.
But she also urged people to help their family and neighbors if needed.
"Getting on the wait list is really easy, but I know some people just don't have access to computers. Help each other out as much as you can."
She also said to remember to add the "cc" in mainstreetdrugcc.com, or you'll end up on the website to a pharmacy in Oklahoma.
The Charles City Hy-Vee pharmacy is also now getting COVID-19 vaccines for distribution to the public.
Christina Gayman, Hy-Vee's director of public relations, said the Hy-Vee Pharmacy in Charles City is receiving vaccine through the company's contract with the Centers for Disease Control and Prevention (CDC) and is receiving enough doses to vaccinate between 50 and 100 people per day, depending on the day.
The Charles City Hy-Vee previously helped Public Health vaccinate front line health care workers and essential workers, she told the Press.
"We are more than happy to partner with them going forward to assist with vaccinating eligible residents in Floyd County," Gayman said. Like the other vaccination sources, Hy-Vee is currently focusing on those people age 65 and older.
"As we receive new vaccine allocations, we will post that information on our store's Facebook page along with the online appointment scheduling link which is www.hy-vee.com/covidvaccine," she said.
At the Public Health clinic Tuesday morning, people were assigned to one of four doors into the Youth Enrichment Center at the fairgrounds, and volunteer members of the Community Emergency Response Team (CERT) helped guide traffic to the appropriate locations.
Once inside, each person's information was checked and a vaccination card was completed, then one of two nurses at each of the doors administered the vaccine.
"Just like a flu shot," said Elaine Mead after receiving the injection as she and her husband, Bill, settled into socially spaced chairs in the large facility to wait the required 15 minutes to make sure they didn't have an adverse reaction.
Mead said getting the vaccine was "extremely important" for her and Bill.
"We both got on the phone" to call for appointments when the call-in center opened last Friday, she said. "He got a ring at about 20 calls, then it rang for about 18 minutes. I kept getting the hangup message. I let it go 250 times."
Public Health Administrator Arjes said they hadn't seen any unexpected reactions to the vaccine since they've been giving it.
"No, nothing," she said. "Just the expected reactions. Sore arm, muscle aches, slight fever, things like that. You know your body's doing it's job then if you have that small reaction — building up antibodies."
Arjes said nurses from the Chautauqua Guest Homes were at the clinic to help administer the vaccines at one of the tables, otherwise it was Public Health staff. And other county employees were also helping out.
Jeff Scherman, Floyd County environmental health administrator and 911 manager, was wiping down chairs after people waited their allotted 15 minutes. One benefit of using sanitizing wipes all morning was he knew his hands were clean, he said.
Arjes said that in addition to the 300 doses for first doses they expect each week this month, they are also receiving shipments automatically of the required second or "boost" doses of the vaccine.
Boost dose clinics are being done today (Friday) and next Thursday at the Public Health office in Charles City.
Once those are finished all the health care providers in the county who wanted to be vaccinated will have received both doses, Arjes said.