Posted on
Charles City School District hires two new faces, Hoefer takes new position
By James Grob, jgrob@charlescitypress.com
The Charles City School District named a new director of finance and a new high school counselor for the 2021-22 school year this week, and also put a familiar face in a new position.
At this week's meeting of the Charles City School District Board of Directors, the board approved the appointment of Evan Marten, director of finance, at a salary of $90,000, effective July 1. Marten will also serve in the position for 53 days prior to his starting date, at a salary of $18,346. Marten will replace Terri O'Brien, who is retiring at the end of the school year.
The board also approved the appointment of Laura Smith, high school counselor, at a salary and start date yet to be determined, and approved the personnel transfer of Erik Hoefer, 8th-grade language arts teacher, to the position of middle school exploratory teacher, effective Aug. 1.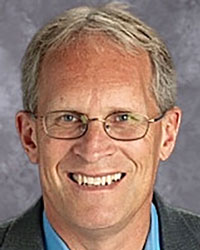 Hoefer, who has been teaching in Charles City since graduating from Luther College nearly 30 years ago, will move into a new middle school student leadership exploratory teaching role.
He has taught at Washington Elementary, Lincoln Elementary, and the Charles City Middle School. He also coaches middle school boys cross country and is an assistant varsity track coach. Hoefer is also the voice of the Charles City Comets on KCHA radio and a student pastor and lay leader at Messiah Lutheran Church.
Hoefer and his wife Sue — who is an elementary physical education teacher, are foster parents to six boys right now and have fostered 12 children and adopted five over the last decade, along with having four grown children.
Hoefer said he is excited to give students the opportunity to learn about leading themselves, leading others, and leading leaders while providing students many opportunities to use those skills in and out of school.
Marten, the new CCSD director of finance, earned his Bachelor of Science degree in finance at the University of Maryland Global Campus and his Masters of Business Administration (MBA) concentrating in investment management and financial analysis at Creighton University. He also served for four years as a Marine.
His experience includes being an investor portfolio analyst at Wells Fargo and working in accounting with the Iowa Vocational Rehabilitation Services. Most recently, he is the financial manager with the Iowa Governor's Office of Drug Control Policy. He will be joining the Charles City Community School District in April at the end of the legislative session.
An avid outdoorsman born in Montana, Marten graduated high school in Leesburg, Virginia, a suburb of Washington D.C. He is married to his wife, Carly, from State Center, and they are expecting their first child this summer. He said he was drawn to Charles City's diversity and giving back to students by serving them in a financial role.
Smith, CCHS's newest counselor this fall, grew up in Urbandale and graduated from Dowling Catholic High School. She earned her B.A. in child and adult family services from Iowa State University and her counseling degree from the University of Northern Iowa.
Smith is a two-year veteran of school counseling as a junior high and high school counselor in the Gladbrook-Reinbeck Community School District. She said she enjoys traveling, staying active, and the outdoors. Smith is married to her husband, Jordan, who works at Synergy Physical Therapy and Sports Medicine in Charles City. She said she is excited to work in Charles City's family-oriented community.