Posted on
Hitchcock trial set for May on child sex charges
By Bob Steenson, bsteenson@charlescitypress.com
The trial of a Charles City man charged with two child sex crimes has been set for May.
Jeffrey Ralph Hitchcock, age 53, was charged with sexual abuse in the third degree, a Class C felony, and lascivious acts with a child, also a Class C felony.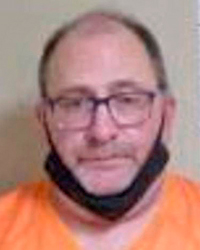 Hitchcock was arrested in February and he has pleaded not guilty to both charges.
According to records filed in Floyd County District Court, Hitchcock allegedly had sexual intercourse with a 13-year-old girl throughout the year 2020, and sexually touched a 13-year-old girl. The charges say the alleged victim described the incidents in an interview at a Child Protection Center.
Trial in the case had originally been set for April 13, but has now been continued to May 11.
On March 24, Hitchcock's attorney filed a motion asking that a specific judge be designated for the case.
"There are several pretrial motions that are anticipated; and it is in the interest of justice and judicial economy that one judge be appointed to oversee the complex and voluminous information in this case," wrote Timothy Lapointe of Mason City in the motion.
On Thursday, District Court Judge Gregg Rosenbladt turned down the request, writing, "In District 2A, specific judges are assigned normally to civil matters and class A felonies. Accordingly, the motion will be denied."
Rosenbladt also recently denied a motion by Lapointe for a bill of particulars — a list of "further particulars and evidence upon which the state intends to rely to prove the offenses asserted in the charges."
Lapointe argued that the trial information — the document that lists the official charges — "fails to specify the particulars of the offenses sufficiently to fairly enable the defendant to prepare a defense."
"The offense, as charged, is general in nature and does not provide sufficient clarity or specification regarding time and place, such that it is impossible to prepare a defense, including but not limited to submitting an alibi," he wrote.
County Attorney Rachel Ginbey argued that Iowa law and legal precedent do not require an exact date when dealing with child sexual abuse allegations, citing the Iowa Code and several court cases to make that point.
Judge Rosenbladt agreed, denying the motion for a bill of particulars and writing that the minutes of testimony that accompanied the trial information "provide more specific details regarding the times of the allegations" and "note the date of the report to law enforcement and the initial timeframes alleged by the alleged victim."
"Further, there is documentation in the minutes of testimony including a hotel receipt which gives further detail as to the timing of the allegations," Rosenbladt wrote.
"The state is not obligated to prove a precise time and place of sex crimes including incest and statutory rape," he wrote, quoting from case law.