Posted on
Iowa Court of Appeals affirms Harris conviction for murdering infant son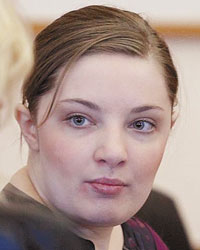 By Bob Steenson, bsteenson@charlescitypress.com
The Iowa Court of Appeals has affirmed the conviction of an Alta Vista woman for the murder of her infant child after considering an appeal regarding the woman's mental condition at the time of the crime and the effectiveness of her attorney.
Cheyanne Harris, now age 24, had appealed her conviction and sentence for first-degree murder for the August 2017 death of her 4-month-old son, Sterling Koehn, who was found dead in a child swing in Harris' and the baby's father's Alta Vista apartment.
The prosecution argued that the boy died of malnutrition, dehydration and an E. coli infection, and hadn't received proper care for up to two weeks before he died.
The father, Zachary Koehn, was convicted of the same charges in a separate trial and, like Harris, was sentenced to life in prison without the possibility of parole.
In her appeal, Harris argued that the Chickasaw County District Court should have allowed "opinion evidence of a mental impairment due to a mental disease or defect" to negate the criminal intent required for conviction.
She also argued her attorney, Aaron Hawbaker of Waterloo, was ineffective because he failed to offer her the opportunity to present a diminished responsibility defense while at the same time allowing the prosecution to pursue a line of argument that confronts a mental health defense.
Harris was charged with murder in the first degree for killing her son while committing felony child endangerment under circumstances showing an extreme indifference to human life, and was also charged with child endangerment resulting in death.
The appeals court ruled that Harris did not seek a diminished responsibility instruction for the jury and had asserted she would not do so when arguing that a clinical psychiatrist should be allowed to testify regarding Harris suffering from post-traumatic stress, substance abuse and major depressive disorder.
"Harris' contention that the district court should have allowed her to use Dr. O'Hara's testimony for purposes other than to establish her mental-health diagnoses and lay doubt about her ability to form general intent is inconsistent with the position she took in the district court. She cannot change horses in midstream," the appeals court wrote in its decision.
Regarding the claim of ineffective assistance of counsel, the court wrote that Harris' attorney had no obligation to advocate for a change in law regarding the use of diminished capacity as a defense to certain charges, as Harris contended, and "counsel had no obligation to raise an unrecognized defense."
The court also wrote that Harris' attorney did not fail to do his duty by objecting to some of the prosecution's statements during closing arguments because the statements were within the prosecution's prerogative to make.
"We affirm Harris's judgment and sentence for first-degree murder," the Court of Appeals concluded.