Posted on
Charles City man sentenced to probation on rural burglary charge
By Bob Steenson, bsteenson@charlescitypress.com
A Charles City man who is awaiting trial on a drug charge has received a suspended jail sentence on different charges and was placed on probation during a sentencing hearing Tuesday.
Robert Patrick Frazer, age 25, of Charles City, and Dylan Michael Jones, age 23, formerly of Charles City but now listing his address as New Hampton, were both charged with two counts each of third-degree burglary, Class D felonies, and one count each of criminal mischief, a serious misdemeanor.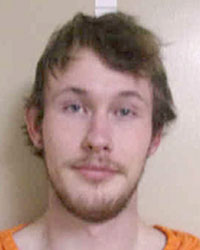 Frazer had pleaded guilty in March to one count of third-degree burglary and to fourth-degree criminal mischief.
On Tuesday, he was sentenced in Floyd County District Court to five years in prison on the burglary charge, fully suspended; a $1,025 fine plus 15% surcharge, fully suspended; and placed on probation with the Iowa Department of Corrections for three to five years.
On the criminal mischief charge, Frazer was sentenced to seven days in jail with credit for time served and ordered to pay a $430 fine plus 15% surcharge, plus other fees.
The second burglary charge was dismissed as part of the plea agreement.
Frazer was also ordered to obtain a substance abuse evaluation and follow through on any recommendations, and be subject to random drug testing.
Both men had been accused of entering a farm building in the 2200 block of Walnut Avenue in Floyd County in January with the intent of stealing items from the building.
Court records say the two men were caught in the act and tried to escape arrest, with Frazer kicking in the door of a locked barn in the 2200 block of Villa Lane and the two men entering the barn in an an attempt to elude law enforcement. The damage to the barn door was more than $300, the report states.
The two farms are both southeast of Charles City and less than a quarter mile from each other.
Frazer is one of at least eight people charged with possession with intent to deliver methamphetamine after police searched a house in the 700 block of 10th Avenue in Charles City last October. Trials for Frazer and the other defendants on that charge are scheduled for May 11.
Jones had previously also pleaded guilty to one count of third-degree burglary and fourth-degree criminal mischief and last month was given a sentence virtually identical to the one Frazer received this week.