Posted on
Charles City football team shuts down for two weeks
Positive COVID tests prompt the cancellation of Comet home games against Union, Western Dubuque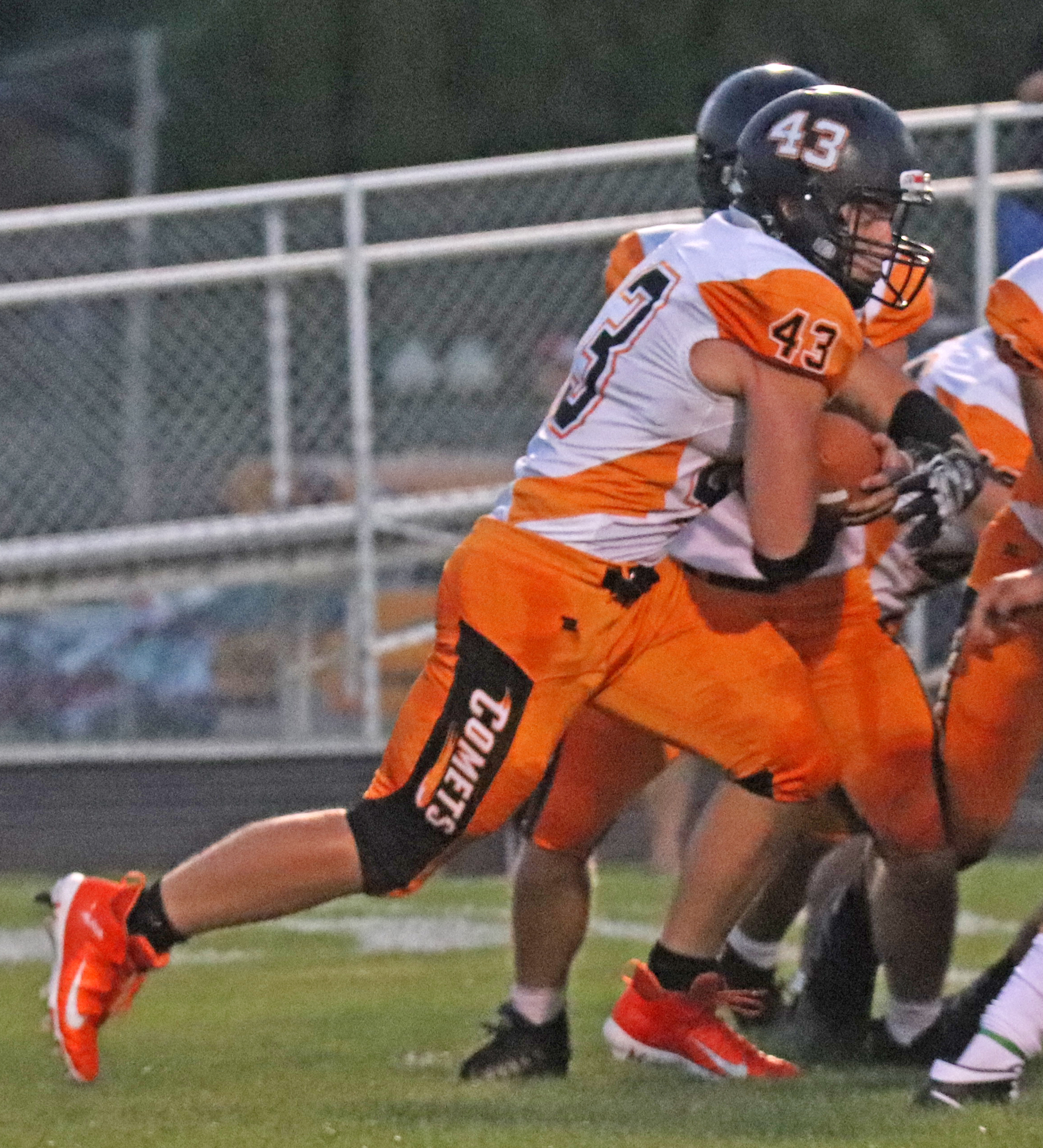 By John Burbridge
sports@charlescitypress.com
CHARLES CITY — Charles City head football coach Darren Bohlen had high hopes for the 2020 version of the Comets.
They're fast, talented … experienced as all 11 starters from last year's offensive unit have returned.
But he couldn't ignore the pall of doom that hangs over all sport teams and leagues trying to move forward during this pandemic.
"We knew something like this could happen," Bohlen said shortly after Wednesday's decision to shut down the Charles City football team for at least two weeks due to several student-athletes testing positive for COVID-19.
"We just didn't think it would come on so soon."
The Comets were due to host Union Community this Friday with both teams vying for their first win of the season. Then Charles City was to host defending Class 3A champion Western Dubuque the following week (Sept. 11).
Charles City School District reported on Tuesday that two students, including a Comet football player, tested positive for COVID-19. Football practice was canceled on Tuesday to allow Floyd County Public Health time to contact trace.
In a release on Thursday, the district revealed that two football players have been diagnosed with COVID-19, and that several other players are currently quarantining as there are other suspected cases on the team.
"We decided that it was in the best interest of the team to shut it down for a while and get everyone healthy and in good shape by time for the playoffs," Bohlen said.
All Iowa football teams are due to play in the postseason — that is IF they hadn't been laid low by the pandemic at that juncture of the season.
During the past summer baseball and softball seasons, several pandemic-plagued teams were able to restart after several weeks off. But football, with extensive preparation required for play mastery, conditioning and opponent scouting, poses a much greater challenge for a would-be reboot.
The Comets won't be practicing together during the shutdown.
"And we've got Decorah coming up when we get back," Bohlen said of Charles City's Homecoming Game on Sept. 25. "That was going to be a tough game for us anyway."
Without formal team practices, staying in season shape and on the same page for a pending return is going to take discipline and individual fortitude as well as some tech savvy.
"We're going to get together with our players with some Zoom conferencing to make sure they're doing the right things to stay in shape," Bohlen said. "They're definitely going to have to do some work on their own."
Bohlen hopes this setback will influence his players to address the crisis more seriously.
"We've got to do a better job on social distancing," he said. "That means not hanging around with your buddies so much after school. Our season is on the line."
The individuals who have tested positive for COVID-19 will be allowed to return to school once they are 24 hours with no fever and symptoms are improving, and 10 days since symptoms started. If there are no symptoms, the students can return 10 days from the day of test. The campus attendance office will monitor the return date.
"The decision to pause football is all about student safety," said Charles City Activities Director Todd Forsyth in the release. "If we pause now, we might have a chance to reorganize in a few weeks to be able to finish the season. We know this is a difficult reality for our players and we empathize with our students, family, and community who are impacted by this temporary pause."
The symptoms of COVID-19 are similar to the regular seasonal influenza and include fever, coughing, shortness of breath and loss of taste or smell. Some have reported additional symptoms, such as fatigue, muscle or body aches, headache, sore throat, new runny nose/congestion, nausea, vomiting and diarrhea.
The district announced that it will reevaluate the situation in 10 days to determine when to restart the program.