Posted on
Fall Hunting & Fishing: Youth hunting seasons help connect kids with the outdoors, build lasting relationships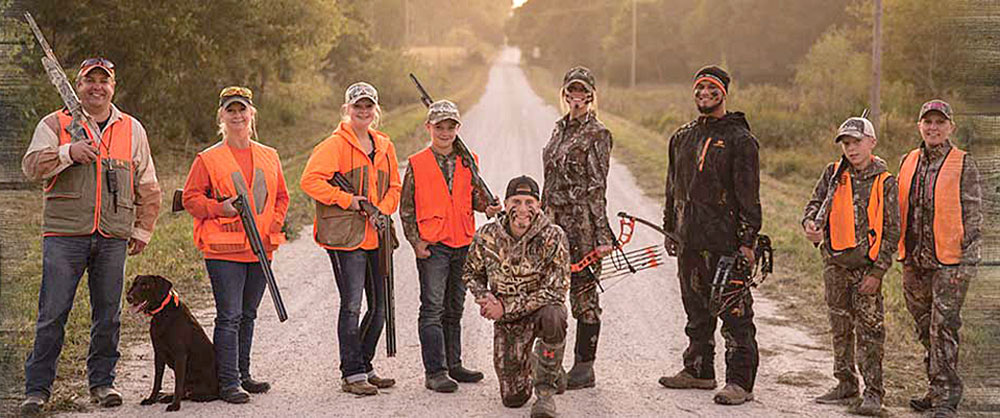 By James Grob, jgrob@charlescitypress.com
About 10,000 young deer hunters took to the fields and the woods as Iowa's youth deer season opened up this past weekend. The season runs through Oct. 4 and coincides with the disabled hunter deer season for hunters who meet certain criteria.
The youth season is designed as a mentor-styled hunt, matching young hunters with a licensed adult to teach proper deer hunting techniques, wildlife behavior and safe hunting practices without the added pressure of other hunters in the field.
Jim Coffey, forest wildlife biologist with the Iowa Department of Natural Resources, said the special season for youth has been going on for more than 10 years now. He said it's part of what the DNR calls an "R-3" program, which stands for "recruitment, retention and reactivation."
"The idea is to get young hunters out there in a mentor relationship with adult hunters, so we can build a hunting tradition," Coffey said. "It's a season with less pressure and fewer hunters out there really gives that mentor a one-on-one experience with that youth, not only to teach them about deer hunting, but about other outdoor skills, biology and other issues that come along with hunting."
Coffey said the season was moved to September and early October simply because of the weather.
"It's little easier for a kid to go out and spend a little time outdoors when the weather's nice, rather than in December, when the weather can be a little nastier," he said.
Each youth must be under direct supervision of an adult mentor, with a valid license and habitat fee (if required). The youth license is valid statewide and for any legal deer.
"It's a little bit like a learner's permit for driver's licenses," Coffey said. "It's a way to kind of ease a kid into it a little bit."
In 2019, hunters purchased more than 10,000 licenses for the youth season and reported harvesting more than 3,500 deer. An unfilled youth season tag may be used during any subsequent deer season, while following all other rules specified for each season. Party hunting with a youth tag is not allowed. A deer must be harvested by the youth with the tag. However, that tag holder may obtain deer tags for other seasons, just as any other hunter can do.
All deer taken must be reported using the harvest reporting system by midnight the day after the deer is recovered. Harvest reporting is a very important part of the deer management program in Iowa, playing a vital role in managing deer populations and hunting opportunities. Hunters can report their deer on the DNR website or by calling the toll-free reporting number 1-800-771-4692, or at any license vendor.
Coffey said the goal of the hunt should be a positive, enjoyable, and ethical experience, and harvesting a deer should be considered a bonus, not define success.
"What we really want to emphasize during the youth season is that tagging a deer is not the measure of success," Coffey said. "It's spending the time and understand the process — why we deer hunt, what we're doing, how we're building skills."
He said for many young hunters, this will be their first experience hunting deer, and mentors are encouraged to take the needs of the new hunter into account when planning the hunt.
"We want people to be safe, and remember that this season is about mentoring and learning," Coffey said. "Success is measured in many ways, and the most important thing is to enjoy the experience."
Coffey said he was 10 or 11 years old when he shot his first deer.
"It was a pretty intimidating process," he said. "The fact that I dropped a deer was very exciting, but I think what I really learned that first year was the camaraderie that comes with deer hunting, and the fact that deer hunting can be a social experience."
Coffey said he hunted with a "good group of guys" who helped him learn the process — from hunting the deer, to dragging the deer and to processing the deer and sharing the bounty with the landowners.
"The guys I hunted with made sure I understood the process," he said.
Coffey said that youth hunting seasons are about "building lifelong relationships." He said that many kids don't have the family and social support that he had, and have no one to share the wonders of hunting and the outdoors with them. His message to them is to not be afraid to ask someone.
"There are a lot of older deer hunters who would love to relive their youth, and would love to share their knowledge and experience with a young hunter," Coffey said. "We live in a society today where we have a lot of single parents, and I would tell a young man or woman to not be afraid to reach out to an uncle or a neighbor or an older gentleman at church who doesn't have any kids with him anymore."
Coffey said that parents with children who are curious about the outdoors can help a child make those connections.
"As a parent, if you have a child who is interested, do a little bit to help them explore that," he said. "It's hard for a 10-year-old to reach out to an adult, it can be intimidating."
In addition to the youth deer season, the first of Iowa's two-day youth waterfowl seasons began Saturday in the north zone. Youth waterfowl season in the north zone was Sept. 19-20, in the south zone is Sept. 26-27 and in the Missouri River zone is Oct. 3-4. Daily and possession limits for the youth season is the same as for the regular season.
"The young hunters get to spend some time outdoors and learn from an experienced waterfowl hunter in a one on one situation, and that's priceless," said Orrin Jones, state waterfowl biologist with the DNR.
The youth waterfowl season is for residents only, age 15 or younger, who may hunt without purchasing a hunting license, or federal duck stamp, or paying the Iowa habitat or migratory game bird fee. Each youth hunter must be accompanied by an adult 18 years old or older and the adult must have a hunting license and have paid the Iowa wildlife habitat and migratory game bird fees.
Hunters planning to take a young person on this special hunt are reminded that only the youth may participate in the hunt and only ducks, geese, mergansers and coots are legal species. All other regulations in effect for the regular waterfowl seasons apply during the youth hunt.