Posted on
Floyd man pleads guilty to sex crimes with child
By Bob Steenson, bsteenson@charlescitypress.com
A Floyd man charged with child sexual abuse but originally found incompetent to stand trial, has pleaded guilty to two of the charges against him and will be sentenced later this year.
Charles Earl Thompson, age 64, had originally been scheduled to begin trial in January on charges of sexual abuse in the second degree, a Class B felony, and lascivious acts with a child, a Class C felony, allegedly committed with a girl age 8-9 in 2018-2019, as well as other misdemeanor sexually related charges.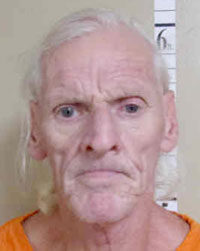 Thomson was ruled incompetent to act in his own defense based on the recommendation of a state psychiatrist, and was sent to the Iowa Medical and Classification Center for treatment. He initially refused to take the medication prescribed by a state psychiatrist, but was order to be treated involuntarily if necessary by District Court Judge DeDra Schroeder.
In May, Schroeder ruled that Thompson had been found competent to stand trial, and ordered him transported back to Floyd County. He is currently incarcerated in Mitchell County Jail.
Trial was scheduled to begin on Oct. 27 in Floyd County District Court, but on Oct. 26 Thompson filed a written plea of guilty to two of the charges.
Thompson pleaded guilty to lascivious acts with a child, a Class C felony, and dissemination and exhibition of obscene materials to a minor, a serious misdemeanor.
The most serious charge, the B felony second-degree sexual abuse charge, will be dismissed, as will two charges of indecent contact with a child and a charge of assault with intent to commit sexual abuse, the last three all aggravated misdemeanors.
Under the plea agreement, the Floyd County Attorney's Office will recommend a sentence of up to 10 years in prison; $1,000 fine and 35% surcharge, suspended; restitution; and registration on the sexual offenders registry for life.
It will also recommend that Thompson be sentenced to Iowa's special sentence for life, which means he will be under the supervision of the Iowa Department of Corrections, even after release; a no-contact order with the victim or victims for five years; and sex offender treatment as required by the Department of Corrections; along with other fees and penalties.
In a written order Monday, Judge Schroeder accepted Thompson's plea on the two counts and set sentencing for Dec. 7.