Posted on
Grob takes lead role in CCHS speech program
To the Press
A new director with a wealth of experience will coach students this winter as the new large group and individual speech director.
Charles City talented and gifted (TAG) teacher Michelle Grob was recently named the Charles City High School head speech coach by the Charles City Community School District Board of Education.
Grob is a TAG teacher for students in grades 7-12. During this COVID season, she is also teaching reading for students in grades 6-8 to provide smaller class sizes at the Charles City Middle School. She is the play director and drama director for the musical, roles she has served since coming to Charles City in 2017.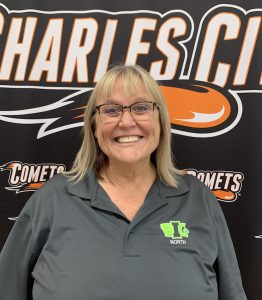 Grob comes into her new position with extensive qualifications and 28 years directing middle school, high school, and community theatre productions. She also was the head speech coach for seven years at Davis County in Bloomfield, Iowa. Her on-stage and directing experience totals more than 70 productions.
"I have enjoyed sharing my passion for theater with students here in Charles City over the last three years," Grob said. "I believe that by working in both the drama and the speech programs, both will be strengthened. I look forward to seeing what direction our talented students will take us."
One of Grob's first tasks will be to assist in hiring an assistant speech coach. Grob will remain as the play director with assistant director Erika DeBruyn, and drama director for the musical with musical director Derek Sturtevant.
Her goals for the speech program are centered around a student-driven approach. This type of program allows students to explore and find works they are passionate about. She strives to support students' search for performance material they are excited to learn and perform while helping them determine their own interpretation of the performance.
"We are eager to see the engagement and direction that Mrs. Grob will take as she leads the speech program this year," said CCHS Principal Bryan Jurrans. "She is attuned to the students' busy schedules and is taking their needs into consideration as she plans this year's large groups and individual speech contests. Her vision for the program aligns with our school vision of creating compassionate, competent problem solvers."
Grob graduated from Urbandale High School and Iowa State University. She earned her talented and gifted certification from the University of Iowa. She is married to James Grob, a reporter with the Charles City Press. James is an established writer, author, actor, director and playwright. They share four grown children and four grandchildren.