Posted on
CCHS drama to record fall production for online and radio broadcast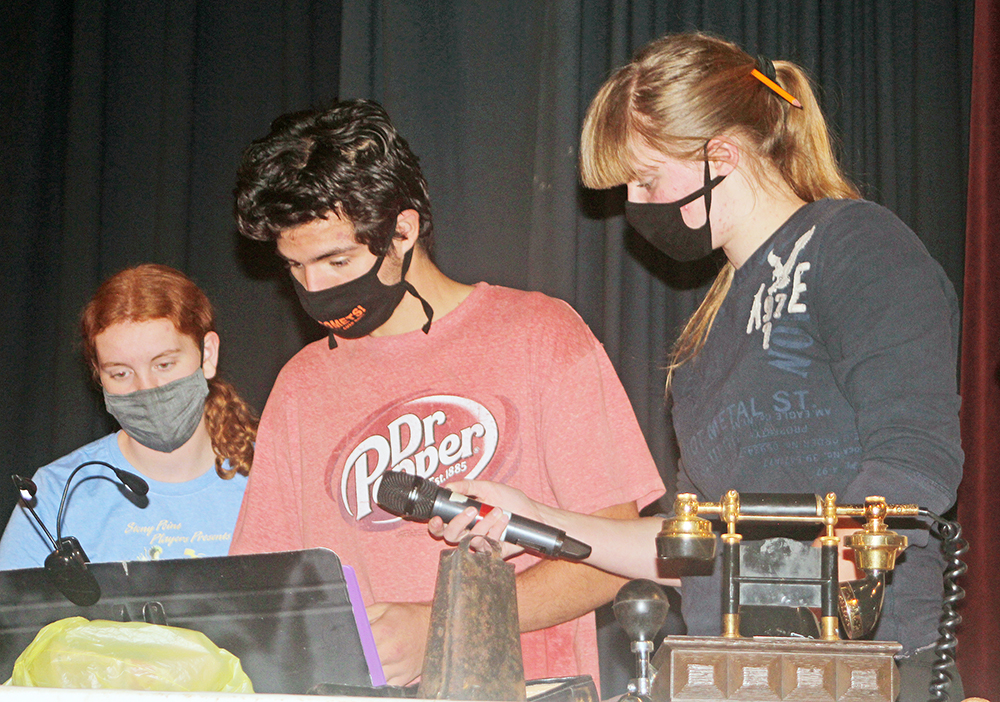 By James Grob, jgrob@charlescitypress.com
The old saying goes "the show must go on."
Sometimes, the show must go online.
After a month of hand-wringing and wondering how to proceed, the Charles City High School drama department will still present its fall production, "The North Cedar Old Tyme Radio Revue," sometime in December.
There will be no live audience, but the production will be available to watch online, and CCHS still intends to broadcast the show on KCHA radio in Charles City, on a date to be announced.
"It's a little disappointing, because you love having an audience and you also perform better with a live audience, and we won't have that," director Michelle Grob said. "We will still be giving the kids an opportunity to perform, though."
The show is on old-style replication of a live radio program, and will include five comedy radio plays, local live radio commercials featuring local businesses and music by the CCHS vocal ensemble "Rhymes With Orange." The initial production was also going to include a Bluegrass band, but that idea has been scrapped.
"It just seemed too risky to bring the bluegrass band back together," Grob said. "As far as what people will end up seeing online and hearing on the radio, other than the bluegrass music part of it, it will be the same show."
Announcements will be made as to when the show will be available online and aired on the radio.
"Plain and simply, this is why we picked this type of show this year," Grob said. "We knew what was going on, and we needed a show that would give us that kind of flexibility."
The cast, crew and musical groups had worked on the show through September and October, and the production was set to open on Friday, Oct. 30, at North Grand Auditorium. At about 3 p.m. that afternoon, however, Grob learned that one of the musicians had tested positive for COVID-19.
The information was immediately brought to school administration, and due to procedures already in place, it was determined that the show could not go on that weekend.
"It was so disappointing for the kids, because they had put in all the work and were just a few hours from opening the show," Grob said. "They were ready to go on."
Within a few days, Grob tested positive for COVID-19, as did musical director Derek Sturtevant and assistant director Erika DeBruyn. Grob said that at least five students involved with the play also tested positive, and all had to quarantine.
"It was a situation that just widened," Grob said. "It was fortunate that the entire cast and crew of more than 30 students didn't have to quarantine, because most of the cast masked, most of the cast kept social distance during rehearsals."
With all three directors sick and out of commission for more than two weeks, the play was put on pause. During that time, cases began to rise in Floyd County and the school district got a waiver for the Iowa Department of Education to go to 100% virtual learning if it became necessary.
"It seemed like every time that we wanted to sit down and have a discussion of when the play would take place, we had more kids quarantined or whatever, and it kept getting pushed off," Grob said.
Grob and Sturtevant finally sat down last week and decided to put together the radio play without an audience. They will take video and audio recordings of the play this week. KCHA has told them it is still willing to work with CCHS and broadcast the play sometime before Christmas break. The video recording will be available online sometime before that.
Typically, CCHS presents a musical in the fall and a play in the spring. Due to the COVID-19 pandemic, Grob and Sturtevant decided to flip that around, and push the musical back to the spring.
Grob then decided that the CCHS actors could re-create an old-fashioned live-broadcast radio show, with nothing pre-recorded, everything happening live. The cast is essentially 25 actors, playing actors who are putting on a live radio show.
Grob said the format allowed for fewer practices, smaller groups together at once, no memorization and no need for an elaborate set or costuming.
"I think the cast has really enjoyed it," Grob said. "Even though they don't have to memorize, they still have to develop their characters, and it took some of them a while to discover that."