Posted on
Floyd County COVID-19 vaccination clinic postponed until Thursday because vaccine delayed by weather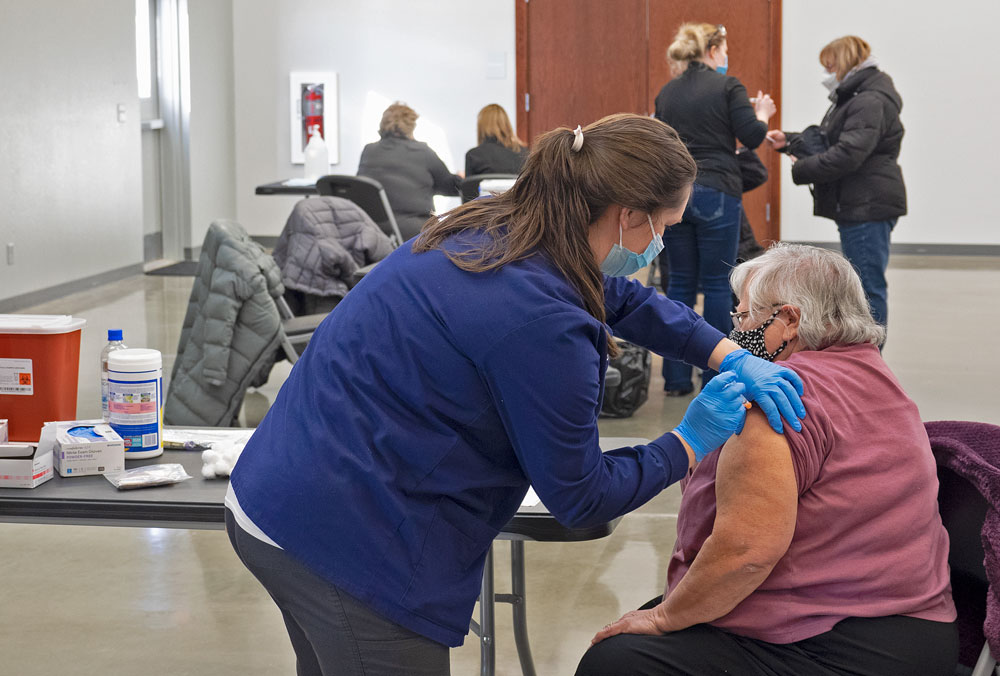 By Bob Steenson, bsteenson@charlescitypress.com
A COVID-19 vaccination clinic by Floyd County Public Health scheduled for this morning (Tuesday) has been canceled because of a weather delay in receiving the latest shipment of vaccine, but has been rescheduled for Thursday.
Anyone who had an appointment to receive the vaccine today will be able to receive it at the same time on Thursday, Feb. 25, county officials said.
County Supervisor Linda Tjaden said at a meeting Monday morning that she had received word from county Public Health that it was beginning to call the 200 people who had been scheduled to receive their first dose of the vaccine at the clinic Tuesday.
As of 1 p.m. Monday, Floyd County Public Health Administrator Gail Arjes said that everyone scheduled for an appointment Tuesday had been called and either told the clinic would now be on Thursday, or had been left a message to that effect.
Tjaden said the delay was frustrating because the county's new online vaccine registration system was working well. As of Monday afternoon just over 600 people had registered by filling out the form at www.floydco.iowa.gov.
Tjaden said some people registered more than once, and some people who are not yet eligible to receive the vaccine have been registering, but the system is able to pull out lists of people who are eligible. That currently includes teachers, health care providers and persons age 65 and older.
Volunteers called people last week who had registered online and by Friday morning had finished scheduling all 200 doses for Tuesday's clinic, Tjaden said.
"Probably about an hour after the volunteers did such a great job calling people, we found out that we may not get the vaccine, because of the weather," Tjaden said.
She said having people register online and then calling them to make appointments was easier than taking the information when people called in, but there were a lot of people who didn't answer the calls even though they were all made from the courthouse and should have shown a courthouse number.
When there was no answer the caller would note that on the sheet and continue down the list, Tjaden said. They wanted to avoid trying to call people back repeatedly, but at a certain point the callers did go back to the top of the list and try again to reach those who hadn't answered.
"We understand that people work, they're busy, they don't always have their phone with them," Tjaden said. "We're doing the best that we can. I really want to thank the volunteers."
Supervisor Doug Kamm said he knew people who were signing up on multiple lists for the vaccine.
"They've got their name on every list in northeast Iowa," he said.
Tjaden said that was OK, as the first thing they ask when they are calling to make appointments is if the person still wants the vaccine.
"Some of them had already gotten in somewhere else, and that's great," she said.
Tjaden said the county usually receives information on Tuesdays regarding what its next weekly shipment of vaccine will be.
Assuming the county will get another 300 doses — in addition to the ones that were delayed — Tjaden said the county will likely do what it has in the past couple of weeks, which is hold a public clinic for 200 people next Tuesday and give 100 of the doses to Main Street Drug to administer.
She said at some point the county may consider a clinic at a different time of day for those who can't make it in the morning, but also noted there are other options to receive the vaccine, such as Main Street Drug and the Hy-Vee pharmacy in Charles City. Signups for those are available at mainstreetdrugcc.com and hy-vee.com
The White House had announced Friday that vaccine shipments were being delayed for three days because of frigid temperatures, snow and ice across much of the country.
White House coronavirus response adviser Andy Slavitt said the federal government, states and local vaccinators are going to have to redouble efforts to catch up after the interruptions.
All the backlogged doses should be delivered in the next several days, Slavitt said, adding that all the doses had been kept safe and were not in danger of spoiling or expiring.