Posted on
Donald K. Beck
Donald K. Beck, 92, of Moline, passed away Sunday, Aug. 9, 2020 at his home surrounded by his loving family.
A Mass of Christian Burial will be 10 a.m. Saturday, Aug. 15, 2020 at Sacred Heart Church, Moline. Visitation will be 4-6 p.m. Friday at Rafferty Funeral Home, 2111-1st St A, Moline. Burial will be at St. Mary's Cemetery, East Moline. Memorials may be made to St. Jude Children's Hospital, Mississippi Valley Regional Blood Center or please donate in Don's name.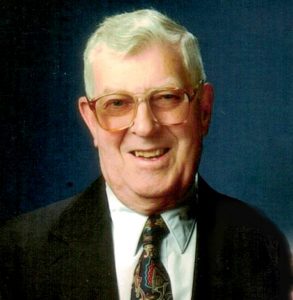 Don was born April 18, 1928 in Nashua, IA, the son of Lee C. and Helen T. (Bullen) Beck. Growing up, Don helped his father farm corn and beans with horses and also raised cows and hogs. He graduated in 1946 from Nashua High School where he missed almost half of his senior year due to helping on the family farm after his father fell ill.
Don married Betty Baldwin on June 21, 1952 in Charles City, IA. She preceded him in death on Sept. 30, 2004.
Don helped on the family farm before working as a yard foreman at a Charles City, Iowa lumber yard. In 1957, Don and Betty moved to Moline so Don could work at J.I. Case, Bettendorf. He later worked at Priester's Construction retiring in 1990 after 30 years.
Don was a member for over 50 years of Knights of Columbus 4th Degree and Labor Union Local 309. He was also a member of the Moline American Legion Social Club where he and Betty devoted much of their time working the fish fries and bingo. Don enjoyed hunting, making and giving away bird houses and hundreds of collapsible wooden baskets decorated as fruit and animals. He enjoyed helping his children renovate their homes. He was always willing to help friends and family no matter what the job was.
Survivors include his children, Pam (Herb) Anderson, Moline, Don (Paula) Beck, Tulsa, OK, Tim (Denise) Beck, Leesburg, FL, Bill Beck, Moline, Roger (Michelle) Beck, Hampton, IL, Lori (Tim) Wilson, Moline and Debbie (Ron) Elliott, Davenport; grandchildren, Bria, Jennie, David, Paul, Justin, Keith, Kyle, Elise, Mitch, Emiley, Nick, Haley and Taylor; 18 great grandchildren; three great great grandchildren; sister, June Franzen, Nashua, IA and special friend, Esther Gibson, Moline. He was preceded in death by his brother, Johnny Beck and sisters, Beth Bahlman, Velma Oleson and Lois Eckenrod.
Through the trials and tribulations of life, Don was very appreciative to have such supporting friends and family.
Condolences may be left at www.RaffertyFunerals.com.