Posted on
Jean Audrey Weigand
Jean Audrey Weigand, 93, passed away Wednesday, Oct. 7, 2020, at MercyOne Hospital in Mason City with family at her bedside.
Due to Covid-19, a private family service will be held. Interment will be at Greenwood Cemetery in Nashua, IA with Josh Weigand, Jason Weigand, Sam Blum, Peter Watters, Nathan Hoffman and Carl Graves serving as pallbearers. Honorary pallbearers will be Chase Pitzer and Matthew Pitzer. Hugeback Johnson Funeral Home and Crematory – Olson Chapel of Nashua is entrusted with arrangements.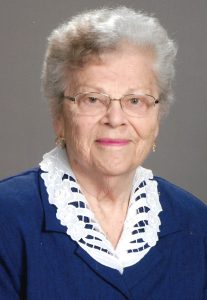 Per the families request, memorials may be directed towards the Nashua Public Library or St. John's Lutheran Church in Nashua.
She was born Sept. 30, 1927 to Oscar and Emma Wagner on a farm outside of Nashua. Jean received her education in rural country schools and graduated from Nashua High School in the class of 1946. After graduation, she worked at Salsbury's in Charles City. On May 15, 1949, Jean was united in marriage to Darrell Weigand at St. John Lutheran Church in Nashua. To this union, five children were born. Jean was a very busy stay-at-home mom, and also canned and froze everything she had in her large garden. She loved to sew clothes for the girls including prom dresses and even a bridal gown. She also helped her husband on the farm south of Nashua. In 1970, Jean decided to go back to work where eventually she worked side-by-side with her husband at the Nashua Fertilizer Plant until they both retired in 1986. She was married for 60 years before her husband passed away.
Jean was very active at church, teaching Sunday School when her children were young and a member of the women's circles including sewing quilts. She loved to read books and bake, famous for her cinnamon rolls, dinner rolls and cookies for coffee time at church, and she was a long-standing member of Women's Club. She traveled extensively across the U.S. with her husband and enjoyed camping and fishing.
Jean is survived by her five children, Greg (Marleen) Weigand of Nashua, Marvlyn (Thomas) Watters of Waverly, Laura (Steve) Blum of Nashua, Wayne (Rhonda) Weigand of Little Elm, TX, and Mary (Kevin) Pitzer of Aurora, CO; her sister-in-law Bonnie Wagner; and her 15 grandchildren, 28 great-grandchildren, and four great-great grandchildren.
She was preceded in death by her husband, Darrell; her parents; three brothers, Jerry (Emma) Wagner, Max Wagner, and Kenny (Louise) Wagner; her sister-in-law Eleanor (Elvin) Wright; one granddaughter, Tara Weigand.