Posted on
Diana Wiles
Diana Wiles, age 66, of Charles City, Iowa died Friday, Nov. 13, 2020, at her home.
Funeral services will be held 11 a.m. Wednesday, Nov. 18, 2020, at the Faith Bible Chapel in Charles City with Rev. Jason Boyd presiding.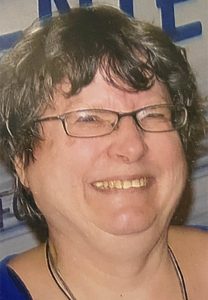 Friends may greet the family 4-6 p.m. Tuesday, Nov. 17, 2020, at the Hugeback Johnson Funeral Home and Crematory – Olson Chapel in Nashua. Visitation will continue an hour prior to the service at the church on Wednesday.
Diana was born on Sept. 16, 1954, to Frank and Dorothy (Taylor) Dann in Charles City. She grew up in Nashua.
She attended school in Nashua, and was a part of Nashua High School's Class of 1973.
Family always came first for Diana, who was a loving mother and had a caring heart. Her children — Shelia, Deanna Danielle, Samuel and Selena — remember growing up with a mom who was "very fun" and a bit of a goofball. She loved to have fun with her kids — playing games and cards, going for walks, reading books and taking them to the playground whenever she could.
For many years, she was a homemaker, but she also worked as a preschool teacher's aide and was a certified nursing assistant at the New Hampton Care Center.
Her pride and joy, though, was her family, and Diana always looked forward to the Sunday family dinners that were such a huge staple in her life.
She adored her 13 grandchildren, and there was nothing better for Diana then spending time with them. Even if they were just sitting around her living room watching a movie, the fact that they were there was enough for Diana.
Diana had a deep faith and attended church at Trinity Baptist in Nashua, the Horton Baptist Church and, in recent years, the Faith Bible Chapel in Charles City.
She fought a number of health issues in her life, but she did so with grace and dignity, never letting those health concerns stop her from enjoying her family. Her children and grandchildren will miss their mom and grandma terribly, but they are comforted by the fact that she is at peace and is healthy in Heaven.
Survivors include one son, Sam Wiles of Ft. Dodge, IA; three daughters, Shelia Jepsen of Charles City, Deanna Wiles of Oskaloosa, IA, Danielle (Thad Smith) Wiles of Cedar, IA; thirteen grandchildren; four brothers, Bob (Sharrill) Dann, Ron (Joyce) Dann all of Nashua, Bruce (Diane) Dann of Charles City, Jim (Cheri) Dann of WI; one sister, Mary Madden of Charles City.
She was preceded in death by her parents, a daughter, Selena Wiles; four brothers, her twin, Dennis Dann, John Dann, Thomas Dann and Timothy Dann; one sister, Barbara Zelmer.