Posted on
Randle Livingston
Randle Livingston, 78, of Nashua, IA, died Friday, Nov. 13, 2020, at MercyOne Des Moines Medical Center.
A Memorial Service will be held at 10:30 a.m. Saturday, Nov. 21, 2020, at St. John Lutheran Church in Nashua with Rev. Norm Bauer officiating. Inurnment will be held at Greenwood Cemetery in Nashua.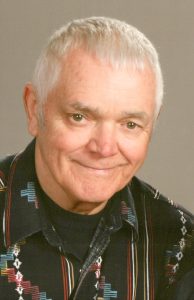 All others are invited to please join the family on Facebook Live at 10:30 a.m. Saturday, Nov. 21, 2020, on the Hugeback-Johnson Funeral Home Facebook page. For those attending in person, it is strongly recommended to practice social distancing and wear face masks to both the funeral and visitation.
Friends may greet the family from 4-7 p.m. Friday, Nov. 20, 2020, at Hugeback Johnson Funeral Home & Crematory – Olson Chapel in Nashua. Visitation continues an hour prior to the service at the church on Saturday. Online condolences for the Livingston family may be left at hugebackfuneralhome.com
Randle Ray Livingston was born on Sept. 30, 1942, to Joseph and Elousie (Wadey) Livingston in Rockford, Illinois, and he spent the first 12 years of his life in the "Land of Lincoln." At the age of 12, his family moved to Nashua when his dad got a job at what was then known as Oliver Farm Equipment in Charles City.
After his schooling, he took a job at Oliver, starting work at the manufacturer as a welder on March 12, 1962, and he worked at the plant, which later became White Farm, until it closed 32 years later.
A year before he started working at Oliver, he went to a friend's birthday party, where he met Jacqueline Hurd, who was dating the friend at the time. But there was a spark between Randle and Jackie, and on March 8, 1961, they double-dated with Jackie's sister and went to the drive-in theater in Charles City. A little more than a year later — on April 21, 1962 — the two exchanged vows.
The Livingston family grew to include Annette, Lori and Randy Jr., and the kids remember that their dad could be pretty stern. He expected his children to work hard at whatever they did, yet he was also one of those dads who believed that you played just as hard as you worked. He loved to snowmobile, ride motorcycles, boat, water ski and ride horses with his kids, and they vividly remember water-skiing with their dad from 7 in the morning until 10:30 at night. One knew it was the Livingstons on the lake because they had life jackets with a flashing red light. They also loved the family vacations they took with their parents to places like Colorado, Oregon and Minnesota.
He was most at home in the outdoors, whether it be on the lake, fishing a stream or hunting in a field or the woods.
Randle didn't graduate from high school, but he was proud of the fact that he earned his GED in 1973.
When White Farm closed for good in 1994, Randle worked at Winnebago Industries for seven years and then worked for a couple of years in Waverly at GMT and Terex before semi-retiring. If you knew him, though, Randle wasn't the kind of guy to sit around the house and watch TV; instead, he worked out of his garage and fixed cars and he loved hanging out with his buddy Steve Thompson, his partner in crime when it came to working in the shop and playing pool. He also enjoyed heading over to Spirit Lake and ice fishing with his son.
Randle always said he punched the clock for other companies but he finally found a place that appreciated him and his work when he helped out at S&T Collision in Nashua in recent years. He loved Steve and Tami, their three boys — Chad, Chase and Collin —and their families; in fact, he kind of pouted when they didn't have any work for him.
Over the years, he loved riding his Harley every chance he could, especially with his kids.
He was, to put it mildly, a "goer" who loved his wife of 58 years and his three children with all of his heart, adored his grandchildren and his great-grandson and enjoyed life to the fullest with his pals. The world just won't be the same without Randle Livingston, and he will be deeply missed.
Randle is survived by his wife of 58 years Jacqueline of Nashua, IA; two daughters, Annette (Mark) Wood of Nashua, IA, Lori (Kathy Gaulke) Livingston of Iowa City, IA; one son, Randle (Lori Dix-Gunn) Livingston Jr. of Spirit Lake, IA; two grandchildren, Dylan Wood, Trent Gaulke; one great-grandchild, Drake Gray; two sisters, Patricia (Sonnie) Barron of Portage, Wi, Diane (Mark) Hintz of Oxford, WI.
Randle was preceded in death by his parents; four brothers, Henry, Ronald, Myles, Duane; two sisters, Joyce and Judy.