Posted on
Michael Ewald
Michael D. "Mike" Ewald passed away in Cleveland, Ohio, on Nov. 12, 2020, at the age of 66.
Michael was the son of Maynard and Maxine Ewald. He was born on Feb. 24, 1954, at Cedar Valley Hospital in Charles City, Iowa.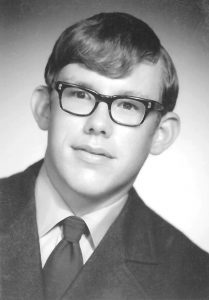 He graduated from Rockford Senior High School in 1972, where he was salutatorian and a State of Iowa Scholar.
With his strong academic record he entered the University of Iowa as a sophomore for his first year of college, and was a junior his second year. He graduated in 2.5 years of college with a degree in sociology and specialization in law enforcement.
During his career he served as a business professor and associate dean for a number of universities. During his academic career Dr. Ewald served on close to 100 successful dissertation and doctoral projects.
While working in the higher education field, Dr. Ewald also worked in business development for Day-Brite Lighting and Johnson Controls. His assignments were in lighting design and national accounts. He worked with national accounts such as John Deere, Target Stores and the U.S. federal government. He developed two U.S. patents for the government.
Prior to his end he was still teaching online, and had students all over the world. Many called him "Dr. Mike."
His body will be cremated and a graveside service will be held at a later date at the Westside Cemetery in Marble Rock.
He is survived by his parents, daughter Melissa, sister Cristal, and a loyal caretaker Lisa Harris.
He will be greatly missed.
Fullerton Hage Funeral Home in Charles City is in charge of arrangements.