Posted on
Lyle H. Schlader
Lyle H. Schlader, 86, of Charles City, passed away Tuesday, Dec. 29, 2020 at Mayo Clinic Hospital-St. Mary's Campus in Rochester, Minnesota.
A public visitation will be held from 3-6 p.m. at Immaculate Conception Catholic Church in Charles City on Sunday, Jan. 3, 2021. Those in attendance will be asked to follow social distancing guidelines of at least six feet and masks will be required.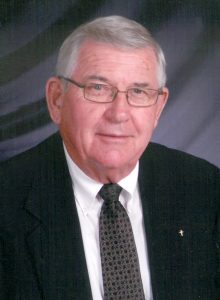 A private family funeral Mass will be held at Immaculate Conception Catholic Church in Charles City with Reverend Tom Heathershaw officiating and will be live streamed on the Hauser Weishaar Funeral Home Facebook page, https://www.facebook.com/HauserWeishaarFH, at 2 p.m. on Monday, Jan. 4, 2021. Burial will be at Calvary Cemetery in Charles City.
Lyle Henry Schlader was born on Dec. 13, 1934 in Floyd, Iowa the son of Virgil and Gladys (McCarville) Schlader. He was one of nine children. His family lived and farmed in rural Charles City. He attended school in Floyd, Iowa and Immaculate Conception School through High School. He also attended Loras College in Dubuque, Iowa.
On Aug. 25, 1956, Lyle was united in marriage to Myrna C. Meyers at Immaculate Conception Church in Charles City, Iowa. His first job was with Farm (Ford) Tractor. He was an accountant, General Manager and owner of Allied Construction with divisions Greene Limestone and Allied Redi-Mix for nearly 40 years. Ten years before his retirement at Allied, he served as President of the company. He also served as President of the AGC of Iowa, Iowa Redi-Mix Concrete Association, Iowa Concrete Paving Association and Iowa Limestone Association.
Lyle was active with the church, many community groups and organizations. He served on the Parish School Board, Parish Council, Chairman of Ushers, a Lector and Communion Distributor. He also served on the Charles City School Board, Charles City Area Development and various other committees and boards.
Lyle's hobbies included softball in his younger years, gardening, golfing, fishing and attending his children and grandchildren's sporting events. He was an avid Iowa Hawkeye and St. Louis Cardinal fan. He took pride in providing food for others.
Lyle and Myrna were blessed with 12 children, 28 grandchildren and 17 great-grandchildren. Living family members include his wife, Myrna of 64 years; children: Douglas (Jennie) of Urbana, IA, Sheryl (Matt) Heyenga of Allison, IA, Diana (Steve) Swartzrock of Charles City, IA, Dennis (Roxanne) of Coralville, IA, Julie (Bill) McAdams of Swisher, IA, Kalen (Kim), Patrese (Dave) Anderegg, Lon (Beth), Tim (Chelle) all of Charles City, IA, Ami of Wichita, KS and Sarah (Adam) Widmer of Mountain View, CA; and many grandchildren and great-grandchildren. Other living family members include a brother, Roger (Ann) and two sisters: Marian Monaghan and Mary Helen Kuehn; sisters-in-law, Arlene, Laurna and Mary Schlader, Darlene Meyer and Shirley Weiss; and many nieces and nephews.
Lyle was preceded in death by his daughter, Kristin; his parents; his father and mother-in-law, Leonard and Elda Meyers; brothers: Ray, Don, Jerome, Bob and Gene; brothers-in-law, Chuck Weiss, DeWayne Meyer, Greg Kuehn and Red Monaghan; and sisters-in-law, Bev and Tots Schlader.
Memorials may be directed to Immaculate Conception Church or School.
Hauser Weishaar Funeral Home, (641) 228-2323, 1205 South Main Street, Charles City, Iowa 50616 is in charge of local arrangements. Online condolences may be left on the Tribute Wall for the family at www.hauserfh.com.