Posted on
Community Notes: Notes on fire safety as Fire Prevention Week nears
By Eric R.Whipple, Charles City Fire Chief
National Fire Prevention Week is right around the corner, Oct. 4-10, and I would like to stress just how important it is for you and your family to prepare and practice your plan for the possibility of fire striking your home.
If you plan an evacuation route now, practice getting low to the floor in smoke, and have a safe meeting place once outside, it could save your and your loved ones' lives.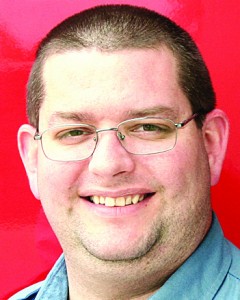 The National Fire Protection Association (NFPA) has announced "Serve Up Fire Safety In The Kitchen" as the theme for Fire Prevention Week.
According to NFPA, cooking is the leading cause of home fires and home fire injuries in the United States. Almost half (44%) of reported home fires started in the kitchen. Two-thirds (66%) of home cooking fires start with the ignition of food or other cooking materials.
Charles City Firefighters know just how quickly a cooking fire can grow. Right here in Charles City, many homes have been damaged and people injured by fires in the kitchen that could easily have been prevented.
Here are some really important fire safety tips about kitchen fires and safety:
Never leave cooking food unattended. Stay in the kitchen while you are frying, grilling or broiling. If you have to leave, even for a short time, turn off the stove.
If you are simmering, baking, roasting or boiling food, check it regularly, remain in the home while food is cooking, and use a timer to remind you that you're cooking.
You have to be alert when cooking. You won't be alert if you are sleepy, have taken medicine or drugs, or consumed alcohol that makes you drowsy.
Always keep an oven mitt and pan lid nearby when you're cooking. If a small grease fire starts, slide the lid over the pan to smother the flame. Turn off the burner, and leave the pan covered until it is completely cool.
Have a "kid-free zone" of at least 3 feet around the stove and areas where hot food or drink is prepared or carried.
It is also extremely important to have a home fire escape planning that should include the following:
Drawing a map of each level of the home, showing all doors and windows.
Going to each room and pointing to the two ways out.
Making sure someone will help children, older adults and people with disabilities wake up and get out.
Teaching children how to escape on their own in case you cannot help them.
Establishing a meeting place outside and away from the home where everyone can meet after exiting.
It is also imperative to have operating smoke detectors in each bedroom and on every level of your home. Having these smoke detectors cuts the risk of you dying in a house fire in half. As a matter of fact, three out of five home fire deaths result from fires in properties without working smoke alarms.
Be sure to change the batteries in your detector every year.
For more on Fire Prevention week, along with great activities for you and your family, visit www.fpw.org.
It is a popular time of year for recreational fires as the nights are cool, and sitting around a bonfire is enjoyable. Take heed though, that in January 2012, the City Council passed an open burning ordinance.
In a nutshell, the ordinance regulates open fires to be of recreational type, meaning only natural wood can be burned. No burning of lumber, treated lumber, garbage, etc. is allowed.
The fire must be contained to no larger than three feet wide, and two feet tall. All fires must be extinguished between the hours of midnight and 6 a.m. No burning of yard waste is permitted, including leaves and sticks.
Be sure to always attend your fire, and have a means of extinguishing the fire close by.
Normally on the Sunday at the end of Fire Prevention Week, our department hosts a pancake breakfast and open house of the Fire Station. Unfortunately, the pandemic has forced us to make the decision to postpone our breakfast this year to Fire Prevention Week 2021.
We enjoy having all of you come see us each year, but we felt that we would rather have you healthy, and to be able to come visit us for a bigger and better pancake breakfast in 2021. We sincerely wish you a healthy and peaceful rest of the year.
Our very dedicated group of 25 volunteers and staff of 4 career firefighters are always willing to assist others in their time of need. If you ever need anything that the Fire Department can help you out with, don't hesitate to contact me at 257-6313, or by email at fdchief@cityofcharlescity.org.