Posted on
Charles City volleyball team heads into new era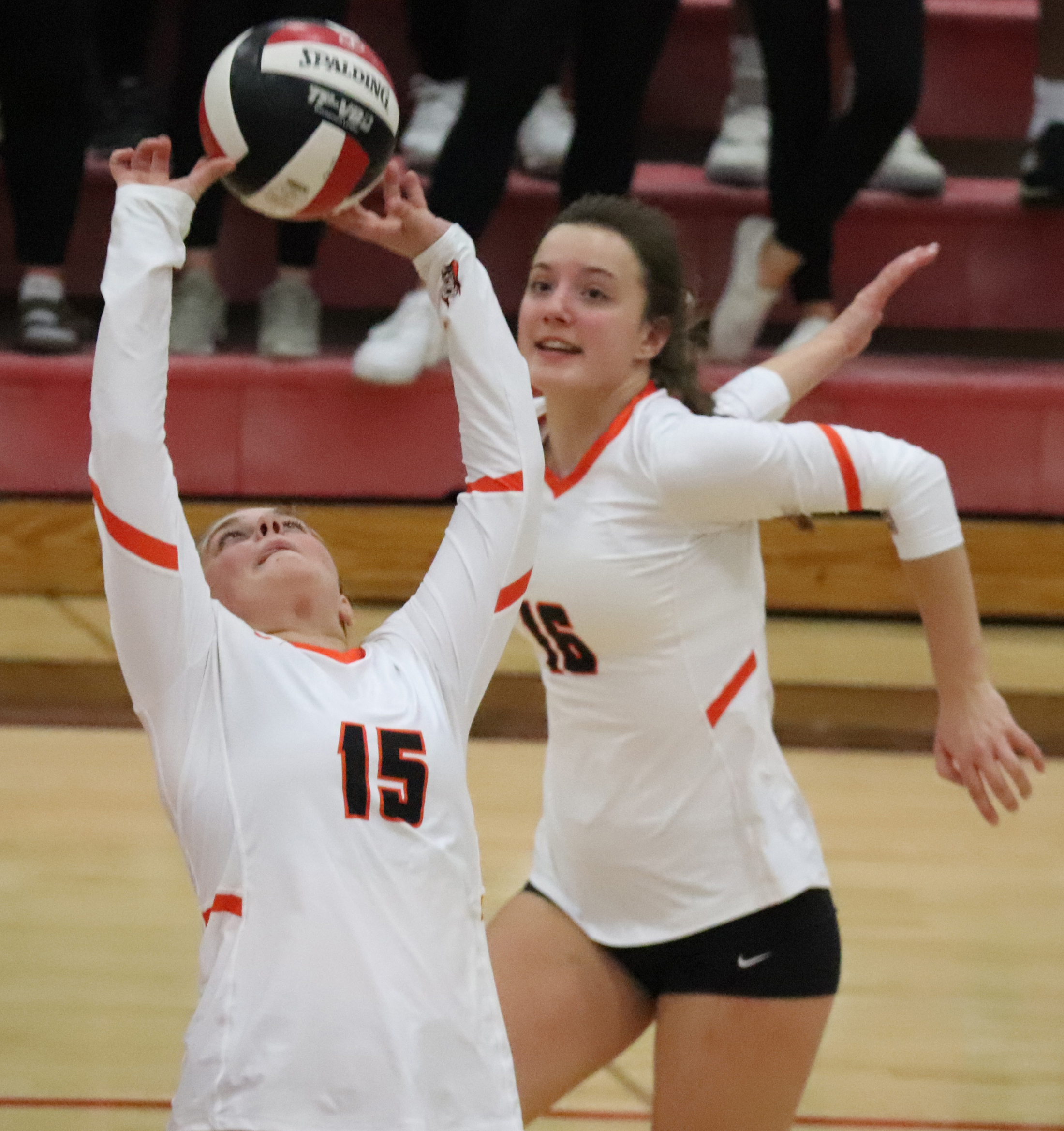 By John Burbridge
sports@charlescitypress.com
CHARLES CITY — Veteran volleyball coach Andie Olson has found herself a new home.
Sort of.
"I feel like I just bought a house," Olson said of the paperwork she negotiated through when signing on to become one of Charles City's new co-head volleyball coaches this season.
Olson, who had coached at Osage for more than 20 years while leading the Green Devils to 266 match wins before retiring from the program in 2018, will join forces with former Comet head coach Sue Hoefer.
"Though I'm new here, I'm already familiar with a bunch of the players," said Olson, who holds local summer volleyball camps.
Hoefer headed the Comet program for several years, leading Charles City to a State Volleyball Championships appearance in 2016.
"Two of my daughters (Katie and Jackie) were both playing college volleyball the following year, and I wanted more time to watch them play," Hoefer said.
With the resignation of former Comet coach Madalyn Fank, Hoefer was compelled to fill the void.
"The girls needed a coach," said Hoefer. And with Olson, they got two.
The Comets also got some returning letter-winners. Included are senior middle blocker Dani Stock, who was an All-Northeast Iowa Conference Second Team middle blocker/hitter last season after leading the Comets in blocks (91) and service aces (47).
Senior libero/defensive specialist Toni Maloy led the Comets with 402 digs, and senior setter Sarah Mitchell was credited with a team-leading 390 assists.
Returning junior outside hitter Rachel Chambers was the Comets' lone All-NEIC First Team selection after leading the team in 237 kills. Chambers is recovering from a knee injury sustained during last basketball season that sidelined her for the entire softball season.
"We're still waiting on word of Rachel being released to play," Hoefer said earlier this week.
Those looking in the Comet Gym before a volleyball practice will likely note the abundance of hand sanitizer bottles — a sign of the time while playing organized sports during a pandemic.
"We've got to make sure the balls are wiped clean and limit the size of groups," Hoefer said. "One thing about volleyball is that it's a 'social distancing' sport. You have to spread out and know your spot on the floor."
Knowing that things can change by the day or even by the hour, Hoefer and Olson are grateful the high school volleyball season is still on — so far.
Same can't be said at the college level. Wartburg College recently announced pushing back their fall sports to spring. Katie Foster plays volleyball for Wartburg.
The altered arraignment can be a boon for the Comets as Katie is freed up to serve as an assistant.
Olson's daughter, Rylie, also plays college volleyball and also helps with the Comet team when she can.
"But she goes to Grand View (in Des Moines)," Andie said. "So far they're still playing this fall."