Posted on
Comet go 1-3 at high-calibre volleyball tournament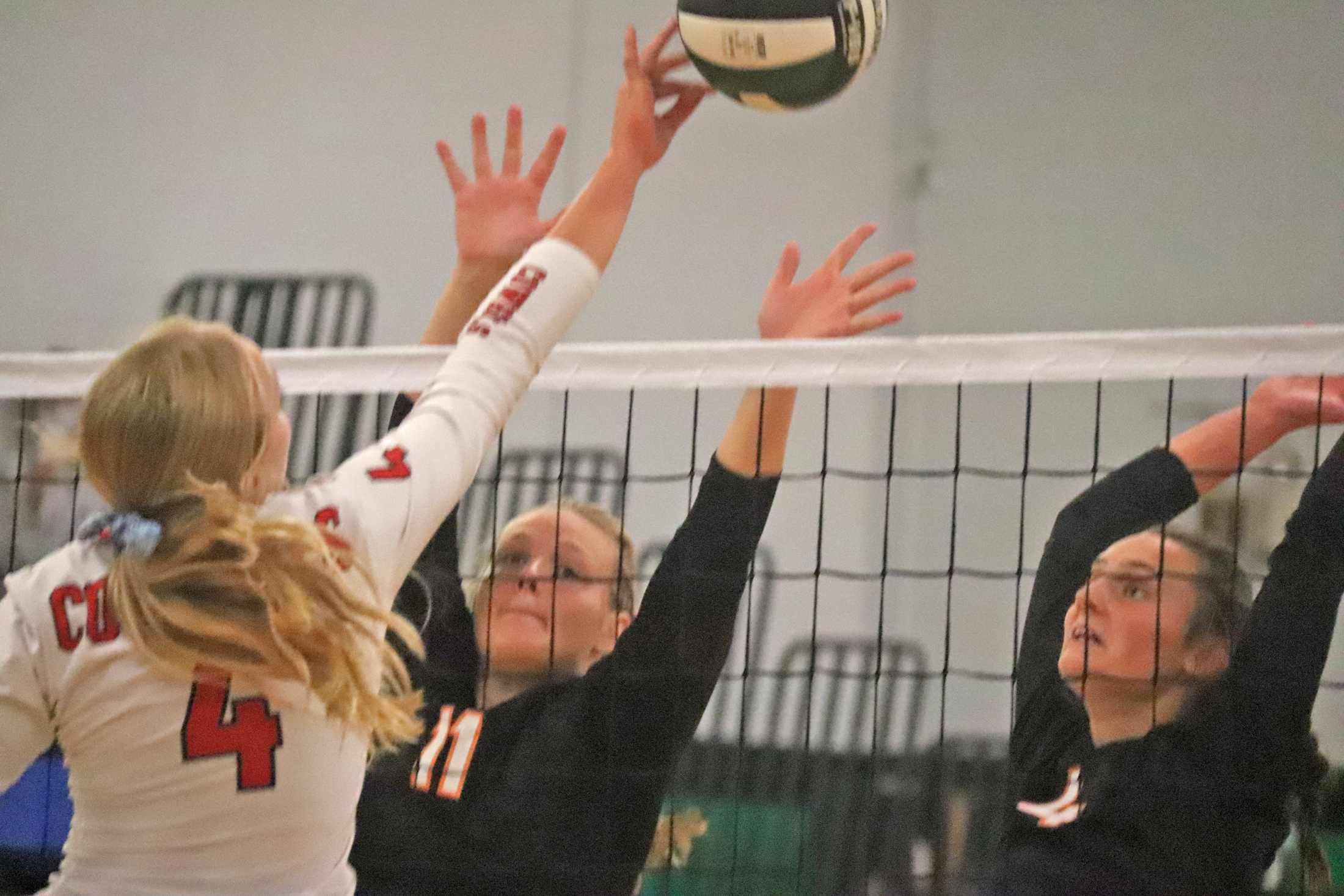 By John Burbridge
sports@charlescitypress.com
OSAGE — Apparently, there is no glass ceiling to contain the rise of the Osage Green Devils.
Tabbed No. 2 in Class 3A according to the latest Iowa Girls High School Athletic Union volleyball rankings, the undefeated Devils might just summit the mountain top — Mount Vernon was ranked No. 1 — after going undefeated during Saturday's high-calibre tournament they hosted.
Osage (9-0) didn't lose a set in five matches while going through several other ranked teams, including Class 2A-No. 2-ranked Dike-New Hartford, which the Green Devils defeated 25-22, 25-17 in the championship match.
The tournament consisted of eight teams split into two pool-play divisions and was played in two gyms — Osage's spanking-new one and it's older one.
The older one was where the Charles City Comets played their pool games.
In the Comets' first match against Class 4A-No. 10-ranked Gilbert, the older gym's low ceiling was a factor.
Though Charles City won the first set (21-14), the Comets were addled in the second set in part due to wayward balls richoceting amid the roof beams — if the ball is bounded off the roof or any of its fixtures from a touch on the same side of the net, it's in play.
Such low-ceiling conditions can be difficult to adjust to for teams who play their home matches and practice in cavernous home gyms — such as Comet Gym.
But after losing the second set (21-13), the Comets won the deciding third set (15-13) for a victory over a ranked opponent.
In their next match against Clarion-Goldfield-Dows — ranked No. 3 in Class 3A just behind the Green Devils — the Comets were a break point away from taking the first set before losing 23-21. CGD went on to win the second set 21-16.
When the Comets fell to Dike-New Hartford 21-12, 21-16 in the following match, Charles City was relegated to the consolation bracket, where it lost to Forest City (25-18, 25-21) to go 1-3 at the tournament while adjusting its season record to 6-4.
The Comets will be back at home under a high roof on Tuesday when they host Decorah.
After 10 matches this season, Comet leaders include senior Toni Maloy (124 digs), senior Danielle Stock (60 kills, 16 blocks, 9 aces), and senior Sarah Mitchell (125 assists).