Posted on
Comet girls boast 4 medalists at Central Elkader XC Invitational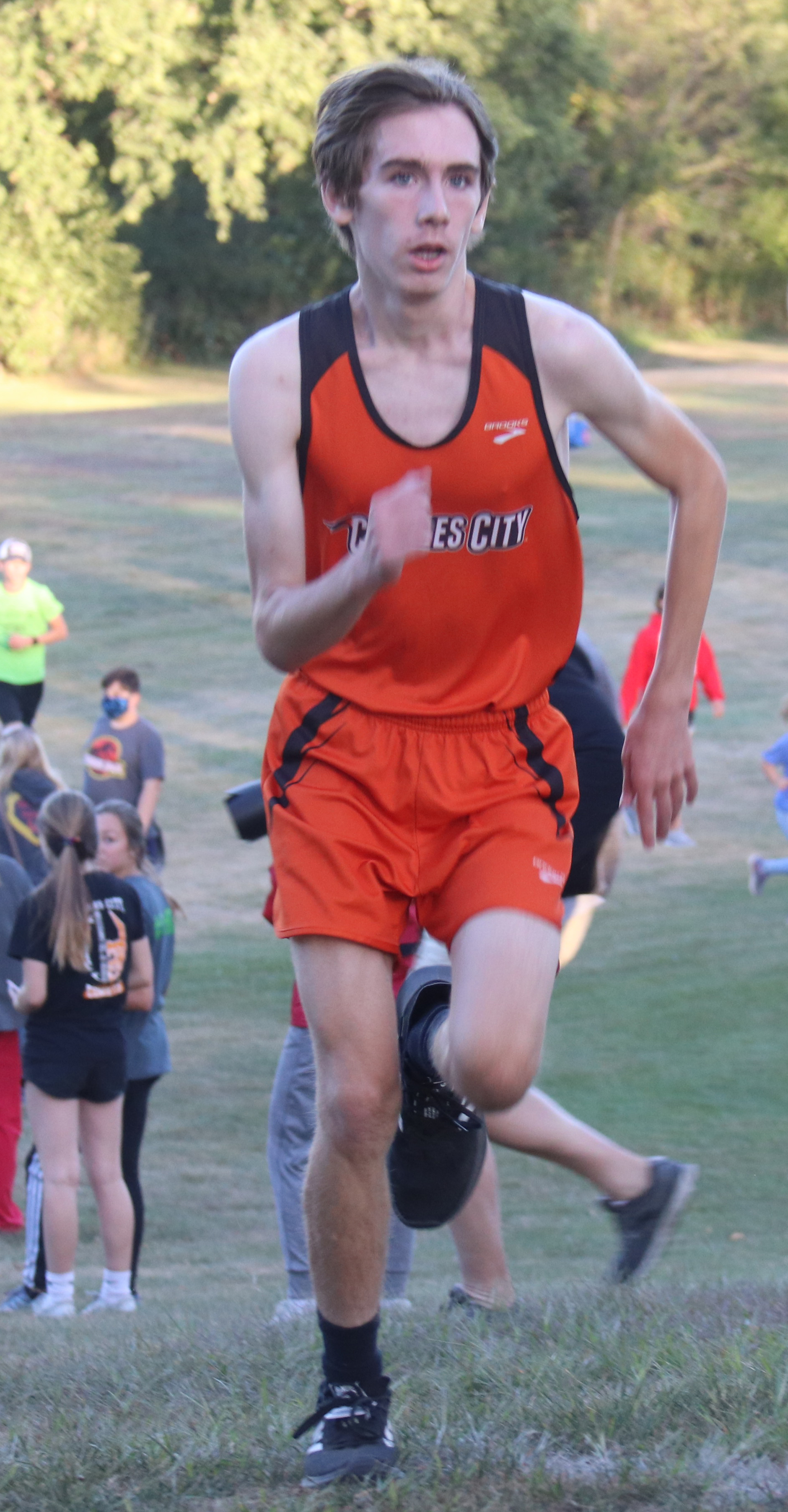 By John Burbridge
sports@charlescitypress.com
ELKADER — Fight or flight are usually the two options when faced with a difficult challenge.
But sometimes it's better to attack and run at the same time — especially during a cross country meet.
The dual approach was adopted by the Charles City Comets girls team during Thursday's Central Elkader Invitation at Elkader Golf and Country Club.
Four Comets earned medals by way of Top 15 finishes.
Leading the way was Charles City senior Kiki Connell, who won her second female title in as many races this season with an unofficial 5K time of 19 minutes, 3 seconds.
Other Comet medalists included junior Lydia Staudt, who placed ninth with a time of 21:51; and seniors Brianna Ross and Libbie McKeag, who placed 12th and 14th, respectively.
"Brianna set a personal-best," Charles City girls head coach Amanda Rahmiller said of Ross's time of 21:56. "It was the first time she's been under 22 (minutes).
"And Libbie was about 20 seconds from her PR (with a time of 22:19). That's a good spot to be in this early in the season."
Rylie Patrie was the fifth Comet girls to finish with a 19th-place time of 23:12.
Rahmiller noted the team's overall improvement since the Trent Smith Memorial Invitational the Comets hosted at Wildwood Golf Course two weeks ago.
"We were much more aggressive when we attacked the course," Rahmiller said. "We talked about doing more of that after our first meet, and they responded."
On the boys side, the Comets boasted a medalist in senior Alex Bauer, who placed 14th with a time of 18:58.
Comet senior Zach Graeser placed just outside the medal range with a 16th-place time of 19:13.
Other top placers for the Comet boys included Jared Johnson (20th, 19:37), Clayton Rand (23rd, 19:48) and Isaac Thompson (28th, 19:55).
"We had season bests from Bauer, Graeser, (Keetan) Kirby, Thompson and (Avery) Schoeck," Comet boys coach Ryan Rahmiller said.
The Comet boys took 18 to Elkader — it was the first meet for five of them who were quarantined as a precaution due to the recent COVID-19 positive tests at the school.
There were no electronic results taken at the meet, so team placings were not immediately available as of Thursday evening.
Amanda Rahmiller estimated that the Comet girls likely finished in the top two among complete teams in their race.