Posted on
Comets lose shootout to Trojans 64-42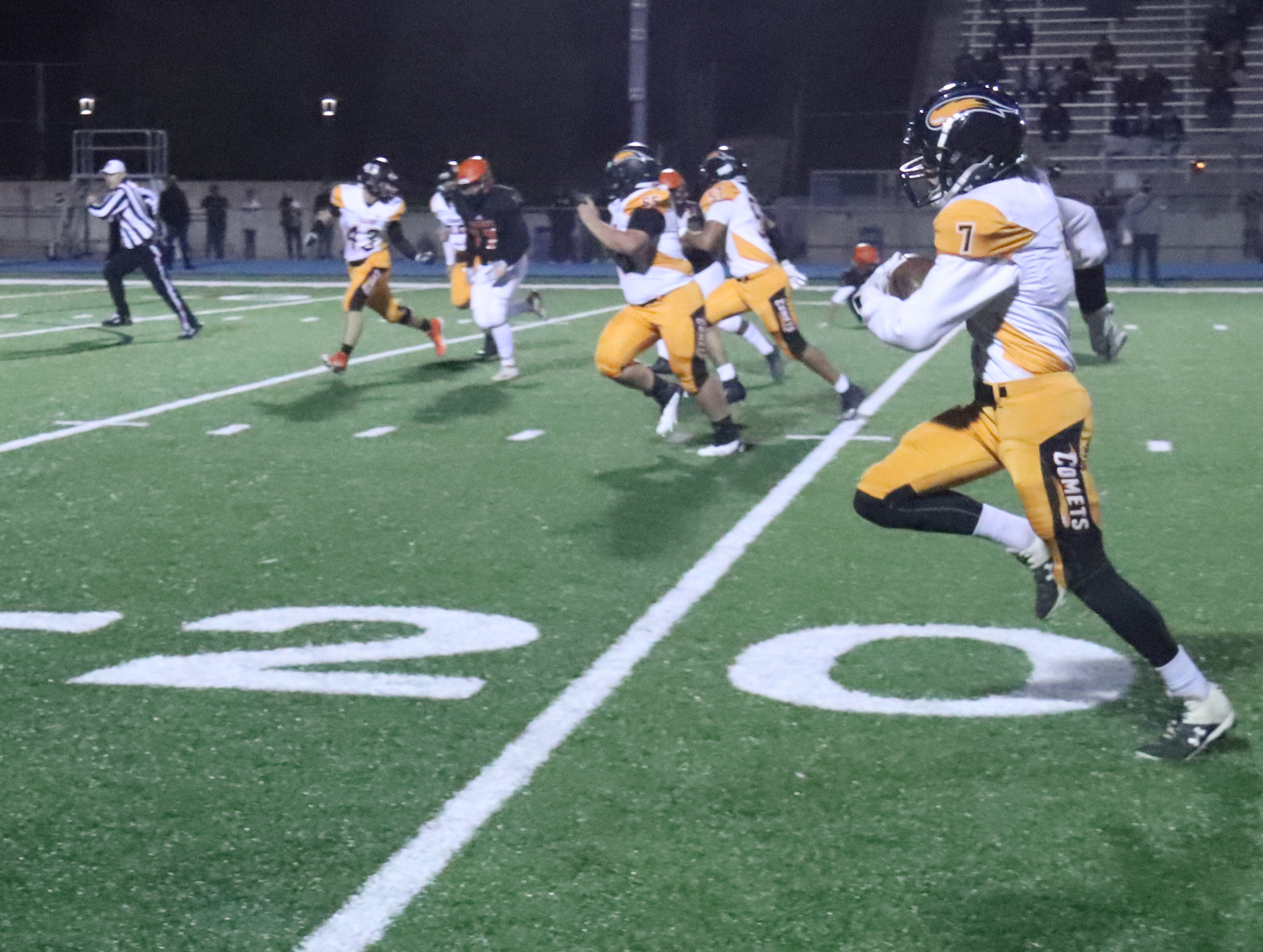 By John Burbridge
sports@charlescitypress.com
WATERLOO — There are a variety of ways to score in football.
The Charles City Comets and the hosting Waterloo East Trojans pretty much ran the gamut while compiling a combined total of 106 points during last Friday's Class 3A-District 3 matchup between two teams seeking their first victory of the season.
The Comets made a strong opening statement in the quest of securing that elusive "W" while going up 21-0 in the first half.
But the Trojans were able to take advantage of a series of subsequent Charles City turnovers while putting up 34 points in the second quarter alone on the way to winning the shootout 64-42.
Mixing things up on offense, Charles City came out with a more wide-open set with junior Ian Collins making his first start at quarterback. A state runner-up high jumper as a freshman, Collins has a knack for putting the highlight reel in motion, and he did so repeatedly at Waterloo's Memorial Stadium.
First was a spectacular 34-yard keeper to open the scoring in the first quarter.
Later while doing his best Russell Wison impersonation, Collins was able to escape from numerous would-be sacks before righting himself to throw a 32-yard pass to a wide-open Owen Weber to help regain a two-posession advantage over the Trojans (28-14) with 3:27 left in the first half.
Weber, a senior who's out for high school football for the first time this season, earned the rare distinction among football players at all levels by scoring defensive and offensive touchdowns in one game.
Earlier, Weber picked off a Justin Thomas pass and returned it 30 yards to paydirt. That with Alec Staudt's PAT kick — Staudt was 4 of 4 in conversion kicks — put Charles City up 14-0 at the time.
Friday's game may have been a breakout game for Weber. Likewise for Trojan sophomores Thomas, Martez Wiggley and Shakur Wright.
Waterloo East had struggled with their vertical game this season with only one touchdown pass paired with five interceptions going into its sixth game.
Against a banged up Comet defense, Thomas threw for five touchdowns — four of which to Wiggley (for 17, 44, 38 and 20 yards), who wasn't credited with a varsity pass reception until Friday.
Midway through second half while spelling the Trojans' punishing half/fullback Kjuan Owens, Wright was generously fed the ball and made the most of the opportunities.
Bursting through holes in the line like a sprinter out of the blocks, Wright had touchdown runs of 44, 25 and 35 yards in the fourth quarter.
Going back to their power running game, the Comets scored twice in the fourth quarter with touchdown runs of 13 and 10 yards from the school's all-time rushing leader Trever Heitz, who led the team with 72 yards on seven carries.
On defense, the Comets were led by junior Tino Tamayo (seven solo tackles, one tackle for loss), Caden Collins (six solos, one TFL), Colton Crooks (7.5 total tackles, six solos), Staudt (five solos, one TFL, interception) and Chase Crooks (5.5 total tackles).
Charles City (0-4) will finish the regular season when it hosts Waverly-Shell Rock next Friday (Oct. 9).
The Go-Hawks (3-3) upset previously undefeated Decorah last Friday by a score of 21-17.