Posted on
Comet runners getting stronger, faster going into conference meet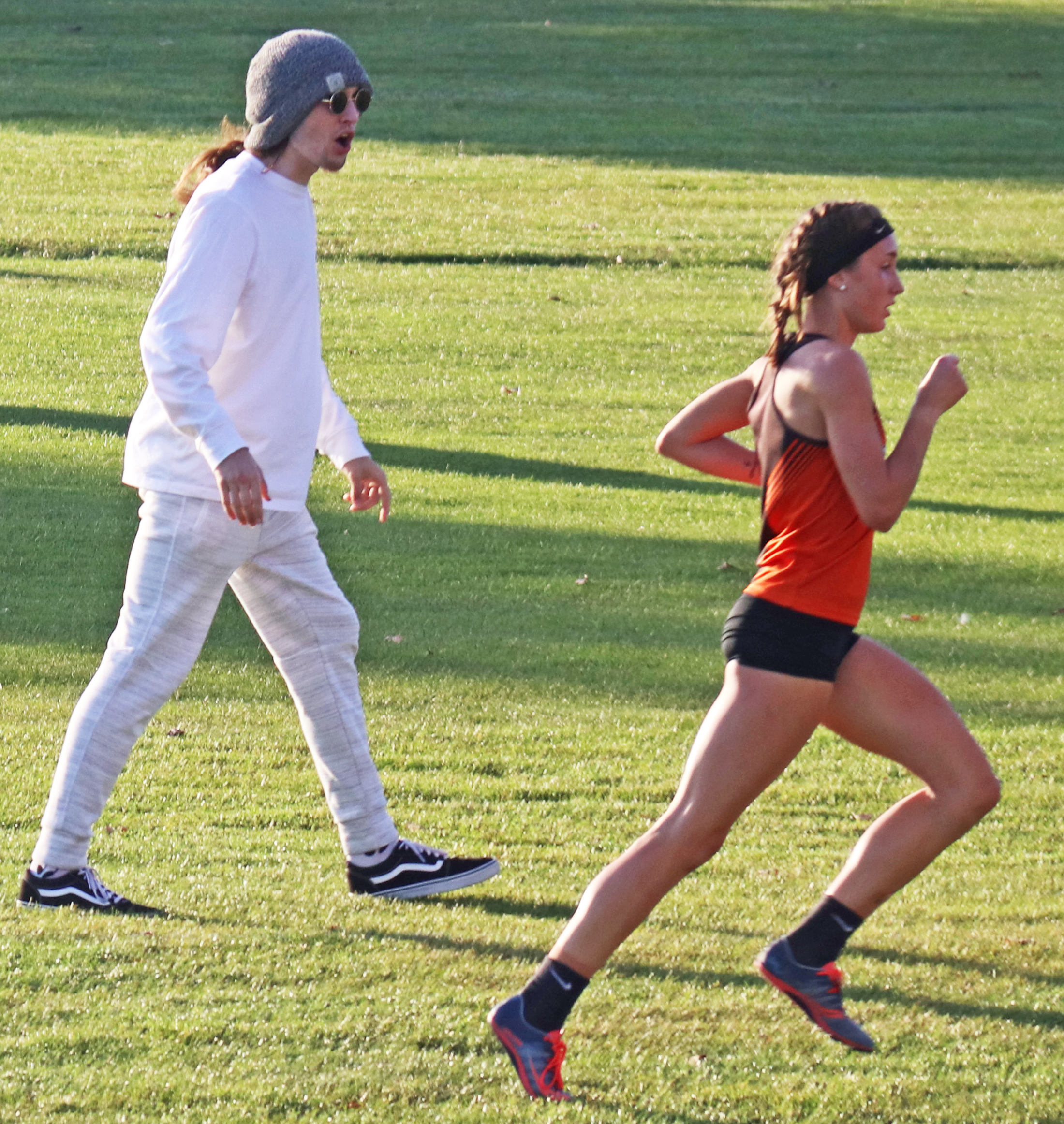 By John Burbridge
sports@charlescitypress.com
DIKE — Like the LED digits of a nightstand alarm clock rudely reminding of time remaining for allotted sleep, the readout at the finish line may be just as annoying for Kiki Connell.
For the second cross country race in a row, the numbers counted tauntingly as the Comet senior approached.
18:26 … 18:27 … 18:28 … 18:29 …
Eighteen minutes, Thirty Seconds is the Charles City girls XC school record in the 5K Connell set nearly a year ago at the Northeast Iowa Conference Meet.
Last week at a meet in Algona, Connell was 4 seconds shy of matching her school-best and personal-best mark.
During Tuesday's Dike-New Hartford Invitational at Fox Ridge Golf Course, Connell cut it even more close (18:33) while winning the Girls Class 2A-3A race.
Unlike previous races this season, Connell at least had a running companion for the first mile of the race. IFA-AGWSR senior Ellie Meyer, who placed 10th in last year's Class 3A girls race at the State XC Championships — two places behind Connell — was running shoulder-to-shoulder with Connell before falling back and eventually placing second with a time of 18:58.
More than a minute elapsed before Denver's Chloe Ristau and Amber Homan crossed respectively for the next two placings, which helped the Cyclones edge Benton Community 80 to 83 in team points to lead the 11-team field.
The Comets were close behind both teams with a third-place total of 88 points.
Charles City girls head coach Amanda Rahmiller was pleased with yet another dominating performance by Connell, who is ranked just outside the Top 10 in fastest 5K girls times in the state this season. But Rahmiller was particularly happy with the "return" of Lydia Staudt, who placed eighth with a time of 21:04.
A two-time state qualifier as an individual, the Charles City junior had been struggling this season due to iron deficiency.
"I was feeling tired after the first mile," said Staudt, who said she has struggled with iron deficiency before during her running career.
"It's something runners tend to go through," Staudt said. "You just have to make sure you're eating right … get enough iron in your blood.
"I've been watching myself lately, and I felt good today."
Charles City seniors Libbie McKeag (20th, 21:58), Brianna Ross (24th, 22:02) and Lydia Thompson (23:13) rounded out the scoring for the Comets.
In the Boys Class 2A-3A race, Charles City once again was led by senior Alex Bauer, who placed 11th with a time of 18:22.
With junior Jared Johnson (20th, 18:40), senior Zach Graeser (24th, 19:05), Clayton Rand (25th, 19:23) and Isaac Thompson (38th, 19:47), the Comets compiled 118 points for fourth place behind Denver (41), Gundy Center (83) and Benton Community (106).
Grundy Center senior Kenny Day paced the field with a time of 17:07.
Next up for Charles City is the NEIC Meet next Tuesday (Oct. 13) hosted by Crestwood High School.