Posted on
Comets fall in 3 sets to NH in match for 2nd place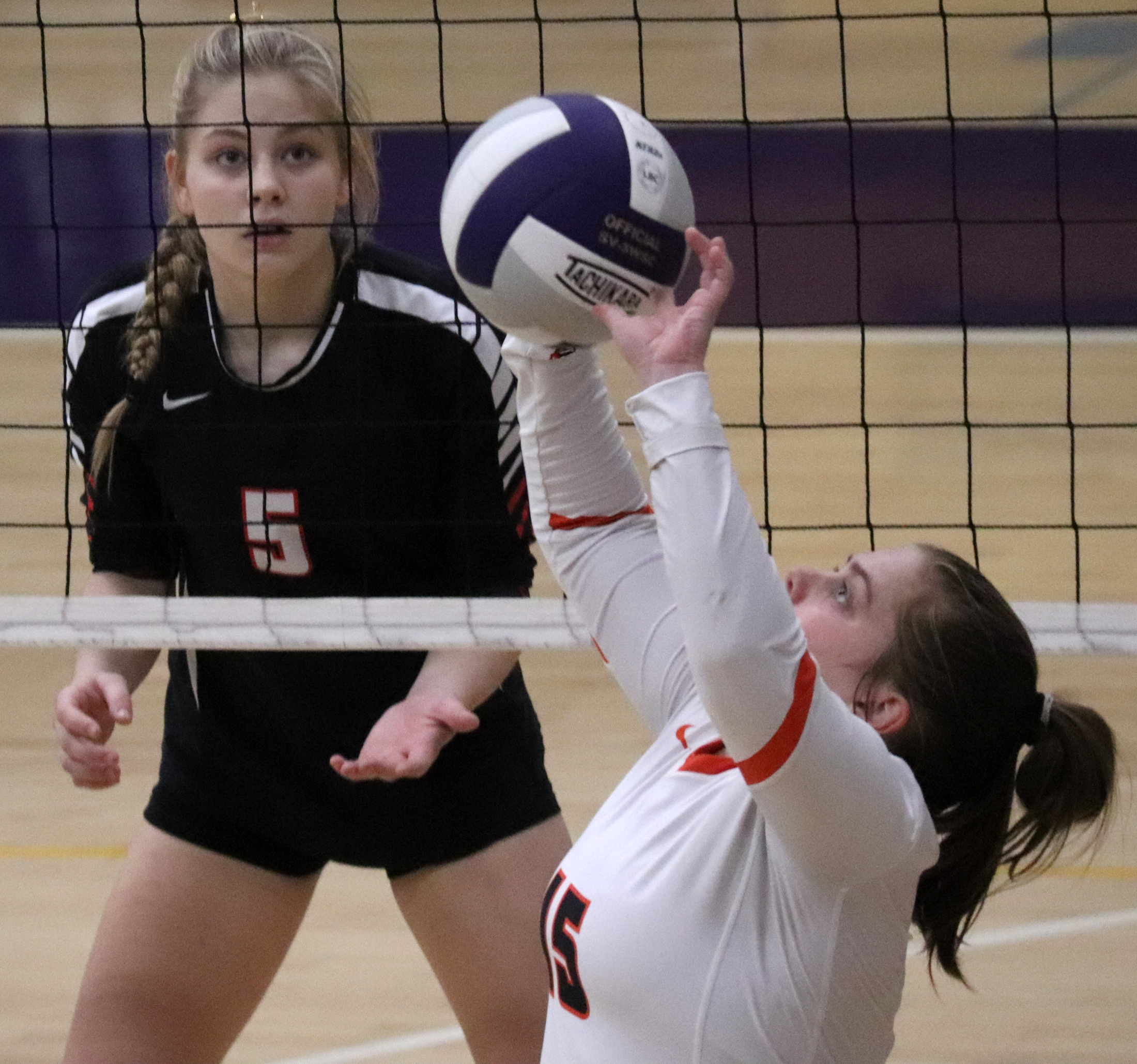 By John Burbridge
sports@charlescitypress.com
NEW HAMPTON — Perhaps the most amusing exchange in the entire Star Wars saga was when Finn tried to ease Han Solo's tensions with "We'll figure it out … we'll use the Force."
In what was the final match of the Northeast Iowa Conference Volleyball Tournament on Saturday, Charles City co-head coach Andie Olson gave her team an ultimatum.
"You've got two minutes to go in the hallway and figure it out," she said after the Comets got throttled in the first set (21-12) against New Hampton.
Class 4A Top 10-ranked Waverly-Shell Rock was already gathering for a team photo with the tournament's trophy plaque after going 6-0 and not losing a set during the event which had its first three rounds played at New Hampton the previous Thursday before the latter four rounds were played at Oelwein.
With the Chickasaws beating previously ranked Decorah on Thursday and the Comets besting the Vikings in three sets on Saturday, the NH-vs.-CC match was essentially a battle for runner-up status.
When the Comets returned from their players'-only meeting, the force was awakened enough for them to bounce back to win the extended second set (23-21) and force a deciding third set.
Now in a race up to 15 or beyond, the Chickasaws went up 12-7 and then 13-9 before the Comets pulled within 1 twice (13-12, 14-13).
NH scored the deciding point in a 15-13 final.
Earlier in the season, the Comets had swept the Chickasaws on NH's own floor.
On Tuesday, Charles City (16-16) will host Waterloo East (4-19) in the first round of the Class 4A-Region 6 quarterfinal. Match starts at 7 p.m. in Comet Gym.
Winner will face West Delaware in Manchester on Thursday in the semifinals.
Going into the regional, team leaders for the Comets in assists are Sarah Mitchell (283) and Ashlyn Hoeft (279); in kills are Danielle Stock (180) and Sadie Gebel (176); in blocks are Stock (53) and Sadie Gebel (46); in digs are Toni Maloy (352) and Carly Stevenson (201); and in serving are Maloy (223-of-225), Mitchell (247-of-253); Stock (28 aces); and Stevenson (20 aces).