Posted on
Comets fall to Hawks in volleyball regional semifinal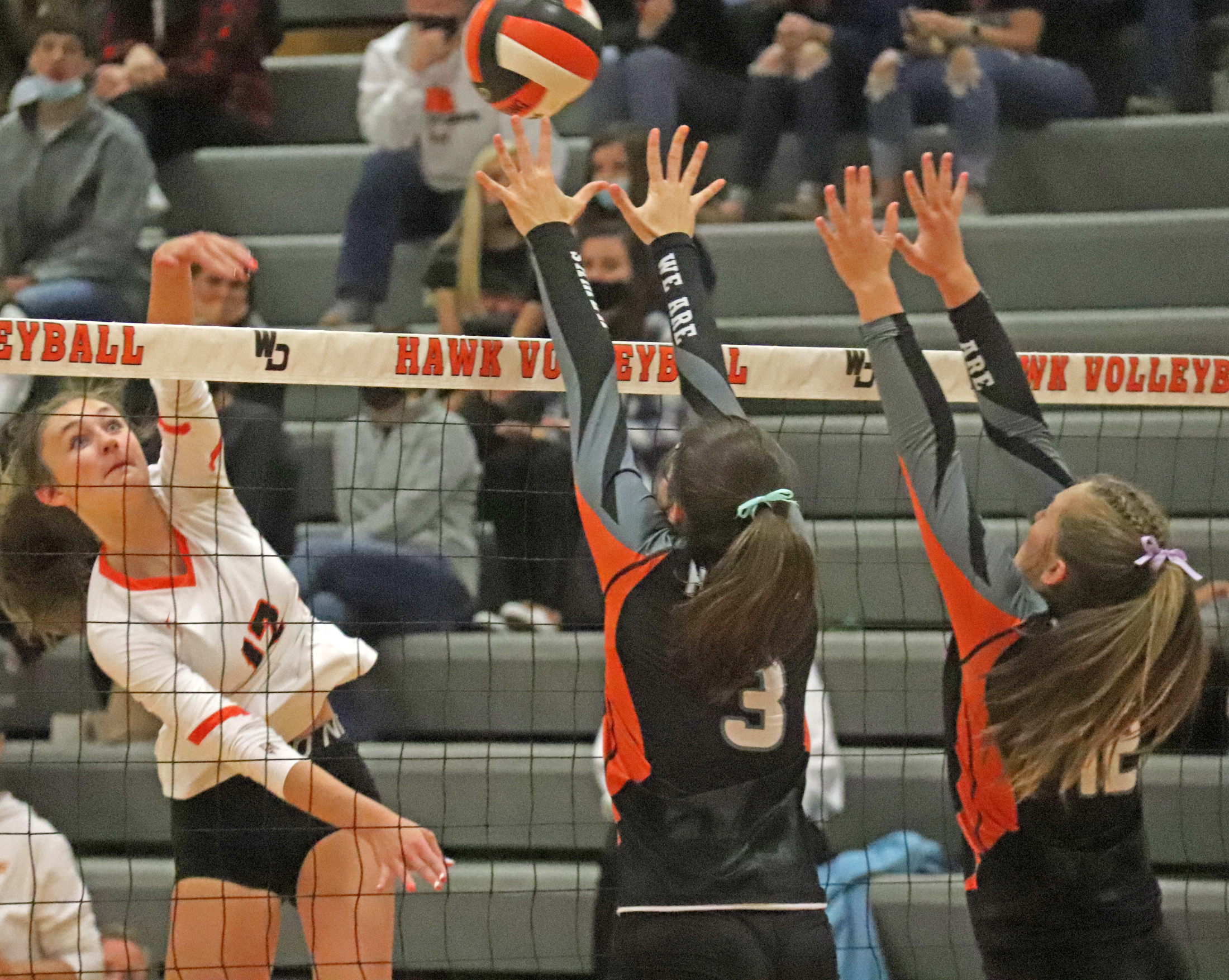 By John Burbridge
sports@charlescitypress.com
MANCHESTER — The Charles City Comets had been here before.
That is in West Delaware's gym to face the favored Hawks in a volleyball regional semifinal.
Last year, the Comets took a near-.500 record deep into the postseason — though the record was weighted with a bevy of state-ranked opponents — and upset the Hawks to advance to the final.
This year's version of the Comets were trekking much the same path.
"I thought we had a good chance tonight," said Charles City co-head coach Sue Hoefer after the Comets lost in straight sets — 25-15, 25-17, 25-7 — to West Delaware on Thursday in the COVID-decimated Class 4A-Region 6 bracket.
"We had a great week of practice, and we showed a lot of energy early in the match."
The Comets took early leads in both of the first two sets, and the West Delaware faithful had reason to be nervous about another upset.
But the Hawks specialize in "quick kills" — meaning hits of sets that just clear the top of the net — and were able to gain control of both first sets before cruising in the third for the sweep.
"We made a couple of mistakes, and a good team like (West Delaware) will take advantage," Hoefer said.
A semifinal win would have put the Comets in excellent position to return to the State Volleyball Championships for the first time since 2016 when Hoefer coached the team before resigning to watch her two daughters play volleyball in college.
The Hawks (27-11) will host Newton (13-17) in the regional championship next Tuesday (Oct. 27) for a chance at a state berth.
Had Charles City won, the regional championship would have been at Comet Gym.
Despite a losing record, Newton received two byes on its side of the bracket due to several teams dropping out of the postseason due to COVID-19 team exposure.
Hoefer co-coached the team with Andie Olson, who had compiled a prolific winning record during her tenure at Osage.
Though both had head coaching experience, it was the first time either one was part of a tandem system.
"I don't know if I'm the ideal co-head coach because I can get a little 'Alpha'-y," said Olson, who joined forces with Hoefer to quickly fill a void when former Comet coach Maddie Fank resigned mid-offseason, "but it was great. There was never a day when I didn't enjoy being with this team."
For Charles City seniors Nicole Concepcion, Sadie Gebel, Toni Maloy, Carly Stevenson, returning All-Northeast Iowa Conference hitter Danielle Stock, and Sarah Mitchell, who recently recorded her 800th career assist, Thursday's loss marked the end of their prep volleyball careers.
* In the Class 1A-Region 3 bracket, No. 13-ranked North Butler (23-5) has advanced to the semifinals and will take on Bishop Garrigan (15-11) at 7 p.m. Monday (Oct. 26) at West Hancock High School.