Posted on
Comet football head coach steps down
Darren Bohlen announces decision during team banquet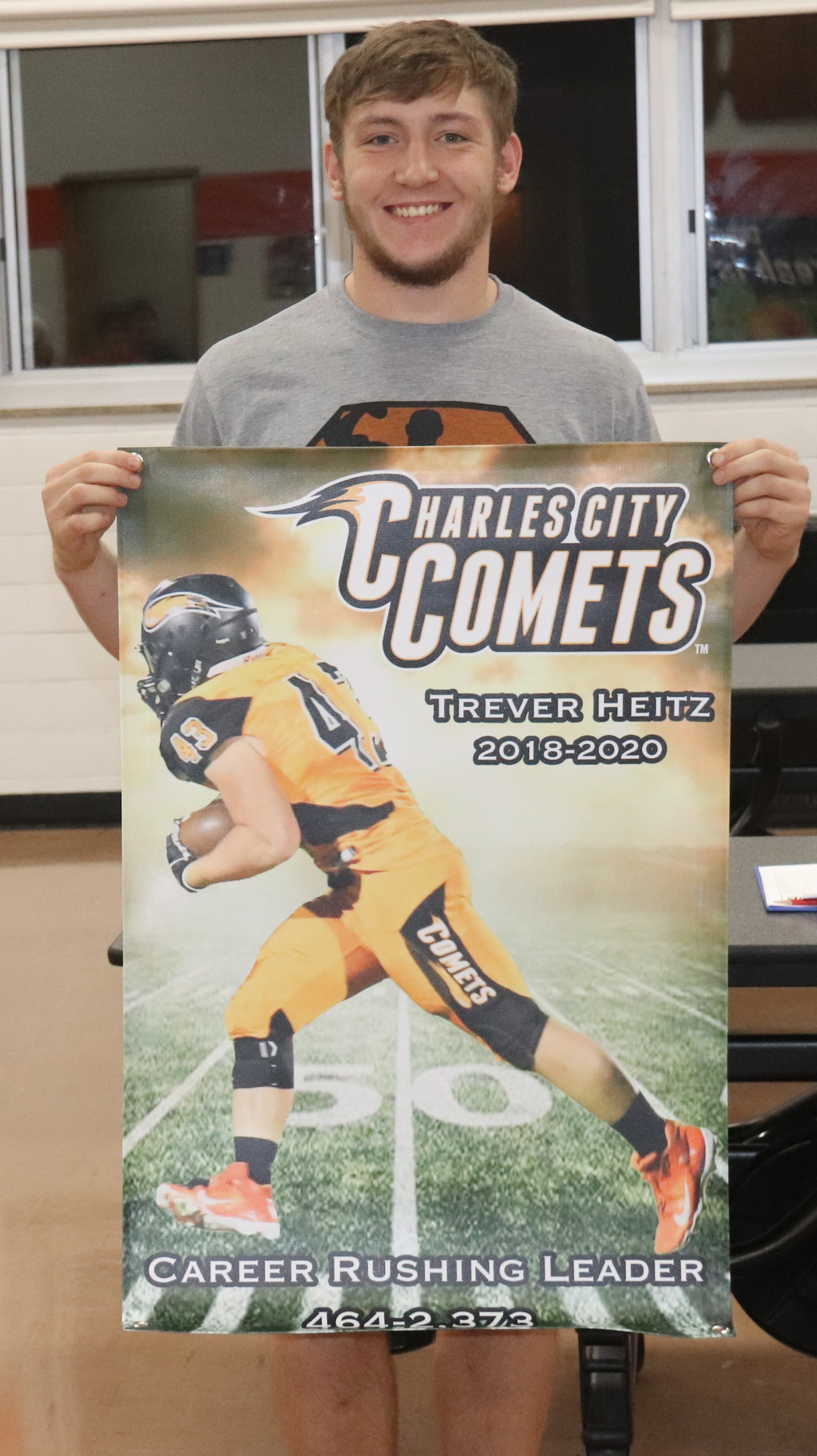 By John Burbridge
sports@charlescitypress.com
CHARLES CITY — As tradition, the Charles City Comets football team held its end-of-season awards banquet Wednesday in the high school's cafeteria.
For head coach Darren Bohlen, it was his last meal … that is with his football team.
After the Pizza Ranch delivered pizza and chicken were devoured, and the letterwinners and All-District players were acknowledged, Bohlen informed those in attendance that 2020 was his final season.
"With me working outside (of the school), I decided it was just too much for me to continue," said Bohlen, who has coached for more than two decades at Charles City, where he also was a business and physical education teacher.
"I got a job offer in July and it was a great opportunity for me," Bohlen said of being approached to run an insurance office in Clarksville.
"With COVID going on, I wasn't sure I wanted to come back for at least one more year because I figured this might be my last season anyway. But I didn't want to leave the team hanging without a head coach."
With children in the school system who are active in extracurricular activities, Bohlen will likely still be seen at the school as a supportive father in the months and years to come.
"But I just cleaned out all my computer equipment from here," he said. "Yeah, this is it.
"I'll definitely miss this place … miss the kids."
The former girls track head coach and assistant football coach took over the Comet football program in 2014 and helped Charles City qualify for the playoffs after going 0-9 the season before.
The Comets didn't qualify for the playoffs in the five years hence, but Bohlen was excited about this season's team due to the experience and athleticism returning.
Charles City lost a hard-fought game to New Hampton in the opener before the season took a major turn for the worse when COVID exposure shut the Comets down for two weeks.
"Then we had to face West Delaware, which is one of the best teams in the state, the first week back," Bohlen said.
Trying to reboot while going up against some of the state's topnotch teams proved to be an arduous task for the Comets, who went winless for the remainder of the regular season.
But with all Iowa football teams qualifying for the postseason this year, the Comets were able to return to the playoffs where they were assigned to travel 145 miles to face Wahlert Catholic in the first round.
Against the Golden Eagles, the Comets — riddled with injuries even before the two week shutdown — were the most healthy they were during the entire season.
In a resounding hard-hitting game, Charles City was winning on both sides of the line of scrimmage during much of the game — moving the ball effectively on offense and stuffing WC repeatedly on defense.
But several turnovers deep in the red zone — one of which at the Golden Eagles' 1-yard line — and several big plays given up by the defense enabled WC to advance in a 24-7 final.
"And then they went on to beat Decorah at their own game, and it took a late field goal by Xavier to finally eliminate them," Bohlen said of Wahlert Catholic while addressing his team at the end of the banquet. "We proved, when we are healthy and have most of our starters on the field, that we can play against teams like that."
A 1991 graduate of Wartburg College, Bohlen was inducted into the school's Athletic Hall of Fame in 2011 while being honored for being the Knights' first two-time 1,000-yard rusher that included a school-record 1,413 rushing yards in a season.
During his tenure at Charles City, Bohlen was a pious advocate for offseason and in-season weight training while emphasizing that student-athletes have an obligation to push themselves to become legitimate "athletes" rather than just "participants".
Maintaining access to the weight room was problematic this past spring and summer due to COVID-imposed shutdowns. In his parting remarks to the team, Bohlen challenged the underclassmen to be assertive with the administration and other coaches to keep the weight room open as much as possible.
"You look at the guys who made All-District," Bohlen said after handing out Class 3A-District 3 All-District certificates, "it's no accident that they're the ones you see in the weight room the most."
As for Comet All-District honorees … junior Chase Crooks and senior Trever Heitz repeated as First Team Offense selections.
Crooks, who returned to the lineup for the Wahlert Catholic game and helped the Comets attain a time-of-possession advantage, was the only sophomore to make First Team Offense last season.
During his career, Crooks helped Heitz become Charles City's all-time leading rusher (2,373 yards). This season, Heitz led the team with 483 yards while averaging 5.7 yards per carry.
Making All-District Second Team for the Comets were senior Cole White, who also returned from injury to help solidify the O-line against WC; junior Cael Bohlen, who led the team in total tackles (29) and co-led in both solo tackles (27) and tackles for loss (4); junior Mario Hoefer, who led the team in interceptions and sported a game-breaking 22.5 yards-per-catch average while compiling 180 receiving yards; and junior Tino Tamayo, who co-led the team with 27 solos and 4 TFLs, and averaged 33.2 yards per punt.
Comets named to the All-District Academic Team include Crooks, Heitz, senior Evan Bjelica, senior Caden Collins, senior Alec Staudt, and senior William Wilson.