Posted on
Finish not fantastic enough for Comets, fall to Indians 66-62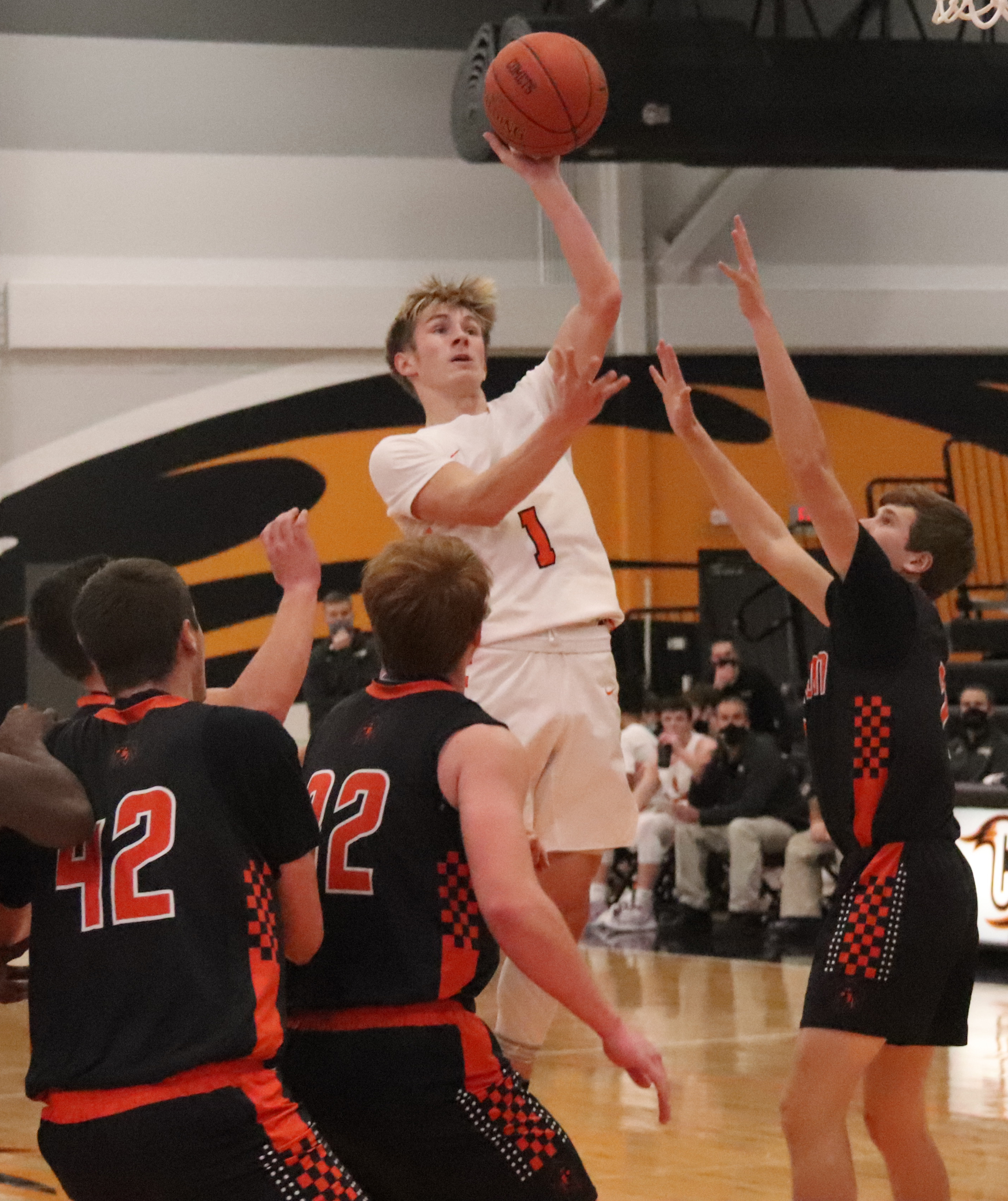 By John Burbridge
sports@charlescitypress.com
CHARLES CITY — There was a minor league basketball league out east that added a nuance to the game.
The Backcourt Bonus.
Whenever a team forced a turnover in the backcourt, it would be awarded a bonus possession that scored 3 points for a 2-point field goal and 4 points for a 3-point field goal.
This little wrinkle set the stage for fantastic finishes and otherwise improbable comebacks.
The Backcourt Bonus wasn't employed during Charles City's home basketball games against Northeast Iowa Conference rival Waukon. The Comets sure could have used it, but almost stole the game from the Indians anyway.
Down by double-digits with less than a minute remaining in regulation, Charles City provoked a series of backcourt turnovers that led to quick baskets.
But Waukon managed to "stop the steal" and hung on to win 66-62.
Leading the way for Waukon were Ethan O'Neill and Braden Hemann, who scored 16 and 15 points, respectively.
The Indians were up by 3 (29-26) at halftime before the Comets came out with an 11-0 run to start the second half.
Things soon took an even better turn for the Comets when the Indians' 6-foot-5 shot-blocking menace Andy Osmonson picked up his fourth foul a little more than three and a half minutes into the second half.
But with Hemann's 3-pointer, the Indians caught the Comets (43-43) going into the final quarter and soon began to pull away.
Charles City senior JJ Ritter led all scorers with 22 points, including 3-of-5 shooting from beyond the 3-point arc.
Sophomore Chase Low had 12 points and five steals for the Comets. On several occasions, Low ignited the home crowd — the biggest of the season due to recently relaxed attendance restrictions — with slam-dunks borne from his steals.
Comet junior Mario Hoefer also wowed the crowd with several hang-time drives to the basket while scoring 12 points. Hoefer also led all rebounders with nine boards — five of them offensive — and had several of those backcourt steals during Charles City's late run.
Kaden Barry had seven rebounds and Ian Collins had four assists for Comets, who traveled to Waterloo West the following night and lost to the Wahawks 63-38 after falling behind 21-7 through the first quarter.
Charles City's boys (2-6, 1-2 NEIC) won't be back in action until Jan. 5 after the break when they travel to New Hampton.
* Charles City's girls team traveled to Waukon on Friday and lost 56-34 despite 16 points, three assists and three steals from junior guard Lydia Staudt.
Sadie Gebel and Dani Stock each had five rebounds for the Comets (2-4, 1-2), who will travel to Denver on Tuesday before the holiday resume, and resume the schedule with a Jan. 5 home game against New Hampton.
Boys Varsity
WAUKON 66, CHARLES CITY 62
WAUKON — Creed Welch 8, Ethan O'Neill 16, Braden Hemann 15, Andy Osmonson 10, Sean Cooper 6, Braxton Stewart 11.
CHARLES CITY — JJ Ritter 22, Ian Collins 5, Chase Low 12, Kaden Barry 2, Cael Ruzicka 3, Jose Hernandez, Mario Hoefer 12, Jeremiah Chapman 4.
Girls Varsity
WAUKON 56, CHARLES CITY 34
CHARLES CITY — Lydia Staudt 16, Dani Stock 4, Delaney Ruzicka 4, Ashlyn Hoeft 4, Sadie Gebel 2, Madison Lensing 2, Aubrey Hoeft 2.
WAUKON — Maggie Criswell 2, Bailey Shafer 6, Brinley Jones 3, Margaret Wacker 17, Annika Headington 9, Jayden Knox 11, Emma Palmer 8.