Posted on
Comets claim individual titles at Fort Dodge Women's Wrestling Tournament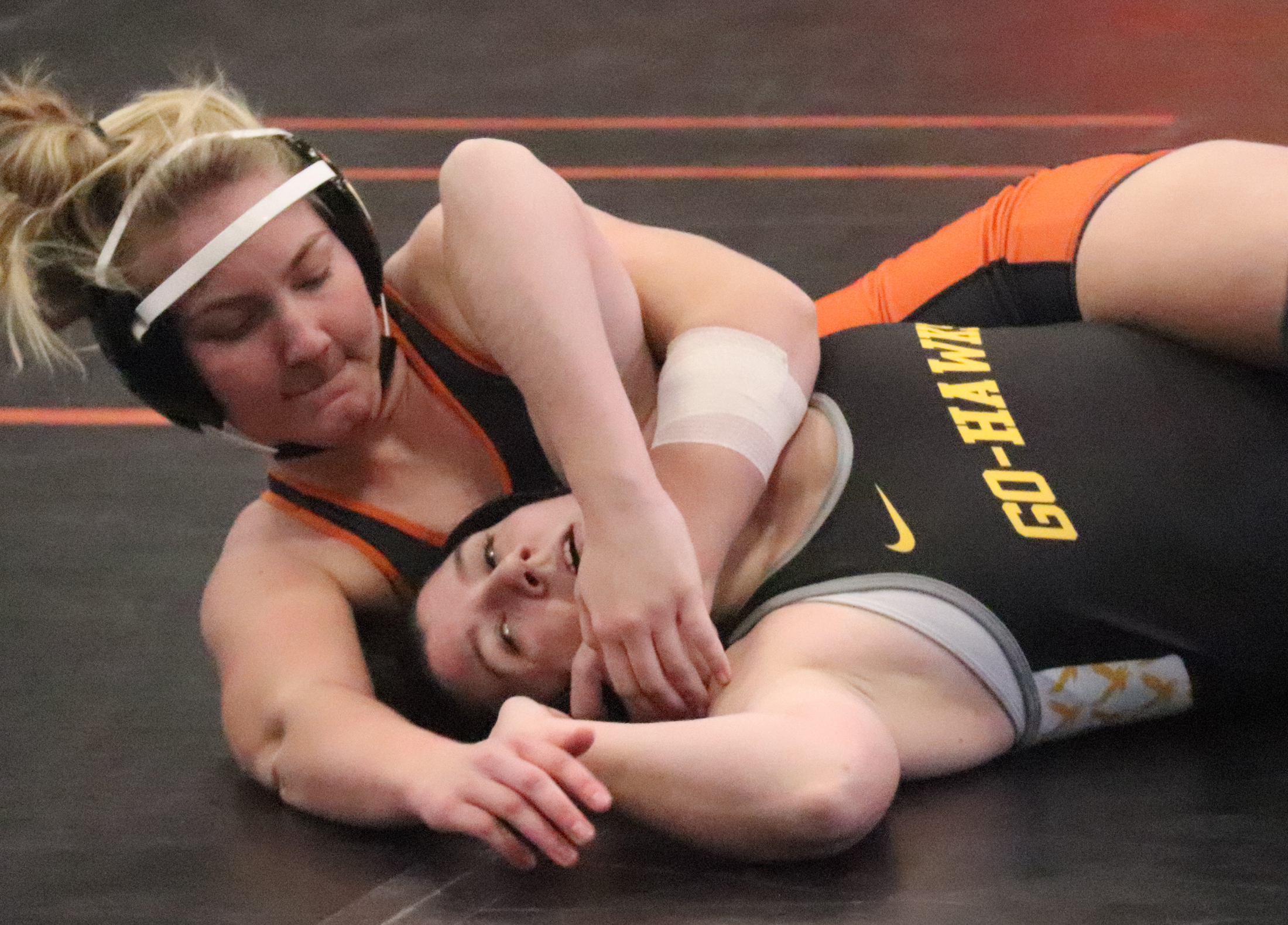 Press Staff Report
FORT DODGE — Sometimes you pick the fight. Sometimes the fight picks you.
During a wrestling season in which set schedules are fickle, the Charles City girls wrestling team has been forced to do the former while looking for places to rumble on the fly.
For last weekend, the Comets set their sights on Fort Dodge, which held a women's wrestling tournament.
Charles City made its presence known as five of its wrestlers earned individual titles.
Among those was senior "graduate" Marissa Gallup.
In the 111-119 weight class, Gallup went 3-0 with three first-period falls.
They were the last three matches of Gallup's prep career as she recently graduated a semester early — the school year's first semester ended on Tuesday — in order to finish the latter part of her training with the Iowa National Guard.
(Feature story on Gallup forthcoming next week in the Charles City Press).
Seniors Kiki Connell and Allie Cross both also went 3-0 with three fall victories while winning the 113-120 and 144-151 brackets, respectively.
Junior Lydia Staudt, who was the Comets' leading scorer in Charles City's girls basketball away loss to Waukon the night before, won the 120-129 bracket.
Charles City freshman Alexis Ver Meer recorded the most fall victories for the Comets as her four pins led to a 90-113-bracket title.
Though Gallup was no longer eligible to participate during Charles City's home dual against Waverly-Shell Rock on Tuesday, several other Comet girls wrestlers did while picking up wins against the defending Iowa Wrestling Coaches and Officials Girls State Tournament champions.
Connell, Cross and Lily Luft all recorded two victories apiece against the Go-Hawks.
Fort Dodge Women's Tournament Results for Charles City
90-113
1st — Alexis Ver Meer (18 team points)
Round 1 – Alexis Ver Meer (Charles City) won by fall over Aiyana Benjamin (Spirit Lake Park) (Fall 0:59)
Round 3 – Alexis Ver Meer (Charles City) won by fall over Kylie Moser (Humboldt) (Fall 5:22)
Round 4 – Alexis Ver Meer (Charles City) won by fall over Kaylee Hennick (Charles City) (Fall 0:56)
Round 5 – Alexis Ver Meer (Charles City) won by fall over Lillian Morey (Humboldt) (Fall 1:09)
3rd — Kaylee Hennick's (7 pts.)
Round 2 – Kaylee Hennick (Charles City) won by fall over Kylie Moser (Humboldt) (Fall 5:12)
Round 3 – Lillian Morey (Humboldt) won by fall over Kaylee Hennick (Charles City) (Fall 4:20)
Round 4 – Alexis Ver Meer (Charles City) won by fall over Kaylee Hennick (Charles City) (Fall 0:56)
Round 5 – Kaylee Hennick (Charles City) won by fall over Aiyana Benjamin (Spirit Lake Park) (Fall 0:13)
111-119
1st — Marissa Gallup (20 pts.)
Round 1 – Marissa Gallup (Charles City) won by fall over Abi Satern (Humboldt) (Fall 1:56)
Round 2 – Marissa Gallup (Charles City) won by fall over Joslyn Dawson (Colfax-Mingo) (Fall 0:45)
Round 3 – Marissa Gallup (Charles City) won by fall over Mia Harris (Humboldt) (Fall 0:32)
113-120
1st — Kiki Connell (20 pts.)
Round 1 – Kiki Connell (Charles City) won by fall over Danica Linn (Colfax-Mingo) (Fall 3:41)
Round 2 – Kiki Connell (Charles City) won by fall over Krystol Luna Rosales (Spencer) (Fall 1:56)
Round 3 – Kiki Connell (Charles City) won by fall over Mya Vote (Humboldt) (Fall 2:22)
120-129
3rd — Lauren Staudt (9 pts.)
Round 1 – Lauren Staudt (Charles City) won by fall over Kaitlyn Larson (Spencer) (Fall 3:03)
Round 2 – Avery Grim (Ankeny Centennial) won by fall over Lauren Staudt (Charles City) (Fall 1:06)
Round 3 – Angeleena Rasmussen (Sioux City East) won by fall over Lauren Staudt (Charles City) (Fall 3:12)
121-126
3rd — Katelyn Miller (11 pts.)
Round 1 – Brett Harklau (Humboldt) won by fall over Katelyn Miller (Charles City) (Fall 3:05)
Round 2 – Katelyn Miller (Charles City) won by forfeit over Alicia Fink (West Fork, Sheffield) (FF)
Round 3 – Katelyn Miller (Charles City) won by disqualification over Shayla Doran (Spencer) (DQ)
125-132
3rd — Elizabeth Oleson (9 pts.)
Round 1 – Meridan Snitker (Waukon) won by fall over Elizabeth Oleson (Charles City) (Fall 1:16)
Round 2 – Elizabeth Oleson (Charles City) won by fall over Bre Hotovec (Humboldt) (Fall 0:33)
Round 3 – Elly Berry (St. Edmond) won by fall over Elizabeth Oleson (Charles City) (Fall 2:59)
127-134
2nd — Lilly Luft (13 pts.)
Round 1 – Alexis Ross (Fort Dodge) won by fall over Lilly Luft (Charles City) (Fall 3:33)
Round 2 – Lilly Luft (Charles City) won by major decision over Deni McDaniel (Humboldt) (Maj 10-2)
Round 3 – Lilly Luft (Charles City) won by fall over Kylie Doty (Colfax-Mingo) (Fall 5:50)
126-131
3rd — Alexandria Wholers (9 pts.)
Round 1 – Alexandria Wholers (Charles City) won by forfeit over Autumn Stonecypher (West Fork, Sheffield) (FF)
Round 2 – Lydia Staudt (Charles City) won by fall over Alexandria Wholers (Charles City) (Fall 2:48)
Round 3 – Claire Weydert (Humboldt) won by fall over Alexandria Wholers (Charles City) (Fall 1:54)
126-131
1st — Lydia Staudt (20 pts.)
Round 1 – Lydia Staudt (Charles City) won by fall over Claire Weydert (Humboldt) (Fall 1:45)
Round 2 – Lydia Staudt (Charles City) won by fall over Alexandria Wholers (Charles City) (Fall 2:48)
Round 3 – Lydia Staudt (Charles City) won by forfeit over Autumn Stonecypher (West Fork, Sheffield) (FF)
130-137
3rd — Keely Collins (9 pts.)
Round 1 – Kailee Dettmann (Humboldt) won by fall over Keely Collins (Charles City) (Fall 0:28)
Round 2 – Kirsten Frier (Colfax-Mingo) won by fall over Keely Collins (Charles City) (Fall 0:50)
Round 3 – Keely Collins (Charles City) won by injury default over Baylie Beers (Humboldt) (Inj. 0:00)
136-140
4th — Margaret Boss (4 pts.)
Round 1 – Kali Beaman (Humboldt) won by fall over Margaret Boss (Charles City) (Fall 1:57)
Round 2 – Emma Strohman (Spencer) won by fall over Margaret Boss (Charles City) (Fall 1:44)
Round 3 – Jada Bushaw (Waukon) won by fall over Margaret Boss (Charles City) (Fall 0:48)
143-150
2nd — Morgan Maloy (14 pts.)
Round 1 – Morgan Maloy (Charles City) won by fall over Dana Cleveland (Ankeny Centennial) (Fall 3:28)
Round 2 – Miranda McGill (Colfax-Mingo) won by fall over Morgan Maloy (Charles City) (Fall 5:10)
Round 3 – Morgan Maloy (Charles City) won by fall over Alondra Torres (Humboldt) (Fall 0:43)
144-151
1st — Allie Cross (20 pts.)
Round 1 – Allie Cross (Charles City) won by fall over Alexa Hemmelrick (Humboldt) (Fall 1:05)
Round 2 – Allie Cross (Charles City) won by fall over Aroura Preston (Spirit Lake Park) (Fall 3:30)
Round 3 – Allie Cross (Charles City) won by fall over Melany Vry (Colfax-Mingo) (Fall 1:15)
219-245
2nd — Ava Thompson (9 pts.)
Round 1 – Olivia Huckfelt (Spencer) won by fall over Ava Thompson (Charles City) (Fall 0:18)
Round 3 – Ava Thompson (Charles City) won by fall over Laynee Orent (AP-GC) (Fall 0:08)