Posted on
Comets finish 2020 with dual against defending state champ Go-Hawks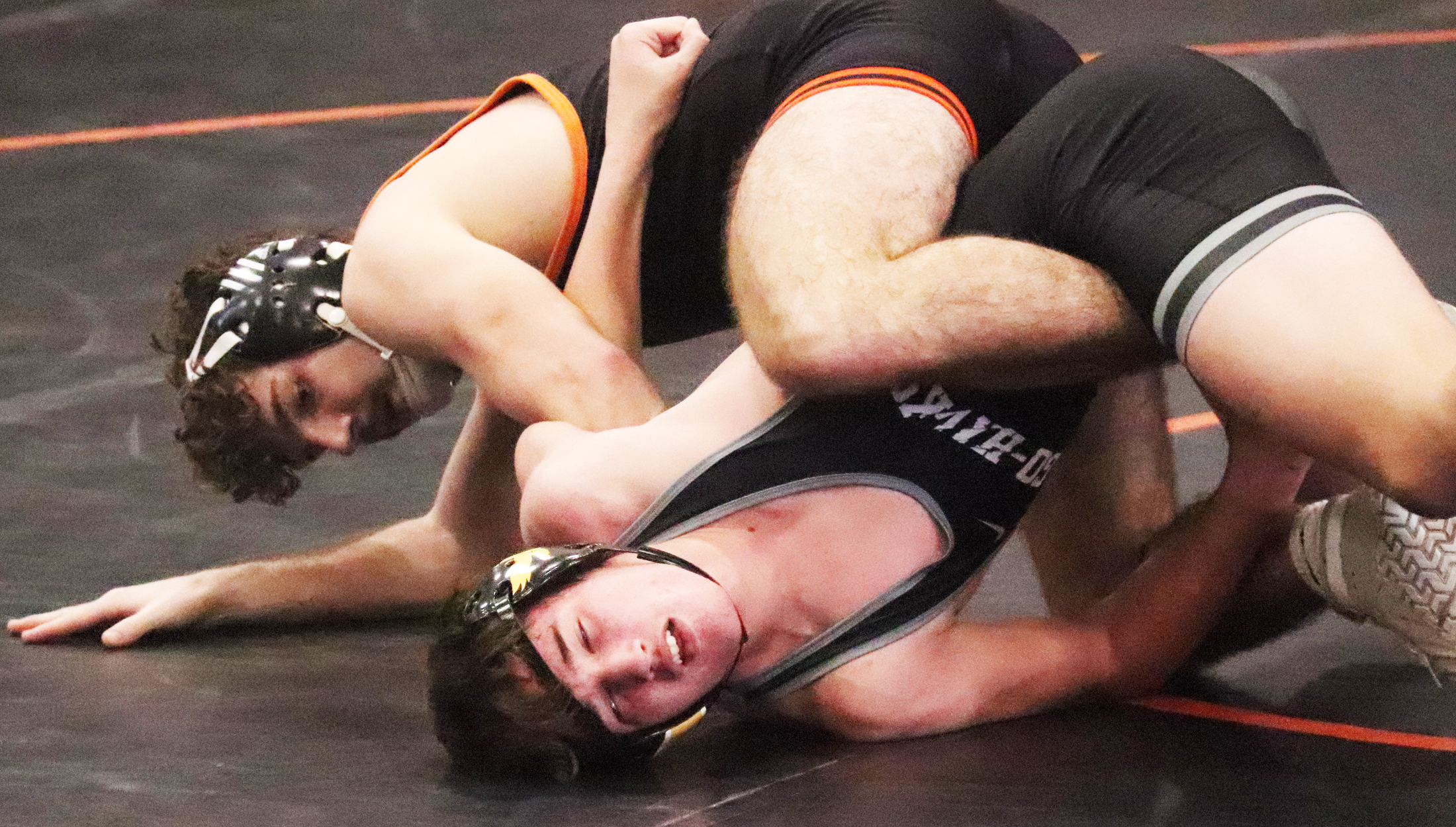 By John Burbridge
sports@charlescitypress.com
CHARLES CITY — Some wrestling programs struggle to fill all weight classes for a meet.
But then take the Waverly-Shell Rock Go-Hawks, who were represented in 10 of the 14 brackets at last year's State Wrestling Tournament while claiming four individual titles as well as the Class 3A traditional championship.
Most of that lineup is back this season as eight Go-Hawks are ranked in the Top 10 of their respective classes by the latest rankings released by The Predicament, which ranks W-SR second as a whole to Southeast Polk, the team that edged the Go-Hawks by a decision win for the Class 3A "team" championship while preventing a repeat.
On Tuesday, the Charles City Comets hosted the highly touted defending champs in what represented the final dual meet of 2020 for both programs going into the holiday break.
The Comets had an 8-1 dual meet record going into Tuesday's meet, and they have a few returning state qualifiers and/or ranked wrestlers of their own. But as a Class 2A team, Charles City has yet to crack into any Top 10 rankings thus far, so it was little surprise that the Go-Hawks won convincingly 61-14.
But it wasn't all "Seasons' Beatings" for the Comets.
Junior Chase Crooks, who is ranked No. 4 among Class 2A heavyweights, scored the quickest fall victory of the night when he stuck Go-Hawk junior Layne McDonald in 24 seconds — though heavyweight wrestling bouts tend to be lumbering affairs prone to go the distance if not beyond, Crooks continues to add to his series of quick first-period falls.
Returning medalist, senior 170-pounder Caden Collins, recorded the first win for the Comets when he pinned Go-Hawk freshman Cole Thompson 3:10 into their bout.
The Comets' third win of the evening came in the 126-pound match when sophomore Nathan Lopez decisioned Go-Hawk junior Carter Fecht 5-3.
Returning state champion and South Dakota State-bound Go-Hawk senior Bailey Roybal stuck Comet junior Jacob Vais 1:49 into their 120-pound bout.
Returning heavyweight state medalist Luke Walker, now wrestling as a No. 2-ranked 220-pounder for the Go-Hawks, recorded a technical-fall victory (23-8) over Charles City's returning state qualifier Tino Tamayo.
Go-Hawk junior Aiden Riggins, ranked No. 3 as a Class 3A 152-pounder, pinned Comet senior Roush Jaeger, ranked No. 9 as a Class 2A 152-pounder, midway through the third period of their bout.
Sophomore McCrae Hagarty, W-SR's No. 2-ranked 182-pounder, stuck Comet senior Cade Williams 1:28 into their 195-pound match.
Go-Hawk freshman Robert Poyner got a 18-5 major decision over Comet sophomore Kayden Blunt to start the meet at 145.
Junior Sean Mwangl earned a 9-1 decision at 160 against Comet junior Colton Crooks.
In a battle of freshmen, Go-Hawk 106-pounder Zane Behrends pinned Jordan Young in 90 seconds.
The varsity meet concluded when junior Cayden Langreck pinned Comet freshman Talan Weber 4:40 into their 138-pound bout.