Posted on
Comet boys get back on winning track, Comet girls fall to Chickasaws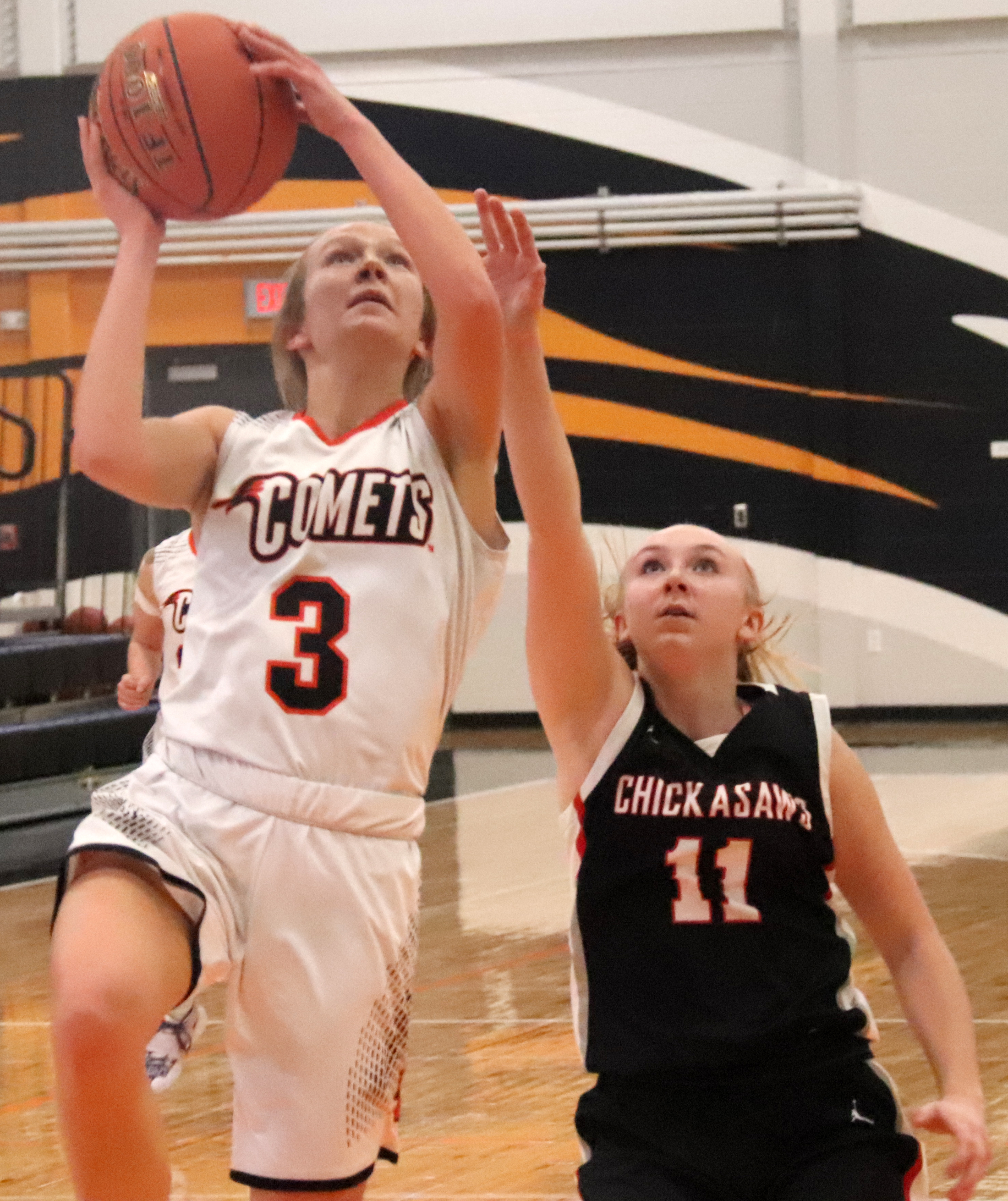 By John Burbridge
sports@charlescitypress.com
CHARLES CITY — Ways of getting the free-throw shooter's divided attention have evolved throughout the seasons.
A more subtle if not non-intentional approach amid this pandemic is through radio non-silence.
During the FT junctures of Tuesday's Northeast Iowa Conference girls basketball game featuring New Hampton and hosting Charles City, the only voice heard in the sparsely populated gym was that of radio play-by-play announcer Eric Hoefer.
Several New Hampton players were taken aback when they clearly heard their names broadcasted by Hoefer while "stepping to the line to shoot two for the Chickasaws."
The Chickasaws were able to convert most of their free-throw attempts (7 of 11) on the air as well as enough shots from the field to beat the Comets 42-26.
Hope McDonald led all scorers with 11 points and Carlee Rochford added 10 for the Chickasaws (4-5).
Charles City was able to stay in the game most of the way despite not having the services of two of its starters. But New Hampton held the Comets to just 1 point in the fourth quarter while keeping them at bay.
Aubrey Hoeft, Delaney Ruzicka and Dani Stock each scored 6 points for Charles City.
* Comet senior Kaden Barry scored 16 of his career-high 19 points in the first half to help the Charles City boys team stop a three-game skid with an away 73-52 victory over New Hampton on Tuesday.
Barry had four 3-point shots in the first half before adding a fifth 3-pointer in the second half.
Chase Low had 18 points, nine rebounds and three steals; Ian Collins scored a personal season-high 14 points; and JJ Ritter scored 9 points and dished out four assists for the Comets (3-5, 2-2 NEIC), who will travel to Decorah on Friday for their next game
Boys Varsity
CHARLES CITY 73, NEW HAMPTON 52
CHARLES CITY — JJ Ritter 9, Ian Collins 15, Chase Low 18, Brennan Schmidt 2, Jack Hanson 2, Kaden Barry 19, Jerry Chapman 2, Cael Ruzicka 6.
NEW HAMPTON — Drake Wemark 14, Conner Rochford 16, Mason Lane 7, Avery Throndson 2, Carter Steinlage 7, Cael Leistikow 6.
Girls Varsity
NEW HAMPTON 42, CHARLES CITY 26
NEW HAMPTON — Rylee Schumacher 4, Emily Jackson 6, Carlee Rochford 10, Kandice Eggerichs 4, Kara Crooks 1, Kaylee Baker 2, Brooke Usher 2, Molly Wegner 2, Hope McDonald 11.
CHARLES CITY — Lydia Staudt 5, Dani Stock 6, Aubrey Hoeft 6, Delaney Ruzicka 3, Ava Ellis 6.