Posted on
Cold front plagues Comet cagers against Decorah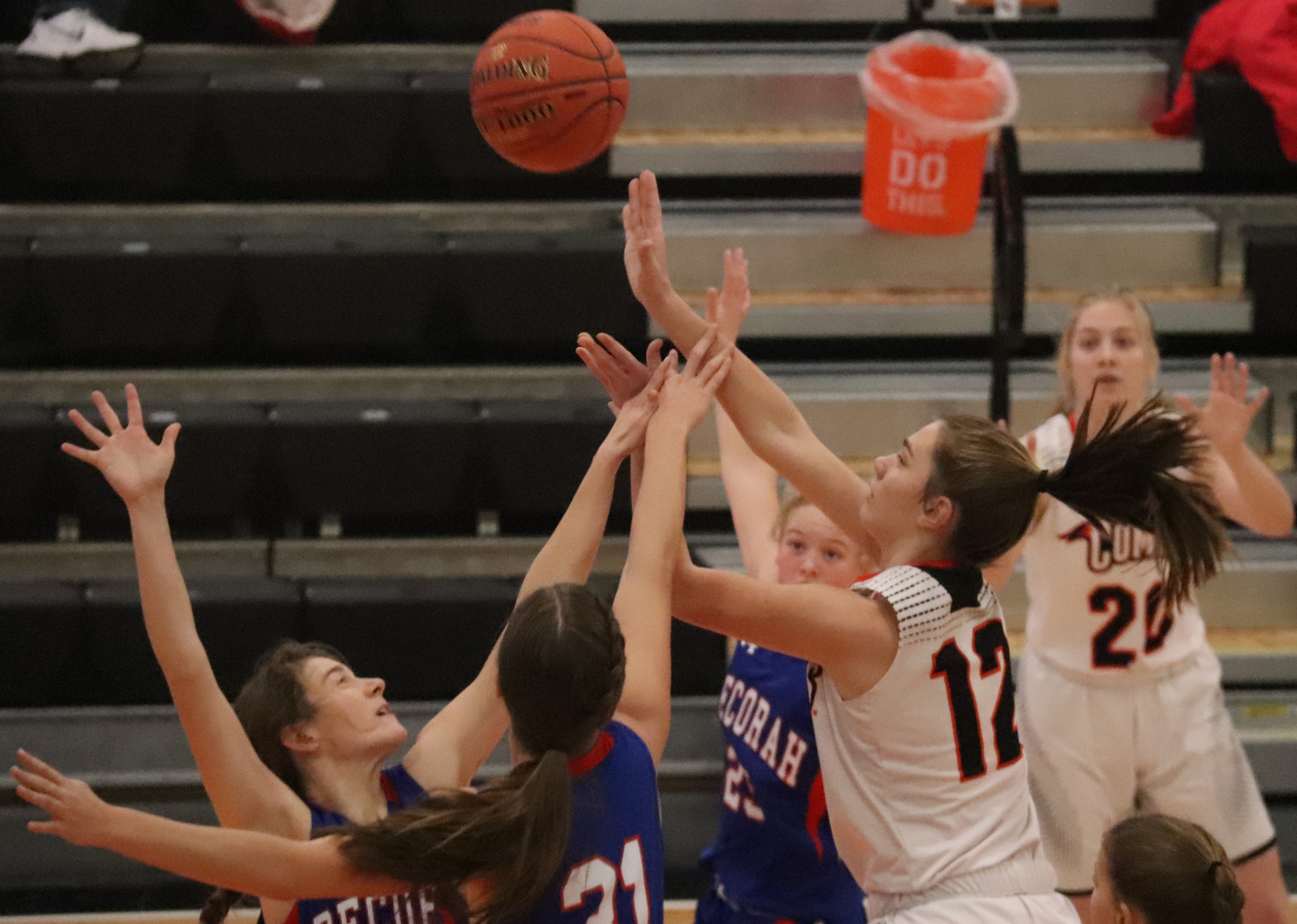 By John Burbridge
sports@charlescitypress.com
CHARLES CITY — As if we don't have enough to worry about these days, extended forecasters are predicting a semi-annual deep freeze for later this month.
The Charles City Comets boys basketball team experienced a deep freeze Friday night in Decorah while facing the Northeast Iowa Conference rival Vikings.
Down 49-37 going into the fourth quarter, the Comets were limited to 1 point in the final stanza as the Vikings won going away 65-38.
Joseph Bockman led all scorers with 16 points for Decorah (6-3), which placed five players in double-figure scoring.
Points came much harder for the Comets who shot less than 25% from the floor and only 3 of 22 from 3-point range.
Chase Low was the "high" man for Charles City with 13 points — most of which from 7 of 9 free-throw shooting.
JJ Ritter scored 10 points, and Jeremiah Chapman and Cael Ruzicka each had five rebounds for the Comets (3-6, 2-3), who return home to host state-ranked Clear Lake on Tuesday.
* Though it lost to Decorah 56-20 on Friday, the Charles City girls basketball team had a better night than most high school, college and even NBA teams in action last weekend.
That's in reference to free-throw shooting.
The Comets made 14 of 15 attempts from the line which is  93.3% when you do the math.
Eat your heart out Steph Curry.
Dani Stock led the Comets with 10 points as she went 4 of 5 from the line with the team's lone miss.
All other scoring for Charles City (2-8, 1-4) came from perfect free-throw shooting from Aubrey Hoeft and Ava Ellis (4 of 4 apiece) and Lydia Staudt (2 of 2).
Emma Nierengarten and Bryar Duwe had 15 and 13 points, respectively, for the Vikings (7-2, 4-1).
Boys Varsity
DECORAH 65, CHARLES CITY 38
CHARLES CITY — JJ Ritter 10, Ian Collins 1, Chase Low 12, Jeremiah Chapman 5, Cael Ruzicka 9.
DECORAH — Jacob Pipho 11, Charles Robinson 12, Joseph Bockman 16, Mason O'Hara 10, Cael Luzum 2, Carson Wemark 2, Treyton McCain 12.
Girls Varsity
DECORAH 56, CHARLES CITY 20
DECORAH — Sami Mount 2, Abigail Milburn 6, Yazmeen Whitsitt 7, Bryar Duwe 13, Emma Nierengarten 15, Annika Franzen 5, Haley Gossman 8.
CHARLES CITY — Lydia Staudt 2, Dani Stock 10, Aubrey Hoeft 4, Ava Ellis 4.