Posted on
Local wrestlers win first-round matches at State Traditional Tournament
Charles City's Collins and Crooks; Nashua-Plainfield's Huck, Rinken and Nelson; and North Butler's Arjes and Buss all advance to quarterfinals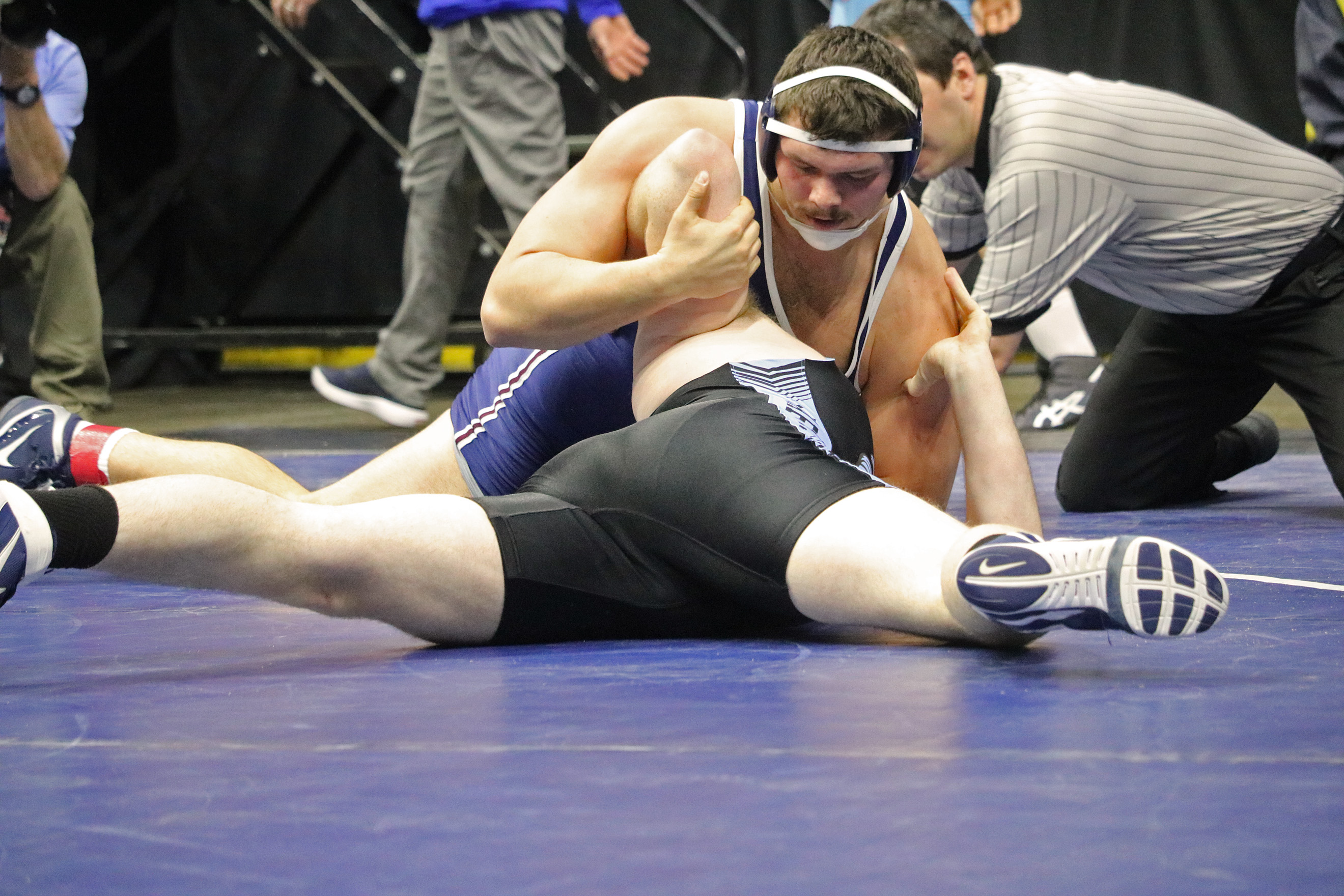 Press Staff Report
DES MOINES — Several local wrestlers went "One and Done" during the first day of the State Wrestling Traditional Championships, Thursday at Wells Fargo Arena.
They were the lucky and/or good ones.
When you win your opening match at the state tournament and advance in the winners'-side brackets, you get the rest of the day off. For some, that can mean enjoying the attractions of Downtown Des Moines with family and friends with winter finally loosening its half-nelson grip.
Three of Nashua-Plainfield's four qualified wrestlers won their first matches with fall victories in the Class 1A tournament. Sophomore 106-pounder Kendrick Huck and sophomore undefeated top-seeded 113-pounder Garrett Rinken nearly recorded simultaneous cradle pins early into the tournament.
Later, N-P junior Trey Nelson pinned his first-round 132-pound opponent.
N-P's 145-pound junior McKade Munn lost his first match but stayed alive with a subsequent consolation win.
North Butler/Clarksville's defending state heavyweight champion Chet Buss made short work of his Class 1A first-round opponent with a 38-second pin; and NBC's freshman 120-pounder  Tanner Arjes won a close 4-3 decision to advance in his bracket.
During the Class 2A first round held in the evening, Charles City's senior 170-pounder Caden Collins and junior heavyweight Chase Crooks both won their opening bouts.
Collins, a place-winner from last year, bested Jon Mckeever of Woodward-Granger with a high-scoring 10-8 decision.
Crooks, who lost his first-round match last year, decisioned (8-2) Cole Sanger of North Polk and is due to face Jacob Leohr of Dike-New Hartford in the quarterfinals — both wrestlers are 1-1 against each other this season.
Comet 220-pound junior Tino Tamayo lost his first match but rebounded to win his first consolation to stay alive in the tournament.