Posted on
Comet Chase Crooks Grand Marches with state-placing heavyweights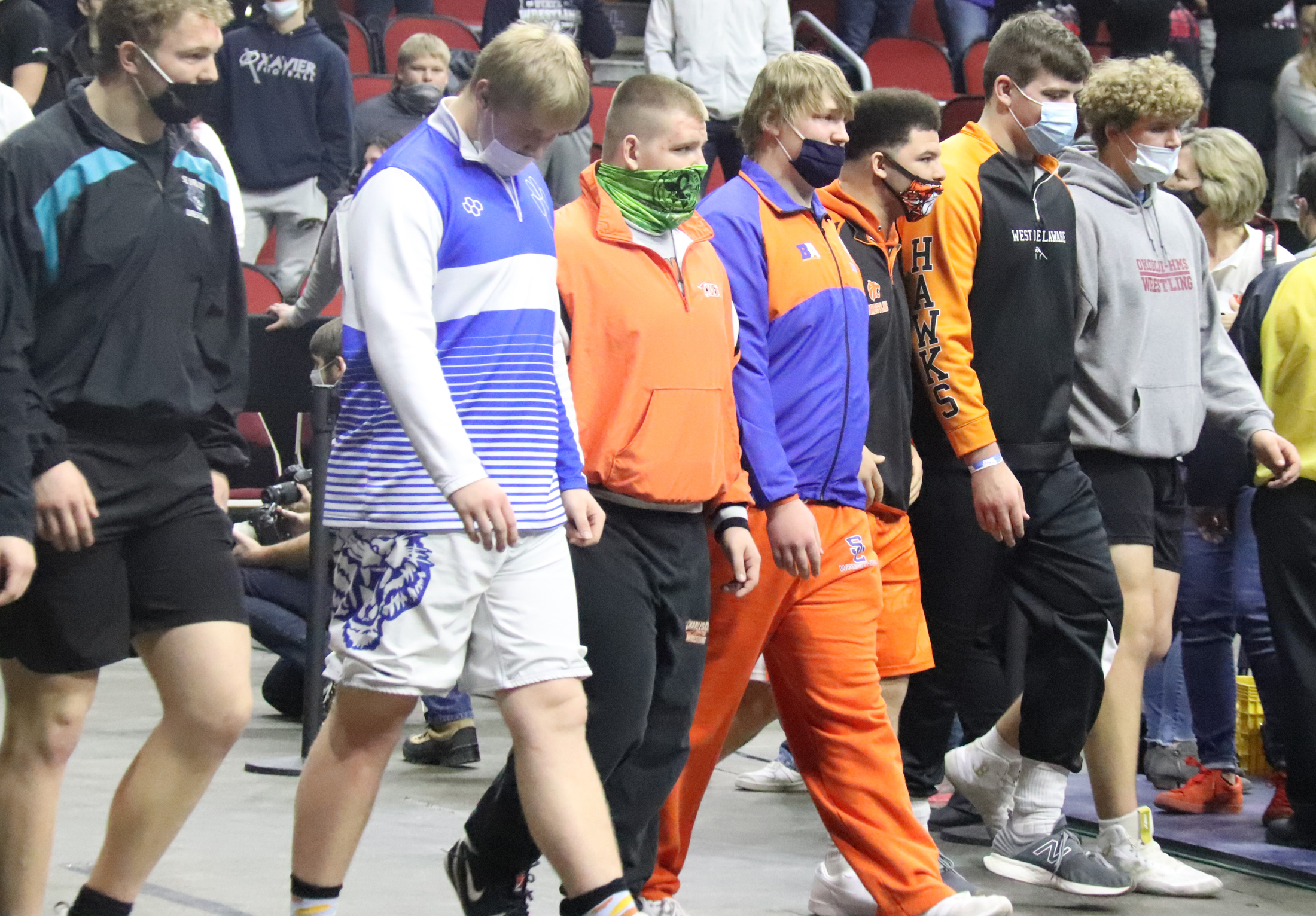 By John Burbridge
sports@charlescitypress.com
DES MOINES — Championships can be a fickle beast.
They can rain down from the heavens, or they can be as elusive as that treasure at the end of the rainbow.
For North Butler/Clarksville, individual titleist hardware at the State Wrestling Championships has become a regular occurrence in the person of resident heavyweight Chet Buss.
With a fall victory over Rex Johnson of Logan-Magnolia for the Class 1A-285 crown Saturday night at Wells Fargo Arena, the Bearcat junior completed his second-straight undefeated championship season, this time going 41-0.
For the Nashua-Plainfield Huskies, the wait has been a little longer.
"We haven't had a champion since 2012," Husky veteran head coach Al Frost said. "We haven't had a wrestler make it to the finals since 2012."
That changed on both fronts in the Class 1A 113-pound final.
Husky sophomore Garrett Rinken, who placed third as a 106-pounder last year, found himself down 2-0 early against West Sioux's Brandon Graff.
Rinken was able to even the score, and with about a minute remaining in the third period, scored a takedown for what would be the margin of victory in a 4-2 decision.
While capping his undefeated season at 51-0, Rinken became the fifth N-P wrestler to claim a state title, and first since Husky 182-pounder Andy Glaser in 2012.
Glaser also helped the Huskies win the Class 1A Dual Meet title that year.
Charles City has had 17 individual wrestling champions — the last in 2008 with 103-pounder Tanner Schmidt.
The Comets will have to wait a little longer, but maybe not too much longer.
"He has made a big step from last year," Comet head coach Dave Williams said about his junior heavyweight Chase Crooks.
"Last year, he was a qualifier. This year, he made it to the podium. After being here a couple of times, you get a better idea what to expect."
In last year's tournament, Crooks was paired up against the No. 1-seed and eventual champion and was quickly sent to the consolation bracket.
This time around, Crooks won his first two matches — including another 1-0 nail-biter over Dike-New Hartford's Jacob Leohr in the quarter finals.
In the semis, Crooks lost a close 3-2 decision to Grinnell's Kamerin Steveson, then lost twice in Saturday's consolation semifinals and placement matches to place sixth and capping his season at 30-9.
Charles City 170-pound senior Caden Collins, who was a returning place-winner for the Comets, got off to a good start with a 10-8 decision over Jon McKeever of Woodward-Granger during Thursday's opening round, but lost a 8-4 decision to Bishop Heelan's Mitchell Joines in the quarterfinals.
Collins was a technical-fall victim to Centerville's Lucas Henderson in his subsequent consolation bout and was stopped short of a top-eight podium finish. Collins had a team-leading 35 wins against 10 losses his final high school season.
Tino Tamayo, who like Crooks will be a senior with multiple-state-qualifier experience next season, lost to Gage Marty of Solon in the 220-pound opening round. Tamayo bounced back with a 3-1 decision over Korver Hupke of Independence in the consolation round, but lost yet another close decision (6-5) to Treyton Burnikel of North Fayette Valley and — like Collins — fell short of being a podium placer and a Grand March participant. Tamayo was 26-7 this season.
NBC freshman Tanner Arjes placed fifth in the Class 1A 120-pound bracket while finishing 38-5 this season.
Nashua-Plainfield had two other place-winners at the tournament — sophomore Kendrick Huck (43-13), who placed sixth in the Class 1A 106-pound bracket; and junior Trey Nelson (48-8), who placed seventh in the Class 1A 132-pound bracket.
Husky junior Mckade Munn (36-12) went 1-2 in the Class 1A 145-pound bracket.
Waverly-Shell Rock won its third-straight Traditional State Championship when it edged Waukee for the Class 3A title.
Don Bosco and West Delaware were the respective Class 1A and Class 2A team champs.
* Before Saturday's Grand March and the championship bouts, Charles City resident Jeff Pavlovich was honored at Iowa's "Official of the Year."