Posted on
Cadets stop Comets 73-68 in Substate district quarterfinal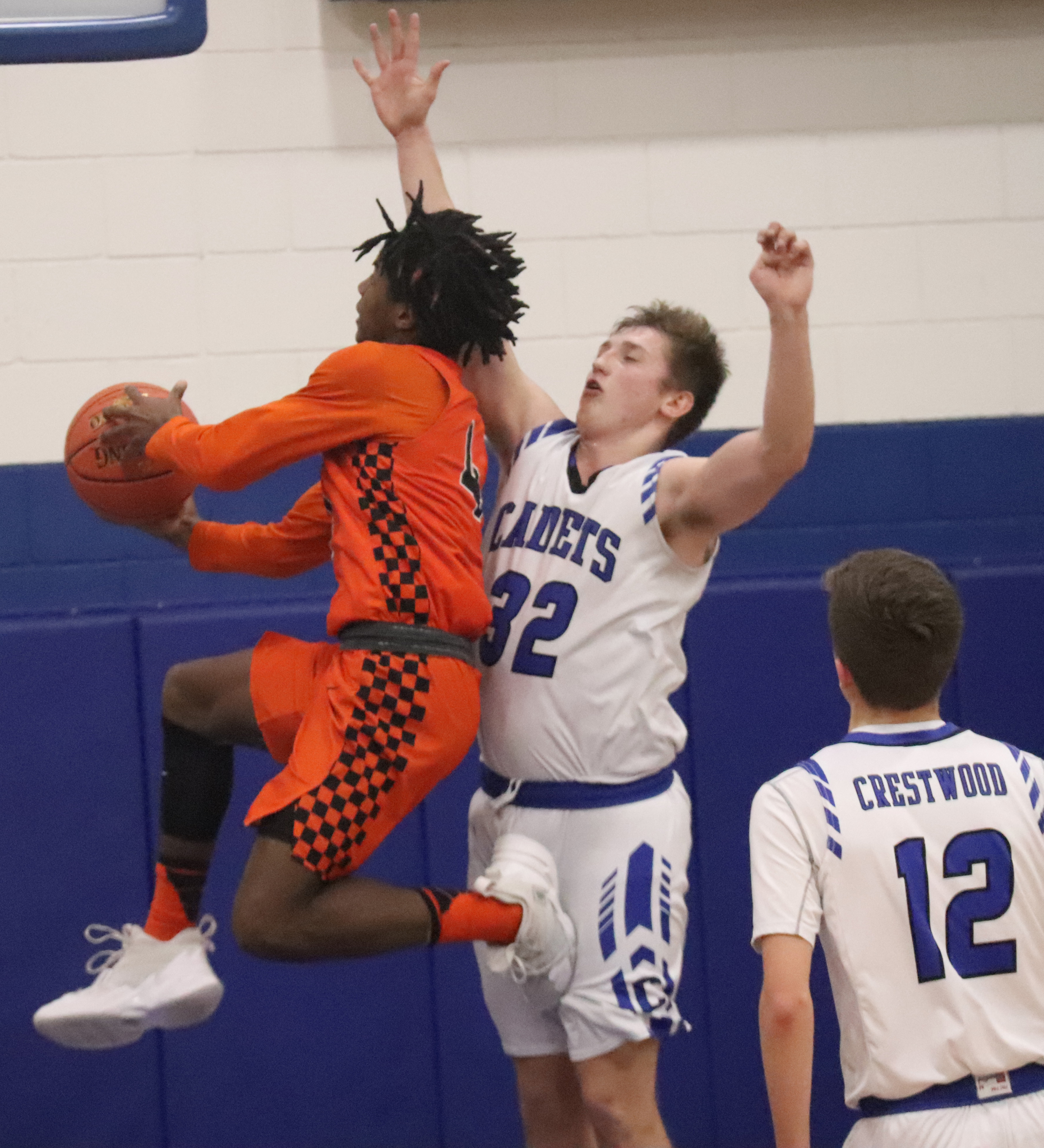 By John Burbridge
sports@charlescitypress.com
CRESCO — Down by one possession after the first half, things got a little complicated for the Charles City Comets in the second stanza of their Class 3A-Substate 3 district quarterfinal against Crestwood.
Less than a minute into the third quarter, Comet sophomore Chase Low was called for an offensive foul while trying to dribble around a Cadet defender guarding him along the perimeter. Then on the ensuing Crestwood possession, Low seemed to be in the wrong place at the wrong time when a Cadet ball handler appeared to have tripped himself up during a drive which initiated a third foul on Low and an extended stay on the bench.
Soon after, Charles City senior and team scoring leader JJ Ritter picked up a pair of disqualifying technical fouls — the second came after Ritter hit a much-needed 3-pointer after the Cadets had run to take an 11-point lead (47-36) with little more than 2:30 left in the third quarter.
"I didn't see the first technical foul," Charles City head coach Ben Klapperich said. "This was a very emotional game, and JJ was trying to fire our team up. If the officials thought he was getting too emotional, I wished they could have said something to me beforehand.
"It's very uncharacteristic of JJ for something like this to happen to him."
With their three-time All-NEIC player out of the game, things looked pretty grim for the Comets. Nonetheless, Charles City — who rallied in the fourth quarter to beat the Cadets in their own gym earlier this month — managed to battle back and nearly caught Crestwood near the end only to have the Cadets hold them off and advance to the district semifinals by way of a 73-68 victory.
Crestwood senior Reid Wiley scored 22 of his game-high 37 points in the second half while leading the Cadets (13-6), who will host Decorah on Thursday.
"After what happened, we could have packed it up and let the game get away from us," Klapperich said. "We kept battling. We worked to get a lot of good looks at the basket, but we just couldn't get the shots to fall. We only made one 3-pointer in the fourth quarter, but we still managed to get within two possessions late in the game.
"This is about teaching kids how to deal with adversity. Sometimes the ball is going to deflate in your lifetime. It's a matter of how you handle it. I'm proud of the way our guys handled adversity tonight."
Shortly after Ritter was disqualified, Low picked up his fourth foul when he spun in the lane and drew an offensive. But Low — now the primary go-to guy — didn't dial down the aggressiveness and went on to score 18 of his team-high 28 points in the second half.
"That guy is going to be good," Wiley remarked in admiration of Low after the game.
Ritter finished with 11 points in what likely was his last basketball game in front of a paying audience — also an All-NEIC first-teamer in baseball, Ritter plans to pursue that sport in college.
Mario Hoefer scored 9 of his 11 points in the second half for the Comets, who finished with a 9-13 record — 1-2 against the Cadets.
Jeremiah Chapman, Kaden Barry and Cael Ruzicka, all of whom got into the scoring column against the Cadets, also played their last game as Comets.
"We're very thankful for the leadership and the contributions of our seniors," Klapperich said. "We have a lot of talent coming back, and many of the better teams in our conference are graduating a lot of their talent. If these guys put in the work during the offseason, we can be back near the top of our conference next season."
Class 3A-Substate 3
District Quarterfinal
CRESTWOOD 73, CHARLES CITY 68
Scoring By Quarters
CHARLES CITY 18 13 14 23 —68
CRESTWOOD 18 15 13 19 — 73
CHARLES CITY — JJ Ritter 11, Jose Hernandez 2, Ian Collins 1, Mario Hoefer 11, Chase Low 28, Kaden Barry 2, Jeremiah Chapman 8, Cael Ruzicka 4.
CRESTWOOD — Carter Henry 9, Jeremy Andera 5, Ashton McConnell 5, Reid Wiley 37, Gabe Grabau 2, Kade Munkel 4, Landon Simiele 10.
Records — Charles City 9-13; Crestwood 13-6