Posted on
Comet girls place sixth at State Bowling Championships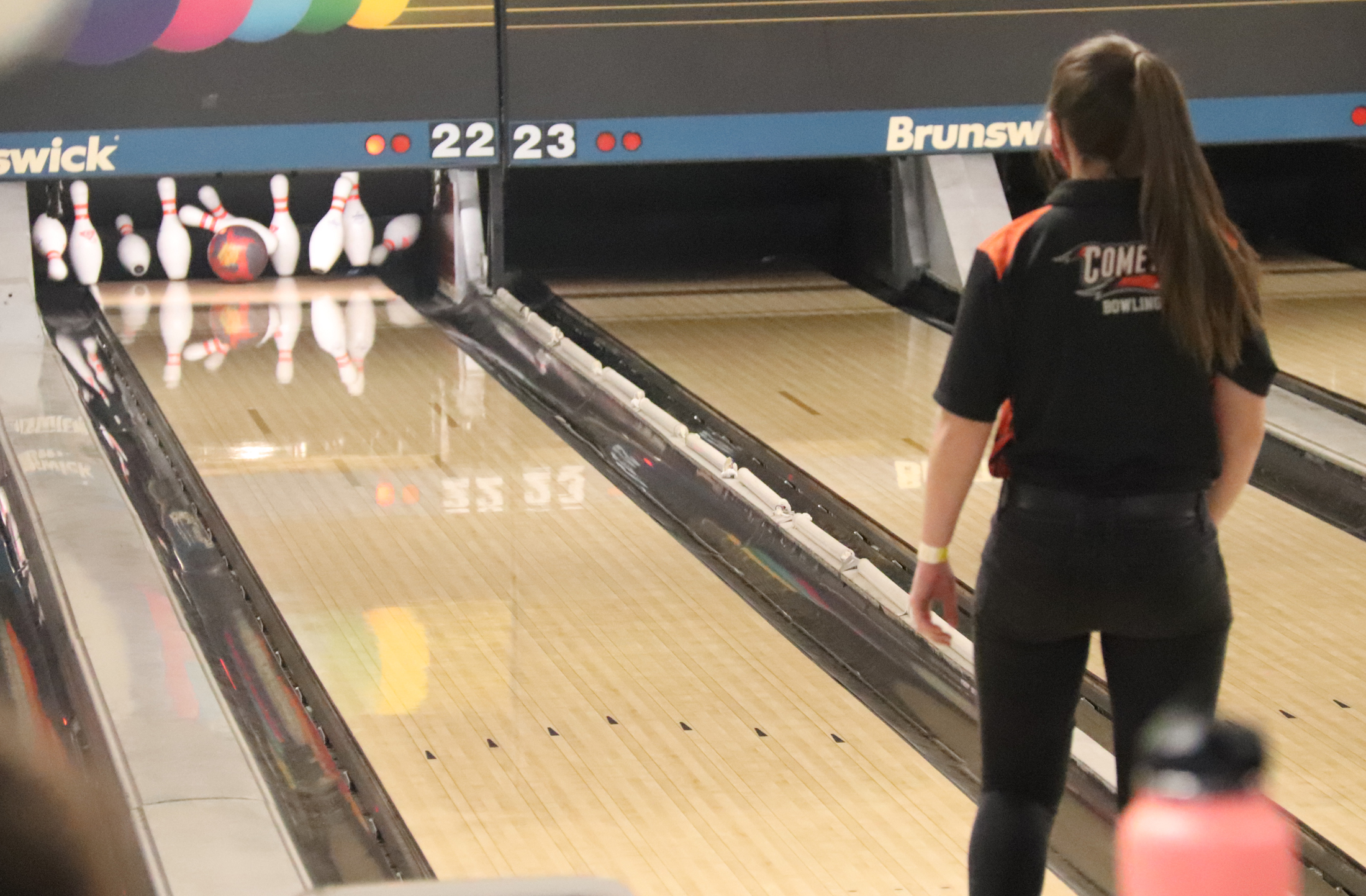 By John Burbridge
sports@charlescitypress.com
WATERLOO — To correct a common misnomer … a near-miss is not a miss.
That's what near-hits are.
The Charles City Comets girls bowling team had more than its share of near-hits, especially when it came to making 1-pin spares wiggle a bit by the backdraft of second balls rolling past them at the Class 1A State Girls Bowling Championships, Monday at Cadillac XBC.
Going into the meet undefeated in dual meets as well as being conference and state-qualifier champions, the Comets didn't have one of their better nights — or should we say mornings with the tournament starting at 8:30 a.m. — as they struggled to pick up spares and finished with a 2,492 total pinfall, which placed them sixth.
"We were throwing a lot of pocket shots, but we couldn't carry the 10-pin," Comet head coach Doug Bohlen said, "and we weren't picking them up … so that didn't help."
Charles City senior Brianna Ross, who had an off meet at the previous state-qualifier, bounced back in the individual round with a 396 two-game series which included a 211 in the first game.
While placing 12th as an individual, Ross was seven pins away from earning Top-10 state medalist honors.
Heather Viers, another Charles City senior, placed 19th with a 357 series.
Winning the Class 1A girls team title for the fifth consecutive year was Louisa-Muscatine
You can call the Falcons a "machine" but another machine seemed to be conspiring against them. Mechanical malfunctions on Cadillac's Lane 19, on the pair L-M was assigned to, kept the Falcons grounded for around 20 minutes.
But when play finally resumed, L-M seemed to take it out on the pins as the Falcons went on to string seven strikes in a row during the second game of the individual round.
Louisa-Muscatine was up by 79 pins over nearest competitor Camanche going into the Baker Rotation round.
Against about anyone else, Camanche's five-game Baker total of 1,138 (227 average) would have been good enough to erase most 69-pin advantage. But the Falcons didn't have that bad of a Baker round, either (1,130) while keeping Camanche in the rearview mirror — 3,097 to 3,024.
Top 10 individual honors went to — in descending order — Christina Harrelson of Vinton-Shellsburg (478), Michell Stewart of Camanche (466), Kimberly Hendricks of Central DeWitt (447), Chiara Thompson of Forest City (429), Emilee Hallof Camanche (428), Lily Fisher of Louisa-Muscatine (428), Hannah Andersen of Louisa-Muscatine (425), Jena Edwards of Central DeWitt (418), Alysaa Lampe of Central DeWitt (414) and Madisyn Gerots of Louisa-Muscatine (403).
Rounding out the team placings were Central DeWitt (2,849); Vinton-Shellsburg (2,739); Dubuque Wahlert (2,575); Charles City, which also included freshman Claire Girkin (331), sophomore Imigin McHenry (319), senior Sarah Mitchell (311) and junior Sophia Nelson (307); Forest City (2,492) and Lenox (2,346).
Charles City is among the qualifiers in the Class 1A State Championships, which will take place Wednesday at Cadillac XBC starting at approximately 2 p.m.