Posted on
Kiki Connell signs to run for UNI Panthers
Comet senior has 25 of school's 50 fastest 5K times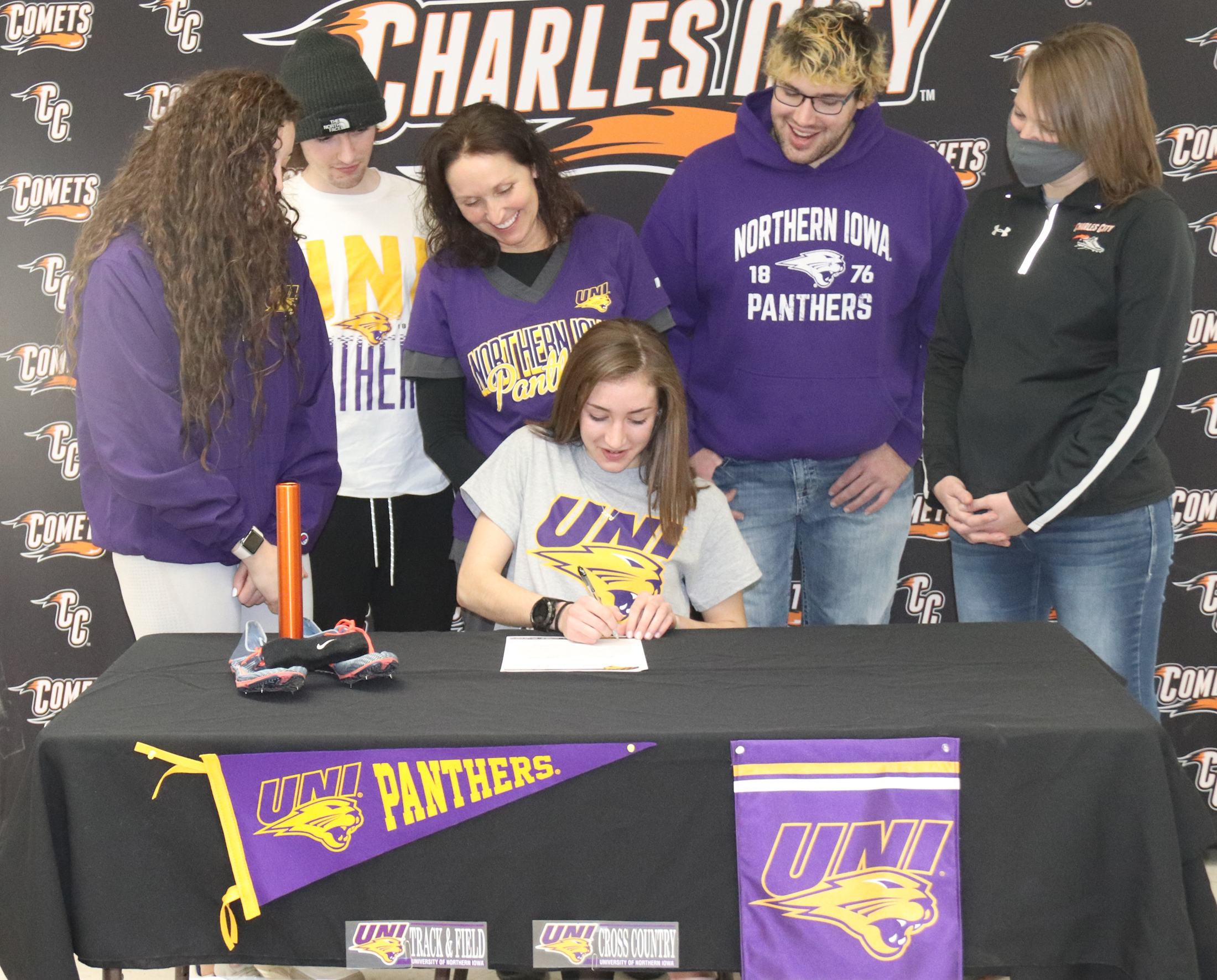 By John Burbridge
sports@charlescitypress.com
CHARLES CITY — Kiki Connell entered high school already knowing that she was a pretty good long-distance runner.
It wasn't until later that she discovered the range of her versatility.
"Tell you the truth, my favorite distance is the 200," said Connell, who actually qualified for state in the 200 as part of the Charles City's qualified medley relay in 2019.
"Maybe they'll let me run the 200," said Connell, who's also finding a belated interest in the heptathlon (in order … 100 hurdles, high jump, shot put, that 200 dash, long jump, javelin and 800 run).
But when Connell recently signed her letter-of-intent to continue both her cross country and track and field careers at the Division 1 level at Northern Iowa University, she's going to be primarily expected to take the long road.
You can't argue with past success.
Connell is coming off an outstanding final cross country season where she obliterated her old school record in the girls 5K with a sub-18 time of 17 minutes, 57 seconds while winning her second-straight state qualifier.
"Not only does Kiki have the top two fastest times, but she has 25 of the 50 fastest girls (5K) recorded in school history," said Charles City girls XC and track head coach Amanda Rahmiller. "That just gives you a greater idea what she's accomplished here."
Connell later placed fourth in the Class 3A girls race at state while earning her third state medal of her career.
Connell is also a four-time state track and field qualifier as well as multiple Drake Relays qualifier.
Connell will join former Comet McKayla Cole, who currently amidst her senior T&F at UNI and has a year of eligibility left in cross country. Cole, a state runner-up in XC in 2016, owned the school's girls 5K record before Connell broke.
Having someone she knows at UNI as well as her coach being a former Panther in part swayed Connell's decision.
"I also like the coaching staff," Connell said of UNI XC and T&F head coach Dave Paulsen and distance coach Alexina Wilson.
Being a former D1 collegiate athlete herself, Rahmiller knows there will likely be an adjustment period for Connell.
"You're going to be among athletes who are committed to their sport just like you are," Rahmiller said. "And, of course, college life is going to be different. You're not going to class eight hours a day like in high school."
If they don't let Connell run the 200 or do the heptathlon, maybe they'll let her join a wrestling club.
Two years ago, Connell went out for wrestling almost on a whim. Recently at the Iowa Wrestling Officials and Coaches Association Girls State Tournament, Connell won an individual state title … something that, ironically, has eluded her in her running endeavors.
On the day of her signing, Connell, fellow wrestling state champion Lilly Luft and state place-winner Ava Thompson were later honored at halftime of the Charles City boys basketball game.
At UNI, Connell plans to study physical training and psychology.